Not Amazing and Not Groundbreaking but Really Very Decently Good Typography

Friday, June 1, 2012 from 6:30 PM to 8:30 PM (EDT)
Event Details
Not Amazing and Not Groundbreaking but Really Very Decently Good Typography
There are the lucky ones who, through a combination of talented hands and eyes and brains and hard work, can create dazzling typographic compositions that make designers gasp in jealous awe. Then there are the rest of us. Designers restrained by the typefaces we can purchase or the limited capabilities of our vector curves or the ability to put pen or pencil or brush to paper and create magic. But not all is lost: we can make smart choices, we can kern and track and lead type with gusto, we can make things big or small, we can write the ideas and sentiments and calls to action that those choices carry. Armin will show some of the best and worst typography choices he has made over the course of 15 years, from the crappy days of dot-com design to his stint at Pentagram to his own projects at UnderConsideration — most of which have been really very decently good. For the most part.
Armin Vit
Born and raised in Mexico City,  Armin is a graphic designer and writer now living in Austin,  Texas. He is co-founder of UnderConsideration,  a graphic design firm and publishing enterprise all rolled into one. While he has written for most of the well-known trade publications,  he is better known for his writing on the blogs that make up the UnderConsideration online network,  as well as from the books he has co-authored with his wife and partner,  Bryony Gomez-Palacio — their most recent efforts being Graphic Design,  Referenced and the self-published Flaunt. Armin spends a modest time on the road lecturing on any number of topics and can be found anywhere from San Diego to Berlin. Through UnderConsideration's Department of Design he designs corporate identities,  books and web sites for a few clients.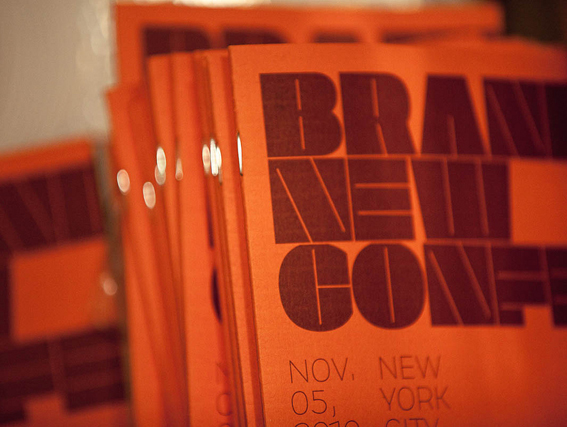 Have questions about Not Amazing and Not Groundbreaking but Really Very Decently Good Typography?
Contact the organizer
When & Where

The Cooper Union
The Rose Auditorium
41 Cooper Square
New York, NY 10003


Friday, June 1, 2012 from 6:30 PM to 8:30 PM (EDT)
Add to my calendar
Not Amazing and Not Groundbreaking but Really Very Decently Good Typography