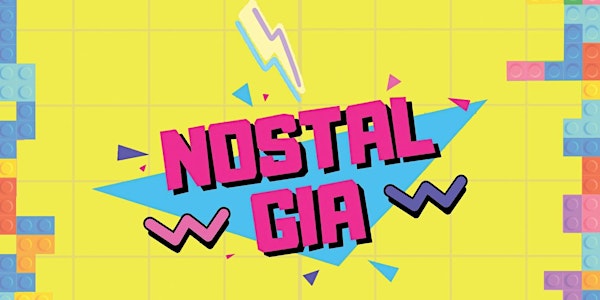 Nostalgia
The most nostalgic event of this island is BACK! Bringing all the Brazilian and International tunes of 90s and 00s in the same gig.
When and where
Location
The Sound House 28 Eden Quay #1st Floor D01 DE44 Dublin 1 Ireland
Refund Policy
Contact the organiser to request a refund.
About this event
Your wish is an order and here we are:
In Second Edition of Nostalgiaaaa!
After you all have shown us that you know how to play hard, we are back on this unique and amazing trip to the past taking you back to unforgettable moments. We want you to livin la vida loca. 😏😏
Let's get together on 9th December to bring to this island the Brazilian and international chaotic energy from the 90s and 00s that it has never seen before. And hopefully celebrate Brazil's victory in the quarter finals of the world cup. You better work bitch Ney! ⚽
We're gonna put all the single ladies and gentlemen to dance. 👯‍♀️👯‍♀️
We can't think about 90s and 00s without mentioning stars as É o Tchan, Backstreet boys, Akon, Rouge, Spice girls, Claudinho e Buchecha, Ne Yo, RBD, Tchakabum, Beyonce, Mc Marcinho, Pussycats Dolls, Os Hawaianos, Britney Spears, Sandy & Junior, N´ Sync, Só pra Contrariar, Kelly Key. All the best queens and kings of the time in one gig! Baby just one more time to hear all these classics and enjoy this vibe!! ✨✨
And to get you involved without poker face, we got a dream team that won't let you stop the party, check out this line-up spoiler:
DJ MISTER M - Bringing the most played tunes of the decades making everyone dancing and singing until the end
WILL KANELA AND BAND - Mixing up our loved pagode 90s with the best of brazilian axé music
I gotta feeling that tonight's gonna be a good night... So tell me why... haven't you bought the ticket yet?! 🥳🎉🌈
See you there!😎
P.S.1: Over 18s event
P.S.2: The event will be recorded and photographed for future advertisement. By purchasing the ticket for the event, you directly authorize the use of your image for the production the event.
P.S.3: Please note that tracksuits are not accepted in the venue.
----------------------------------------------------------------------------------
Seu desejo e uma ordem e vem ai:
Segunda edição do Nostalgia!
Depois de todos vocês mostrarem que sabem brincar no play, estamos de volta nessa viagem no tempo única e incrível, te levando de volta a momentos jamais esquecidos né ordinááááários?! 😏😏
Vamos nos juntar no dia de 09 de Dezembro e trazer para essa ilha a energia nostálgica caótica brasileira e internacional dos anos 90 e 2000 que ela nunca viu e colocar todas as Julianas pra sambar! Vai que o Brasil vence as quartas de finais para deixar a galera pulando que nem pipoca?! 👯‍♀️👯‍♀️
E não dá para não pensar em anos 90 e 2000 sem falar nessa galerinha aqui É o Tchan, Backstreet boys, Rouge, Spice girls, Claudinho e Buchecha, RBD, Tchakabum, Beyoncé, Mc Marcinho, Pussycats Dolls, Os Hawaianos, Britney Spears, Sandy & Junior, N´ Sync, Só pra Contrariar, Kelly Key, todos eles reunidos em um só bailão, vai dizer que esse baile não vai tá uma uva?! 🍇🍇
E para fazer você se sentir envolvido pelo ritmo Ragatanga, contamos com um time de peso, se liga nesse spoiler de line-up:
DJ MISTER M - Tocando as mais tocadas da época colocando geral para mexer as cadeiras e os vocais
WILL KANELA E BANDA - Trazendo o nosso amado pagode 90 junto com as melhores do axé brasil
Então não vai dar uma de tremendo vacilão e não comparecer nesse baile. Garanta já seu ingresso e vem kikando e mexendo o ombrinho!!! 🥳🎉🌈
OBS.1: O evento é para maiores de 18 anos.
OBS.2:O evento será gravado e fotografado para futura divulgação. Ao adquirir o ingresso do evento, você autoriza diretamente o uso de sua imagem pela produção do evento.
OBS.3: O espaco não aceita a entrada de pessoas vestindo moletom, roupa de academia, bermuda tactel (tracksuit).