Description
The Alumni Group is on our #Throwback ish. We don't know about you, but we're nostalgic for the good old days when jeans were baggy and the music was top-notch. So on Sunday, February 4, we're taking you back to the early 2000's. Eat, drink, party, and reminisce with us at Mist Harlem from 12:00-7:00 PM. Along with our dope brunch specials and bottomless brunch cocktails, DJs E Class and Majestee will be curating a soundtrack of the hottest classics from the turn of the century. And that's not all! Love & Hip Hop New York star and R&B diva Lil Mo will be performing some of her hits LIVE and IN-PERSON! You don't want to miss this!
$35 Prix Fixe Brunch Includes an Appetizer, Entree, and 1.5 Hours of Bottomless Brunch Cocktails (This Price DOES NOT include Tax & Gratuity)
$55 Prix Fixe Brunch includes an Appetizer, Entree and Bottomless Drinks for the duration of the event. (This Price includes Tax & Gratuity)
**Seating during brunch is on a first come first served. RSVP does not guarantee seating**
***Once you are done dining please be considerate of others waiting and relinquish your seats***
****Please use #TAGBRUNCH when sharing socially.****
Please follow us on instagram @The_Alumni_Group
MEDIA DISCLAIMER, photos and videos are occasionally taken at our events. The Alumni Group reserves the right to use any photograph/video without the expressed written permission of those included within the photograph/video. The Alumni Group may use the photograph/video in publications or other media material produced, used or contracted by The Alumni Group including but not limited to: brochures, invitations, books, newspapers, magazines, television, websites, etc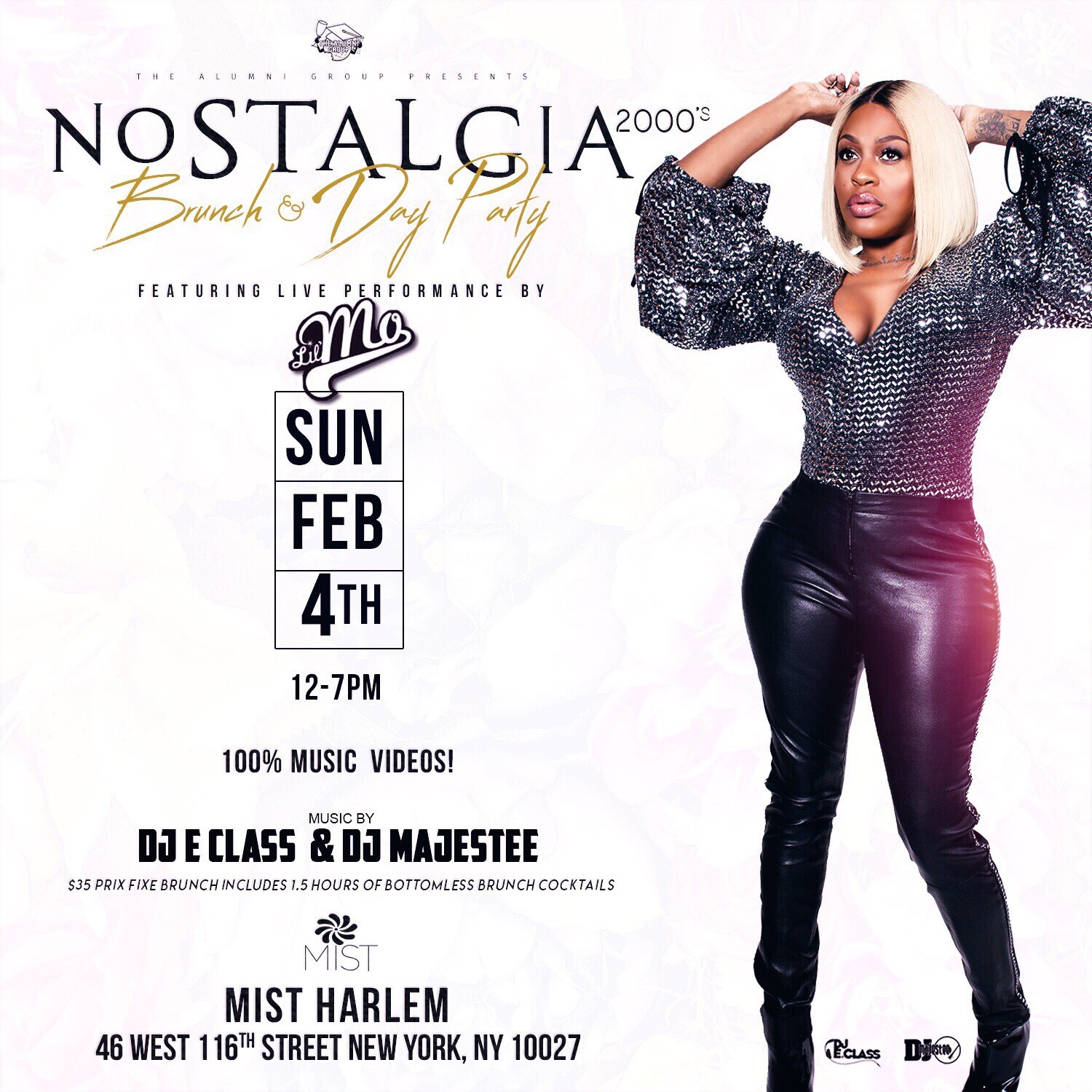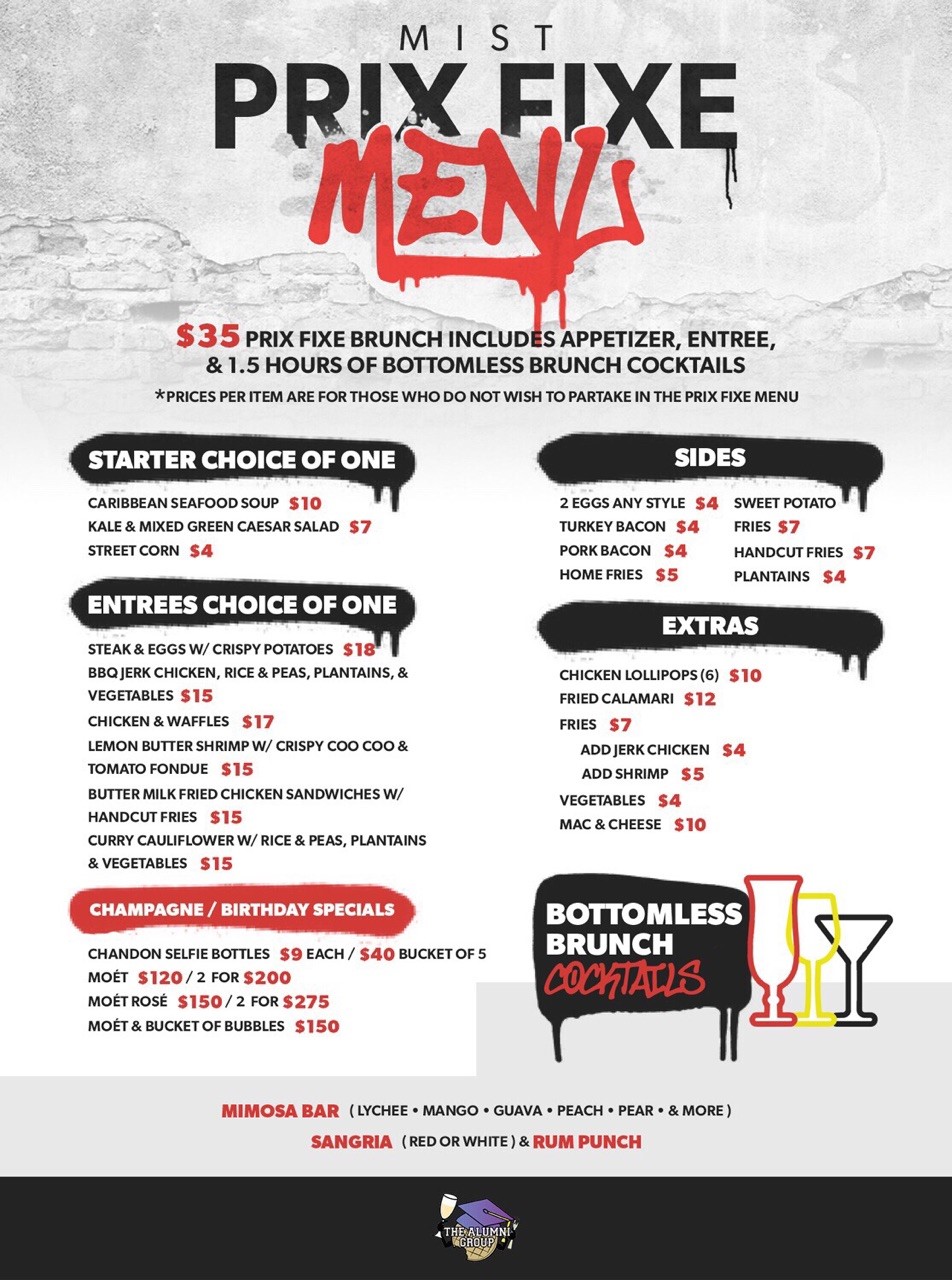 Bottomless 90 minutes unlimited mimosas, bellinis and Sangria
Mist Brunch Menu $35 Prix Includes Appetizer, Entrée and 90 minutes of bottomless brunch cocktails.
*Prices per item are for those who do not wish to partake in the prix fixe menu*
-Starters Choice of One-
Caribbean Seafood Soup $10
Kale & Mixed Green Caesar Salad $7
Pholourie Vegetables with Chadon Beni Aioli $10
Entrees
Steak & Eggs With Crispy Potatoes $18
Barbecue Jerk Chicken Rice and Peas, Plantains, and Vegetables $15
Chicken & Waffles $17
Lemon Butter Shrimp with Crispy Coo Coo and Tomato Fondue $15
Butter Milk Fried Chicken Sandwich with Handcut Fries $15
Mist Burger With Handcut Fries $15
Curry Cauliflower with rice and peas, plantains, and vegetables $15
Sides
2 Eggs Any Style $4
Turkey Bacon $4
Pork Bacon $4
Home Fries $5
Sweet Potato Fries $7
Handcut Fries $7
Plantains $4
Extras
Chicken Lollipops (6) $10
Fried Calamari $12
Cheese Fries $11
Add Jerk Chicken $4, Shrimp $5, Vegatables $4
Mac & Cheese $10
Bottomless Brunch Cocktails (1.5 Hours)
Mimosa
Tropical Bellini
Sangria (White or Red)
Champagne/Birthday Specials
Moet White Star $120 (2 for $200)
Moet Rose $150 (2 for $275)
Moet White Star & Bucket of Bubbly $150
Chandon Selfie Bottles $9 each, $40 bucket of 5