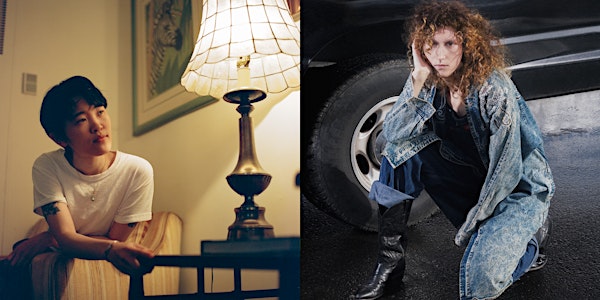 NoSo, Squirrel Flower
NoSo, Squirrel Flower at Rickshaw Stop
When and where
Location
Rickshaw Stop 155 Fell St San Francisco, CA 94102
Performers
Headliners
More Performers
About this event
Noise Pop 30:
NoSo, Squirrel Flower
w/ Maria BC
7:00 PM Doors / 7:30 PM Show
$18 Advance / $20 Day of Show
All Ages
About NoSo:
What does it mean to feel pride – to feel love? Not just romantic desire, but an all-encompassing love built around acceptance and unconditional respect? For 24-year-old indie/alternative artist NoSo, they seek out the answers in their work. The title of their debut album Stay Proud of Me is an entreaty to their past self, as they dauntlessly forge ahead to become the person and artist they've always wanted to be.
If you're a guitar enthusiast or familiar with the L.A. music scene, you may already know the name Baek Hwong. Born and raised in the Chicago suburbs before moving to California as a teenager, Hwong cut their teeth at the competitive Thornton School of Music at USC, where they studied guitar and songwriting and began to develop their own unique playstyle. 
After originally pursuing the path of more instrumental players like Tommy Emmanuel, Hwong realized in college that their writing was quickly manifesting itself in new, more personal ways: in lyrics, arrangements, songs that begged to be sung and fully realized. They began to cultivate an ever-growing collection of demos, a small portion of which would make up Stay Proud of Me, their debut album under the name NoSo.
NoSo is shorthand for "North or South?" - a question Hwong often had to face growing up in a predominately white town whenever they mentioned they're Korean. Hwong's writing often indirectly grapples with the insecurities and frustrations that can arise from the Asian American experience. Their writing feels like a balm for the alienated, like this couplet from the song "I Feel You": "You feel my lies while my body moves without me/Laughing about it, laughing about it."
Hwong wrote and recorded much of the record alone during quarantine in their bedroom, studying any non-guitar instruments they weren't as proficient with in order to make it happen. On the fluttery lead single "Suburbia," one of the first songs written for the LP, they move between a heart-rending chorus and diaristic lyrics about golden Oreos and power-walking moms with the grace of a seasoned screenwriter, sprinkling in the small but vivid details that place you in the heart of the story.
Just as there is no singular Asian American experience, there is no singular LGBTQ experience. Hwong, a queer non-binary person, remembers that the first time they realized they were attracted to women was when they wrote a romantic song with femme pronouns. They don't remember ever explicitly coming out in public; from the start, their declaration of themselves to the world at large has always been through music.
One highlight, "David," was inspired by a dream where they were trapped in the body of a white man: finally the object of desire in the eyes of the girls whose attention they once longed for. "When I woke up, I was emotional, and I couldn't figure out why," Hwong explains. "Was it because this was still something I wanted? Or was it because I was genuinely disappointed in myself for even having those feelings? I think it was both."
Album opener "Parasites" was written in the wake of Hwong's recovery from top surgery. Atop a bed of lush electric guitar and organ, they celebrate a newfound physical and emotional freedom: "The parasites, removed from your skin/And so lovely, lovely to meet you again/So lovely to be born again." On another standout track, "Feeling Like a Woman Lately," they explore the other side, the "emotional fluctuations" of gender. As they write: "The line between empowerment and dysphoria is very thin at times."
In an effort to escape themselves during the writing process, Hwong also occasionally turned to the solace of fantasy. Screenplays they wrote during quarantine informed the lyrics, allowing them to inhabit the characters and plotlines from worlds other than their own as they poured themselves into fleshing out the details. You can hear this clearly in the cinematic verses of "Honey Understand;" a brooding stomp with a cathartic chorus.
The yearning of NoSo's music is led by their wistful guitar playing, from the circular riffs on "I Feel You" to the glassy plucks scattered throughout "Feeling Like a Woman Lately." The palm-muted arpeggios that open "Man Who Loves You" give way to a jangly pop ballad, perfect for closing out a teen romance movie. The power of these songs stems from NoSo's universal tenderness; a singular perspective to affect and assuage the hearts of many.
Stay Proud of Me is a deeply earnest coming-of-age album, a nuanced introduction to NoSo's universe and Hwong's rapidly expanding musical abilities. The marriage of their lyrics and captivating guitar performance feels magical, as if Noso can open up portals to fantastic new realms, guided by an emotional honesty that breaks you down in one moment and fills you with joy in the next.
About Squirrel Flower:
Squirrel Flower's heart-rending sophomore album Planet (i), following her 2020 debut I Was Born Swimming, is exactly that. A singular planet, a world entirely of artist Ella Williams' making. The title came first to her as a joke: it's her made-up name for the new planet people will inevitably settle and destroy after leaving Earth, as well as the universe imagined within her music. "Planet (i) is my body and mind," Williams says, "and it's the physical and emotional world of our planet. It's both." Buoyed by her steadfast vision and propelled by her burning comet of a voice, the record is a love letter to disaster in every form imaginable. Tornadoes, flooding, gaslighting assholes, cars on fire—these songs fully embrace a planet in ruin. As Williams rides from melancholy to jubilance to complete emotional devastation over the course of twelve songs, she carves out a future for herself and those she loves. Planet (i), out June 25, 2021 on Polyvinyl and Full Time Hobby, is at once a refuge, an act of self-healing, and a musical reflection of Squirrel Flower's inner and outer worlds.
Williams wrote most of the songs on Planet (i) before the COVID-19 pandemic, but disaster looms large in its DNA. Susceptible to head injuries having played a lot of sports in her youth, Williams received three concussions from 2019-2020; two at cafe jobs in her home state of Massachusetts, and a third, funnily enough, while making out with someone in a sloped attic at a house show. Amidst the chaos of touring internationally during her own healing process, she began weaving threads between her physical and personal sense of ruin and her lifelong fear of the elements: of being swept up by storms, floods, and the deep ocean. "To overcome my fear of disasters," Williams says, "I had to embody them, to stare them down." This journey of decay and healing is the lifeblood of Planet (i). "I'm not scared of the storm," she insists on "Desert Wildflowers." "I'll be lying on the roof when the tornado turns."
Once quarantine set in, Williams, known for her magnetic live concerts, began to produce demos in her room, amassing a collection of more than 30 recordings. "I constantly write," she says, "but because of the pandemic and the unemployment checks I received, I was able to spend every day recording what became the skeleton of this album." Feeling a sense of artistic synchronicity over international phone calls with producer Ali Chant (PJ Harvey, Perfume Genius), and with newfound covid antibodies, Williams flew to Bristol, UK in the fall of 2020 to record Planet (i) at Chant's studio, The Playpen. "We had this shared creative language," she recalls, "and the recording process was, like my demo process, very sculptural. Instead of recording live with a full band, we built this record layer by layer, experimenting, taking risks." Williams dedicated her time in Bristol to exploration, both in the studio and outside of it. As she roamed the city in her beloved green garden mucks, the same boots featured on Planet (i)'s album art, Squirrel Flower unlocked a new creative alchemy.
While Williams and Chant played most of the instruments on the record, Bristol drummer Matt Brown and Portishead's Adrian Utley also joined their sessions. "Adrian brought such stunning textures to the arrangements," Williams says. "I was starstruck watching him play guitar with a pair of pliers." And when Chant suggested the idea of backup vocals, Williams, whose voice had until now stood alone in her songs, enthusiastically enlisted friends and family to join her remotely with their voices and instruments. Around Squirrel Flower's voice and vision dance the contributions of Jess Shoman (Tenci), Tomberlin, Katy J. Pearson, Jemima Coulter, Brooke Bentham, and her brothers Nate and Jameson Williams, as well as her father Jesse.
The songs on Planet (i) are Squirrel Flower's instruments for connection: with the people in her life, her collaborators, audiences, and ancestors; a lineage of artists whose spirits continue to inform her art. At the heart of this record is an insistence on connection and healing in the face of catastrophe. Williams treats her songs like well-loved cars, vehicles with busted exteriors and flame-kissed engines. These songs hurtle down a freeway wracked by firestorms and flash floods, their drivers in search of human connection, no matter how tenuous, no matter how painful. In this search for communion, Squirrel Flower sings with the clarity of an artist who has discovered not only the precise power of her voice, but all the devastating shapes it can take.
On the explosive lead single "Hurt A Fly," Williams is a volatile, relentless presence. She takes the persona of a manipulative lover as she lurches from guilt to sorrow to renewed fury, backed by whirring, frenetic guitars. And in "I'll Go Running," Williams begins on a haunting simmer, pitching her voice over languid, slow-burning guitars from quiet resistance to full-on emotional rebellion by the song's end: "I'll be newer than before / I'll be something that you've never seen." It's the mantra of an artist in flux, obsessed with motion and change, but determined to move and change on her own terms. On "Flames and Flat Tires," the third single, Williams rides this motion onward in a bright wave of sound, comparing her body to a burning car on a 4am joyride, the city crumbling behind her.
On Planet (i), Squirrel Flower reveals a bright and uncompromising vision, confident in her powers of self-healing and growth. No matter what the disaster ahead of or within her looks like, and no matter how she shape-shifts to meet it, Squirrel Flower will always be a world of her own, a space-rock flying down the road in flames and flat tires. As Planet (i) wheels to a close from the cartop lovesickness of "Iowa 146," the floodwaters of "Deluge in the South," and the tornado fury of "Pass," to the hushed climax and acceptance of "Starshine," she leaves us to face down disaster with hope in hand:
Don't let it pass.
Don't let it wither.
About Maria BC:
When Maria BC is singing, they feel as though they're dissolving and soaring, all at once. Hyaline, the title of their debut full-length album, describes something that is clear and translucent like glass, especially a smooth sea. For the Ohio-born, Oakland, CA-based artist, songwriting is a stretched blank canvas awaiting the strokes of an exhale, and it's this slow-moving process that rewards us the ease of a crystalline sky, without forgetting the clouds that may have come before it. A knife's-edge balance of intimacy and ambiguity, Hyaline accesses snapshots of grief, anxiety and wonder through a miscellany of specters: these are ghost stories, but not as we know them.
Growing up, Maria BC often found solace in spending time alone. They learned how to entertain themselves creatively, and the childhood practice of songwriting still deeply affects how they associate with music today. "It makes me cherish and revel in moments of being totally alone," they explain. It's through this sustained, quiet process that they learned they could access characters, or certain selves, when singing. Through the lens of a character, there came a safety in exploring topics that may otherwise be too painful or humiliating. Here, Maria BC can name the grief that stands outside oneself, and in doing so, turns a haunted shadow into something more tactile.
Opener "No Reason" evokes a hairpin bend, an epiphany, where a new character upends the daily lives of those who didn't expect it. It's a call to attention, a curtain raise. Elsewhere, "The Only Thing" brims with the full, effervescent, sun-is-coming-up feeling of new love, while the haunting strums of "Betelgeuse" investigates one's role as a victim and the inescapable generational pull of familial patterns. "Good Before," a song Maria BC wrote while on a highway drive watching the sun rise, showcases the songwriter's pop sensibilities and their spur-of-the-moment magic. Later, "The Big Train" proves the power in simply naming something to lessen its weight, but this doesn't necessarily mean it will provide an answer. It tells the story of a man haunted by his past mistakes, sauntering through darkness, before hearing the sound of a train the following morning. Darkness doesn't have to be scary, or evil – it can be the seed under the soil, waiting to bloom between the cracks of concrete. Closer "Hyaline" encompasses this kind of hopeful attitude, where each character throughout the album sees a friend, or a lover, calling out to them. "I'm trying to beat down this individualist impulse that sometimes comes with creating a piece of art."
It's this power of reframing, of shaping our hardest citations, that alerts us to the present force of Hyaline. Citing poet Louise Gluck, Maria BC was inspired by the notion of the dreamer and the watcher archetypes. "The dreamer is always looking towards a future that can never happen, but the watcher is effectively present," they say. "The way I can become more of a watcher is by putting it into music."
This awareness can be felt in the loose, minimal arrangements of Hyaline. Unlike 2021's debut EP Devil's Rain where they recorded in one room, careful not to disturb their roommates or neighbors, Maria BC created Hyaline all across their untreated apartment while previously living in Brooklyn, like a wandering spirit gaining energy from different spaces. Their classically-trained mezzo-soprano voice soars over raw, etherial guitars; audio samples from Prospect Park – now almost unrecognizable – dapple across minimal percussion; organ, played by Maria BC's dad at his church in Ohio, settle alongside tender, transformative harmonies. Mixing together different sessions, tracks recorded directly into their phone and samples collected over the years, Maria BC likens Hyaline to a "sonic collage." It's a project of patience, and trusting the process.
Hyaline is a lesson in slowness, in clear nothingness. Actively opposing the way in which music is commodified into playlists that match our moods, or to promote productivity, Maria BC instead chooses to draw things out and see where they land. By allowing each song to breathe, to build slowly and gradually, Hyaline invites curiosity and imagination to blossom in a world of snap-reactions. Here, Maria BC encourages us to put reasons aside, to stop searching for answers and instead, indulge in the fantasy of it all. "Let the world wash over you," they say, "rather than try to pin it to one single thing."