Description
On Saturday, October 14, we return to the cemetery...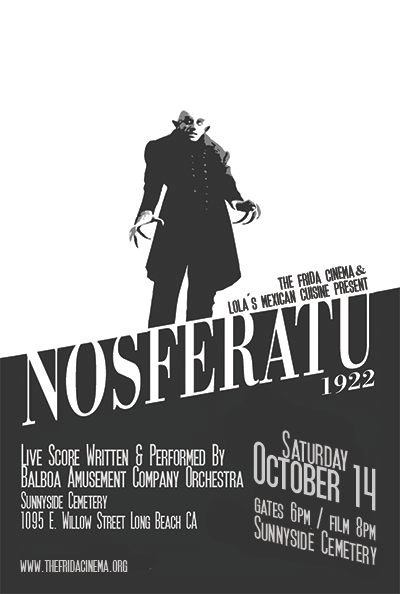 It's been four years since - on October 10, 2013 - the Long Beach Cinematheque (now The Frida Cinema) teamed up with Long Beach's Lola's Mexican Cuisine to bring classic cinema to historic Sunnyside Cemetery with F.W. Murnau's silent classic Nosferatu, screened against a live original score by then-newly-formed Balboa Amusement Company Orchestra. The smash success of this event kicked off three years of movies at Sunnyside, and after a brief hiatus, we are so glad to return with the unique evening of classic silent horror and gorgeous sounds by local musicians that launched "Lola's Outdoor Retro Cinema" nights at Sunnyside!
WHERE IS SUNNYSIDE, AND WHERE DO I PARK?
Sunnyside Cemetery is located at 1095 E. Willow Street, Long Beach CA 90806. Click here for map and directions! Limited parking is available on site on a first-come, first-served basis – please carpool. In the likely event of a full lot, there is additional ample street parking in front of, and west of, Sunnyside Cemetery. IF YOU PLAN ON LEAVING THE EVENT EARLY, OR IF YOU ARE DROPPED OFF/TAKE AN UBER OR LYFT, DO NOT PARK ON SITE OR ENTER GATE - parking at Sunnyside is STACKED, meaning once you're in, you're stuck through the evening (though why would you want to leave early?). If you plan to leave early, please park on the side streets, cross carefully across Willow Street, and enter by foot through the gate!

WHAT TO BRING
Guests are encouraged to bring LOW-BACK chairs and/or blankets to get comfy. Food and picnic baskets welcome! Food trucks will be on site, so feel free to come hungry!
HOW MUCH IS THE EVENT?
Tickets are $15 plus online service fee. In the event there are tickets left the night of the event, tickets will be on sale at gate, cash-only, at $15. This event is FREE for The Frida Cinema card-carrying, film-loving Members - just show us your Card at gate! Not a Member yet? Join Southern California's year-round film festival at http://thefridacinema.org/film-club/!
WHAT IF IT RAINS?

Event will proceed as scheduled in the event of cold weather - bring blankets and snuggle up! - but will be cancelled, and all tickets refunded, in the event of rain.
DOES MY TICKET FEE SUPPORT A NON-PROFIT?

It supports TWO! The Frida Cinema is a 501(c)(3) non-profit organization, dedicated to enriching, connecting, and educating communities through the art of cinema. Learn more at http://thefridacinema.org! A proceed of ticket sales will also support Sunnyside Cemetery, a non-profit historical institution celebrating over 100 years in Long Beach! Learn more at https://www.facebook.com/sunnysidecemetery/!
WHAT'S NOSFERATU ABOUT?

The perfect movie for a summer night at a historic Cemetery, F.W. Murnau's film is noted as the first – and famously unauthorized – adaptation of Bram Stoker's iconic horror novel "Dracula." Although director Murnau took precautions such as changing the word "vampire" to "nosferatu," Stoker's estate nevertheless ordered all prints destroyed. Fortunately for the history of cinema, one print survived... Painstakingly restored, Nosferatu has gone on to become one of the most celebrated - and highly influential - monster films of all time, a creepy, seductive, and unforgettable monocrhomatic nightmare starring Max Schreck as the fanged Count Orlok, cursed to an eternal life of darkness...
WHAT IS BALBOA AMUSEMENT COMPANY ORCHESTRA?

Assembled by Long Beach's own prolific singer-songwriters Ellen Warkentine and Alyssandra
Nighswonger, the Balboa Amusement Company Orchestra is a band of local musicians who are avid collaborators, and who joined forces specifically to bring new sonic life to silent classics Nosferatu and The Artist for the Long Beach community! Taking their name from Balboa Studios, Long Beach's famed motion picture studio, the members of Balboa Amusement Company Orchestra continue to perform throughout the world, and will be assembling once again under the stars for one night only, October 14!

WHO DO WE THANK FOR THIS EXPERIENCE?

Screenings at Sunnyside Cemetery are made possible by the staff and volunteers of Sunnyside Cemetery and The Frida Cinema, the talented musicians and artists who contribute to our events, and YOU, our audience who keep the events going, but none of it would be possible without the generous support of Lola's Mexican Cuisine. Now located at two locations - 2030 E. 4th Street in Retro Row, and 4140 Altantic Ave. in Bixby Knolls - Lola's is far more than a celebrated destination for foodies looking for a mind-blowing culinary experience. The owners of Lola's are passionate about Long Beach, and are celebrated philanthropists and partners who have supported artists, entrepreneurs, cultural initiatives, and non-profit institutions ranging from The Frida Cinema and Sunnyside Cemetery to the Museum of Latin American Art, the Gay & Lesbian Center of Long Beach, and countless other institutions and programs. We thank Lola's for their continued love and support, and for all their efforts in making magic happen, both in and out of our bellies!