Description
The Friends of Norwood Center is proud to present the Farmers' Market Kickoff Comedy Night with an incredible lineup of some of the best comedians in the country! Proceeds of the event will go to support the Norwood Farmers Market. The doors will open at 6:30PM. The show begins at 8PM. The Cash bar will be offering beer, wine and soft drinks.
ABOUT THE COMEDIANS....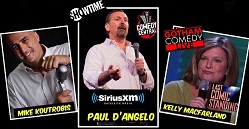 Paul D'Angelo is recognized as one of the nation's top standup comedians. Combining an energetic, charismatic stage presence and spontaneous improvisational talent with an endless array of intelligent humor delivered in an animated style that grabs and holds the attention of crowds everywhere he performs, Paul's constantly evolving and diverse selection of original material "takes normal everyday experiences and makes them sound absolutely hilarious." Critics further write that "(Paul D'Angelo) is an energetic performer who gives a peak performance at every show." "His quick comedic mind," "unique observations" and "down to earth, stop-and-think humor" "keeps the crowd in hysterics.Paul recently co-starred in Showtime's popular stand-up comedy movie, 'The Godfathers of Comedy', and has also released two DVDs and three critically acclaimed comedy CDs that are played regularly on national radio. In addition, Paul is the writer/director/co-star of the original sitcom pilot 'A Fine Mess' which was featured at the prestigious New York International Independent Film Festival.
Kelley MacFarland has an extensive and well-rounded resume including comedy clubs, theaters, colleges and several television appearances. Kelly is currently touring clubs and colleges across the country and has entertained our US troops overseas. Kelly headlined the 2009 Boston Women in Comedy Festival, was first runner up in the 2009 Boston Comedy Festival, voted Best of the Fest 2010 Aspen Rooftop Comedy Festival, appeared in the Oddball Festival 2015 and performed at Boston Calling 2016 and 2017. Kelly has also appeared on Stand Up in Stilettos on the TV Guide Channel, Comedy Central's Premium Blend and is the host of the web series, Fit or Fad for Scripps Network. Most recently, Kelly was part of the Top 100 Comedians of Last Comic Standing Season 9, appeared on AXS Gotham Comedy LIVE and won first in the professional category of the Ladies of Laughter 2016 competition.
Mike Koutrobis is a 20 year veteran of the comedy scene. His witty and sarcastic commentary has brought him to clubs, colleges and corporations throughout North America; appearing alongside some of the top headliners in the world. Mike has also appeared in various motion pictures such as "Bleed for This" with Miles Teller, "Ghostbusters" with Melissa McCarthy and soon, you can see him in Steven King's series on Hulu, "Castle Rock"