Norwin Play It Forward Fund Presents Wind-Up/Wine Down & Music on Tap #11
After a year's hiatus, we welcome you back to the 11th Wind-Up, Wine-Down & Music on Tap to benefit Norwin Play it Forward Fund.
About this event
Due to this event's indoor and highly social nature, we have had to implement some changes to promote the health and wellbeing of attendees:
Guest attendance will be limited to 150 persons and all tickets must be reserved online at Eventbrite with your payment. (Any technical issues, see contact info at the bottom of this page.) Once sold out, ticket sales will close.
Because of the reduced capacity, the ticket price has been increased to $50 (a modest $5 increase over previous years)
There will be no reserved tables. Rest assured, there will be plenty of places to sit.
A number of food stations with lots of choices, and precautions will be taken to avoid contamination of food.
As the pandemic evolves, we will make a decision as to mandatory masking. Regardless, masks are highly encouraged especially when in close proximity to others and engaging in conversation.
While we look forward to seeing you, the health and safety of our guests remains our top priority. Please do not attend the event if you are feeling ill or have had any COVID-related symptoms or exposure to COVID-19. We will work with you to refund your money if this is a concern.
Now for the good stuff! Music by Good Guys. Salsa Sam will be preparing fresh fish and shrimp tacos on the grill along with other late night bites. Cenacolo will be providing the always decadent pasta. Appetizers and salads by newcomers Caliente and Will-Onita's. Patti's Pasticceria will again host a cannoli bar. Additional surprises coming from Pittsburgh Popcorn Co. and Sarris. Greenhouse Winery and Quinn Brewing Company are also on board with wine sampling/sales and craft beer tasting and sales by the glass. More partners may be added, but this is current at time of publishing. There are many prizes, too!
Shout out and thank you to our major corporate sponsors*:
UPMC East
Somerset Trust
Sheetz
Cleaveland/Price, Inc.
Dr. Carla Capozzi Orthodontics
Jacktown Ride & Hunt Club
*current at time of publishing
Questions? Call Paula 724-972-2305 or email norwinpiff@gmail.com
The Legal Stuff: An inherent risk of exposure to COVID-19 exists in any public place where people are present. COVID-19 is an extremely contagious disease that can lead to severe illness and death. According to the Centers for Disease Control and Prevention, senior citizens and guests with underlying conditions are especially vulnerable. Although Norwin Play It Forward Fund, Inc. and Vangura have instituted reasonable practices in an attempt to lessen or reduce the spread of COVID-19, Norwin Play It Forward Fund, Inc. and Vangura cannot guarantee that you will not get exposed to the virus or get sick from it. By attending a Norwin Play It Forward Fund, Inc. at The Kitchen by Vangura, you voluntarily assume all risks related to exposure to COVID-19, and hold Norwin Play It Forward Fund, Inc. & Vangura harmless from any exposure which may occur.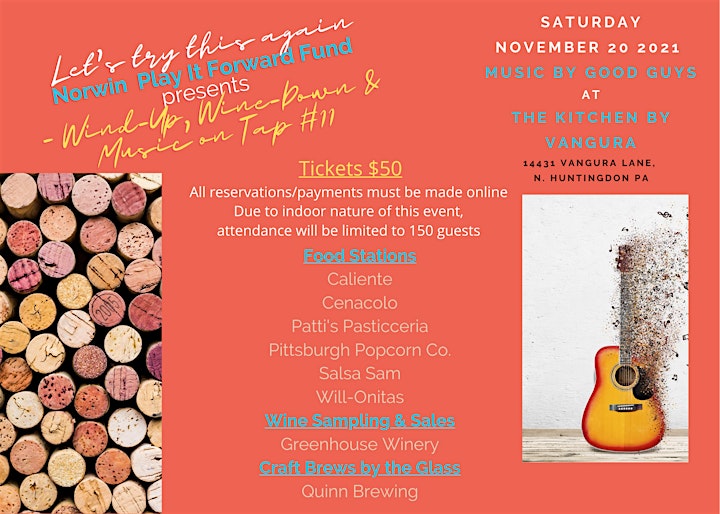 Organizer of Norwin Play It Forward Fund Presents Wind-Up/Wine Down & Music on Tap #11
The Norwin Play It Forward Fund provides grants for students in grades four through
twelve who participate in the Norwin School District's instrumental music
programs. Funds raised provide subsidies for students to take private music
lessons and for educational music camp and related experiences, with a
preference for students with demonstrated financial need. The goal for students
who benefit from the Norwin Play It Forward Fund is for them to "play it forward" with their time and
talent to mentor other instrumental music students or support the fund
financially when they are able. Through special events that engage members of
the community, and gifts and grants from individuals and organizations, the
enhanced educational experience not only improves a student's musicianship, but
also accentuates teamwork, discipline, and a commitment to excellence in
academics, performance, service and philanthropy.