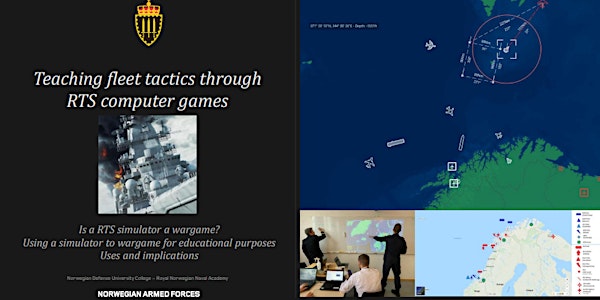 Norwegian Wargaming - Teaching Maritime Tactics
Commander Steffen Berge Øverland will discuss how he uses digital wargames to teach maritime tactics to Norwegian naval cadets.
About this event
At the Royal Norwegian Naval Academy in Bergen, Norway, we are in the process of institutionalizing wargaming in teaching and learning naval and fleet tactics. Wargaming is about people and decision-making, competing will against will. In using a computer simulation based on a real time strategy (RTS) computer game, we try to add additional factors to a war game, namely teamwork and real time assessment, coordination and tactical actions.
Commander Steffen Berge Øverland is a naval officer, currently serving as teacher of maritime operations at the Royal Norwegian Naval Academy. During his 25 years in the Royal Norwegian Navy, he has served on board frigates in naval operations and exercises worldwide, serving both in operational and staff postings in operations OCEAN SHIELD, RECSYR and others.
Besides warships, Øverland has dabbled in university studies, board- roleplaying- and computer games since 1984. Privately he enjoys mountain hiking and skiing, as well as good food and wine.
1994-1998 Bachelor (History major) University of Bergen, Norway.
2002-2005 Bachelor (Military studies and nautics) Royal Norwegian Naval Academy, Norway
2020-2022 Master (MSc Maritime operations) Kingston University, UK