Sales Have Ended
Registrations are closed
Registration for this event is now closed.
Sales Have Ended
Registrations are closed
Registration for this event is now closed.
Description
Each year, the Master of Biotechnology Program hosts Biotechnology Day, a one-day life sciences festival designed to inspire and inform curious minds. We aim to reach a broad community of students, scientists, and science enthusiasts. This year's event includes community outreach activities, tours of facilities, career panels (technical and non-technical focuses), a keynote speaker, and an open networking session.

Thank you to our generous co-sponsors: Office of STEM Education Partnerships (OSEP) and Biotechnology Training Program (BTP)!
Our schedule is included below. Attendance is free but registration is required. Registration closes on Monday, February 26 at 12:00pm CST.
---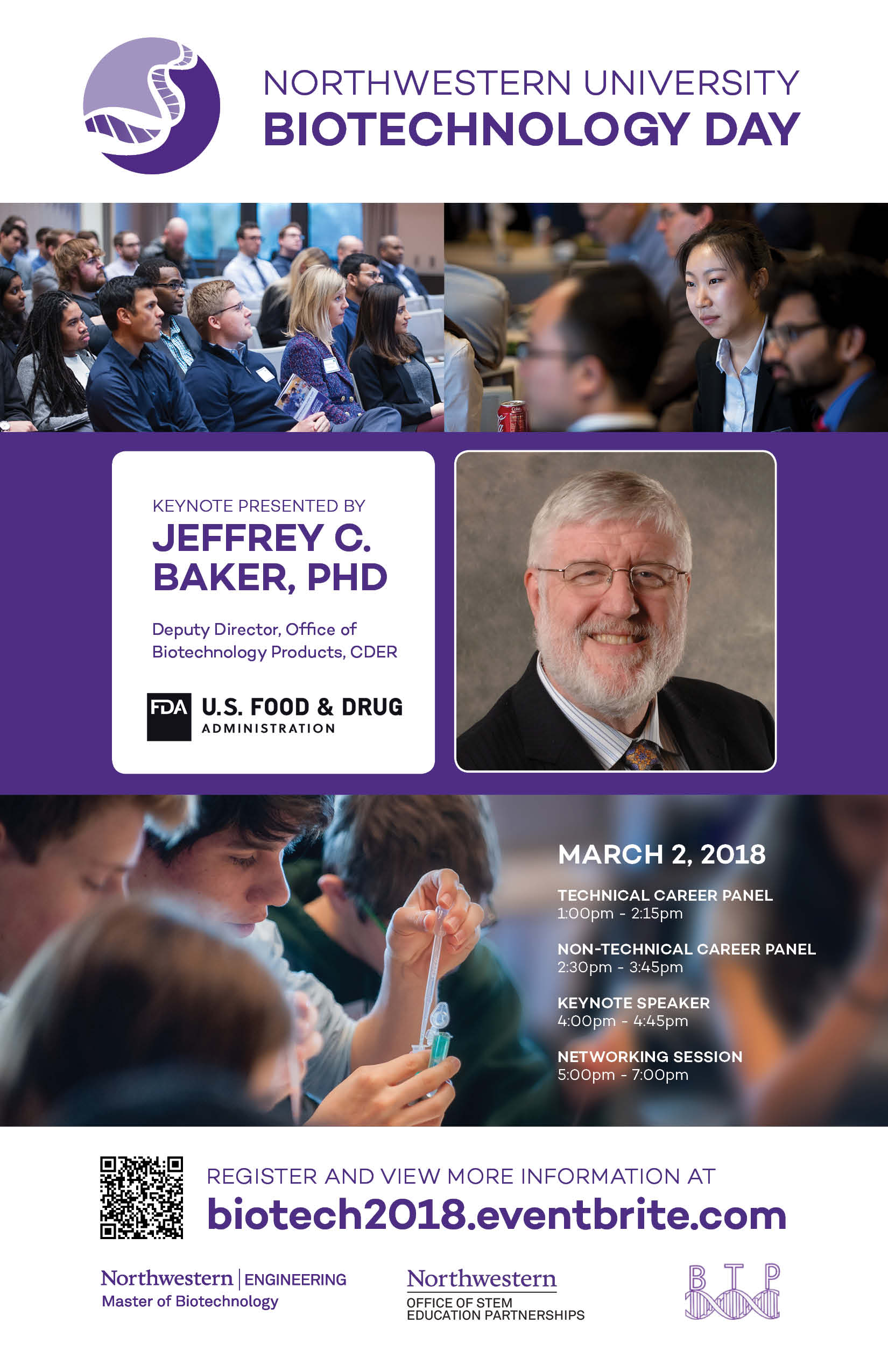 ---
BIOTECHNOLOGY DAY KEYNOTE SPEAKER AND PANELISTS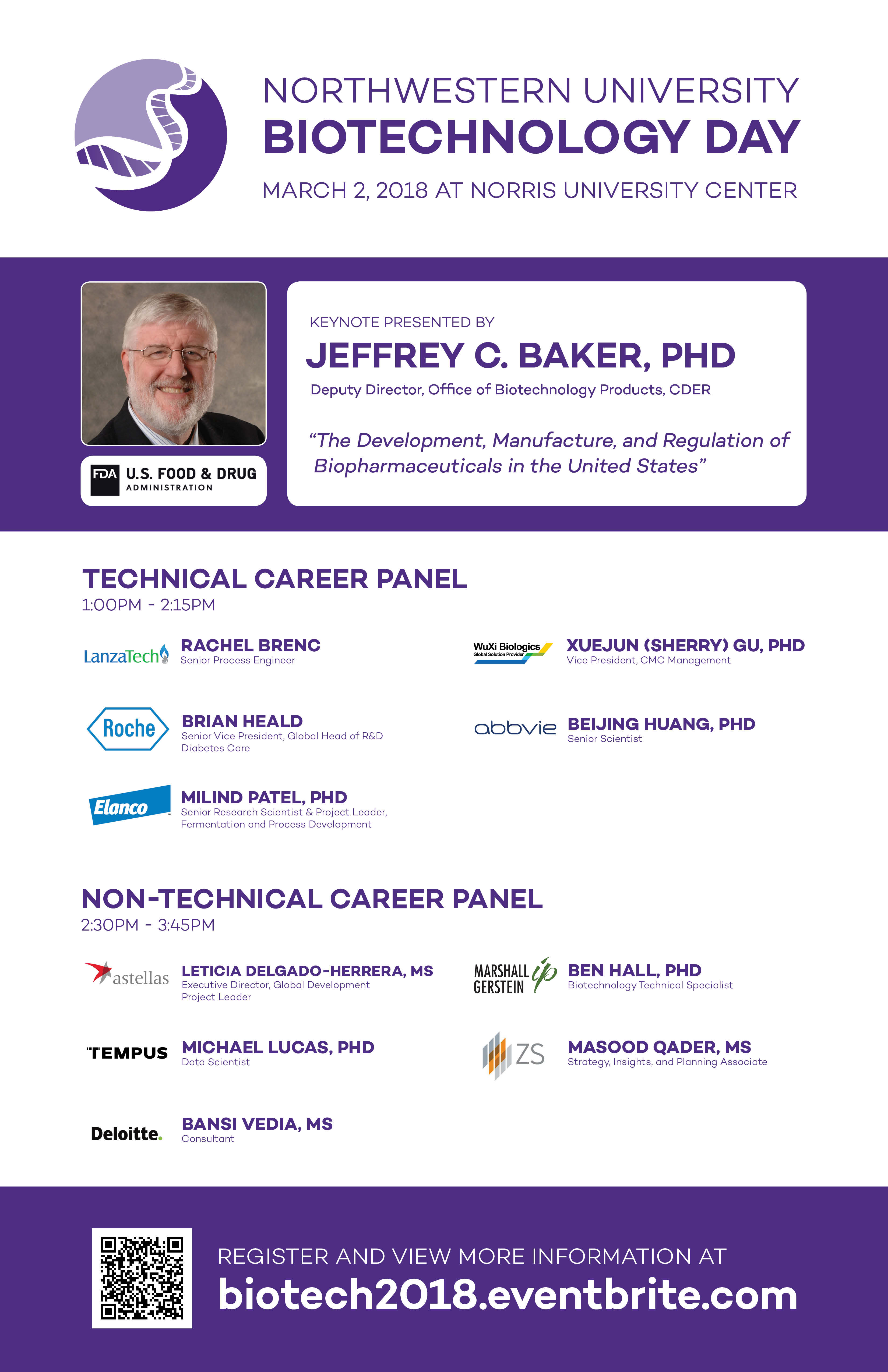 ---
ABOUT THE KEYNOTE
Title: "The Development, Manufacture, and Regulation of Biopharmaceuticals in the United States"
Abstract: We are in the midst of an explosion of creativity and innovation in the development of biotechnology based pharmaceuticals. New technologies and manufacturing strategies, therapeutic proteins addressing unmet medical needs, curative biotherapeutics, biosimilars, and products rushed to market with breakthrough status are all on the rise. The combination of technological innovation, a rapidly evolving regulatory landscape, and global market requirements can paint a picture of daunting or energizing complexity. This talk will provide an overview of the regulation of biopharmaceuticals in the United States and explore the current regulatory paradigm of patient centered, risk based oversight employing a totality of evidence framework to assure stable supplies of high quality medicines, a totality of evidence based upon data driven studies, first principle understanding, and sound engineering practices in manufacturing.
Speaker: Jeffrey C. Baker, Ph.D. (Deputy Director, Office of Biotechnology Products, Center for Drug Evaluation and Research at the United States FDA)
About the Speaker: Dr. Baker received a bachelor's degree in biochemistry and molecular biology at Northwestern University, his doctorate in biochemistry from the University of North Texas, and completed post-doctoral studies at the University of California, Berkeley. Dr. Baker joined the biosynthetic process development group at Eli Lilly & Co in 1988. While at Lilly, Dr. Baker led the development of several biologics from bench top purification to global launch, supported post-launch manufacturing process development activities, and established and led Lilly's Global Validation Practices Team. After completing his certification as a Lean Six Sigma Black Belt, Dr. Baker led several corporate initiatives related to assessment and enhancement of control, capability, and functional governance processes in pharmaceutical manufacturing. Dr. Baker left Lilly to be Sr. Director of Manufacturing Science and Technology at MedImmune, a subsidiary of AstraZeneca. In 2011, Dr. Baker was appointed Deputy Director of the Office of Biotechnology Products in the Center for Drug Evaluation and Research at the FDA. Dr. Baker helped establish the Quality Management System used today in OBP and has been recognized with several CDER citations for leadership and program development. He was a member of the team which conceptualized and stood up the Office of Pharmaceutical Quality at FDA.