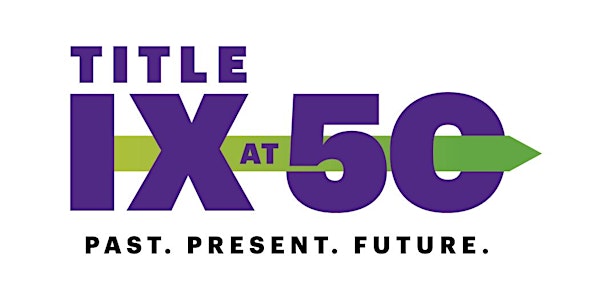 Northwestern University-Title IX at 50
A three-day commemoration of the 50th anniversary of Title IX.
When and where
Location
Northwestern University Campus Campus Drive Evanston, IL 60208
About this event
To commemorate the 50th anniversary of Title IX's passage into law, its origins and rich history; to explore its legacy and future; and to bring awareness to the issues still impacting high school and college athletics and education.
Title IX
No person in the United States shall, on the basis of sex, be excluded from participation in, be denied the benefits of, or be subjected to discrimination under any education program or activity receiving Federal financial assistance.
Schedule of Events
All events occur on the Evanston campus, are free and open to the public.
Thursday, October 27, 2022
7:00-8:00 p.m. Opening Event-Holding Court with Mary Carillo and Katrina Adams
Galvin Recital Hall
Ryan Center for the Musical Arts
70 Arts Circle
The opening of a three-day commemoration of the 50th anniversary of Title IX.
Mary Carillo and Katrina Adams, two of the biggest names in tennis and most highly respected women in sports, get together for a night of storytelling, laughter and unique insight from their experiences on the pro tennis tour, on television and in the boardroom.
Mary Carillo, a former Grand Slam mixed doubles champion with partner John McEnroe, has won two Peabody Awards for her broadcast work and has consistently been named the best analyst in tennis, working for Tennis Channel, NBC, CBS, USA Network, ESPN and HBO. She has been an analyst on 14 Olympic Games for NBC, a correspondent for HBO's Real Sports and host of the Westminster Kennel Club Dog Show.
Katrina Adams was the first African American president and CEO of the United States Tennis Association, was chair of the US Open, Fed Cup and Gender Equality in Tennis committees. As a player, Adams was the first African American high school singles champion in Illinois, a two-time All-American at Northwestern, winning the NCAA doubles title with partner Diane Donnelly in 1987 and reached the quarterfinals or better in doubles at all four Grand Slam tournaments. She is the author of "Own the Arena." 
Moderator: Melissa Isaacson, Northwestern
Friday, October 28, 2022
9:00-10:00 a.m.
The Extraordinary Evolution of Title IX
McCormick Foundation Center Bernal Forum
1870 Campus Drive
This panel explores the history of Title IX beginning with its origins in 1972, how it evolved to address girl's and women's participation in athletics, and how it eventually became the primary means of redress for gender-based violence within American universities.
Panelists include:
Sherry Boschert, author of "37 Words: Title IX and Fifty Years of Fighting Sex Discrimination."
Nancy Cantalupo, Wayne State Law School
Allison Robinson, New York Historical Society
Moderator: Ava Greenwell, Northwestern
10:15-11:15 a.m.
Sexual Assault and Harassment on Campus: Title IX's Changing Role
McCormick Foundation Center Bernal Forum
1870 Campus Drive
The application of Title IX to issues of campus sexual assault and harassment has been regarded as a lifeline, a limitation and an overreach. In this panel we bring together distinct perspectives from academia, law and government.
Panelists include:
Susan Appleton, Washington University
Suzanne Goldberg, Columbia Law School, U.S. Department of Education
Kate Lockwood Harris, University of Minnesota
Moderator: Deborah Tuerkheimer, Northwestern
11:30-11:45 a.m.
Screening:
Transgender Athletes: A Status Report
McCormick Foundation Center Bernal Forum
1870 Campus Drive
Presenter: Amanda Vinicky, Correspondent, WTTW
This evolving and critically important topic will be covered in an approximately 10-minute video in partnership with WTTW-Ch. 11 and will include transgender athletes' personal stories, as well as the science and politics involved.
12:15-1:15 p.m.
From Athlete to C-Suite: How Title IX and Sports have Launched Careers
Kellogg Global Hub
2211 Campus Drive
The passage of Title IX greatly expanded access to team sports, university athletic resources and coaches as mentors, opening doors to women at the dawn of their professional careers and equipping them with vital skills to propel them to professional success in business. In this panel, we will hear the stories of women who played collegiate sports, earned an MBA degree at Kellogg, and went on to business careers at the highest levels.
Panelists include:
Tamara Bohlig, Board Director, Chief Marketing Officer, Axos Financial, Inc. (WCAS91 and KSM97)
Aminah Charles, Head of Sports Marketing, Beats by Dre (KSM17)
Jasmine Lipford, Head of Marketing, NBA G League (KSM15)
Kate Smith, Assistant Athletic Director, Northwestern University
Moderator: Danielle Bell, Assistant Professor, Northwestern University (BSJ99 and KSM07)
1:10-2:10 p.m. The Birth of Title IX: A Conversation with Senator Evan Bayh
The former U.S. Senator, Indiana Governor and son of the late Birch Bayh, the U.S. Senator and coauthor of Title IX, will speak remotely and answer questions from students related to Title IX, including his fascinating family story and how Title IX was partially born in discussions at the kitchen table.
Moderator: Melissa Isaacson, Northwestern
3:00-4:00 p.m. The Queen of Basketball
A screening and discussion on the life of Lucy Harris, the subject of the 2022 Oscar-winning documentary short "The Queen of Basketball." Harris, who passed away in January of 2022, was the daughter of
Mississippi sharecroppers who scored the first basket in women's Olympic history, led her Delta State team to three national titles and is the only woman drafted into the NBA, but remained until her death in early 2022, largely unknown.
Panelists include:
Crystal Stewart Washington, daughter of Lucy Harris
Andrew Maraniss, author of "Inaugural Ballers: The True Story of the First U.S. Olympic Women's Basketball Team."
Moderator: Mary Carillo, NBC, HBO, Tennis Channel
8:00 p.m. Volleyball Game: Northwestern vs. Purdue
Welsh-Ryan Arena 2705 Ashland Ave
Please join us as the Northwestern volleyball team hosts Purdue. NU Athletics will provide complimentary tickets to all guests of the Title IX at 50 weekend, and during the match, Northwestern will recognize special guests, including student-athlete alumnae across all sports.
Saturday, October 29, 2022
8:00 a.m. Walking tour of Walter Athletics Center and Ryan Fieldhouse
Visitors to Saturday's sessions are invited to a walking tour of the facilities.Nona Jo'sWalter Athletics Center2255 Campus Drive
9:00-10:00 a.m.
An Examination of Gender and Racial Inequities in College Sports
Nona Jo's Walter Athletics Center 2255 Campus Drive
Centered around the NCAA's Title IX at 50 report, "The State of Women in College Sports." This panel will look at racial and gender equity in women's sports – where it stands and where improvements can be made.
Panelists include:
Amy Wilson, NCAA
Donna Lopiano, Sports Management Resources
Ketra Armstrong, University of Michigan
Moderator: Christine Brennan, USA Today, CNN
10:15-11:15 a.m.
Lift as You Rise: The Future for Women in Coaching and Athletic Administration
Nona Jo's Walter Athletics Center 2255 Campus Drive
Some of the most successful women coaches in the country are at Northwestern, and this panel has them and their female colleagues in NU's athletic administration discussing the need for mentoring in this industry, how they were guided early in their careers and how to improve the staggeringly low numbers of women currently in power in high school and college sports.
Panelists include:
Janna Blais, Northwestern
Kelly Amonte Hiller, Northwestern
Kate Drohan, Northwestern
Kristina Minor, Northwestern
Moderator: Christine Brennan, USA Today, CNN
11:30-12:30 p.m.
Hear My Story: The 50-Year Journey of Female Student-Athletes
Nona Jo's Walter Athletics Center 2255 Campus Drive
This panel will be a conversation between former Northwestern athletes spanning the 50 years since the passage of Title IX, examining what the student-athlete experience looked and felt like in the early days, and discussing how much further we still have to go.
Panelists include:
Robin Voigt, Northwestern '77 (Volleyball)
Chinazo Opia Cunningham, Northwestern '90 (Softball)
Samantha Nettling, Northwestern '18 (Softball)
Dionna Latimer-Hearn, Northwestern '99 (Soccer)
Moderator: Meghan McKeowan, Northwestern '14 (Basketball)