Sales Have Ended
Registrations are closed
Tickets to the 2019 NQN Summit are available by invitation only. Please contact corinsr@uw.edu if you have any questions about your registration status.
Sales Have Ended
Registrations are closed
Tickets to the 2019 NQN Summit are available by invitation only. Please contact corinsr@uw.edu if you have any questions about your registration status.
About this Event
Join us at the Inaugural Northwest Quantum Nexus Summit
With its robust ecosystem of high-tech industry, academia, and a leading national laboratory, the Pacific Northwest is a natural focal point in an exciting emerging technology: quantum information science.
On March 18-19, a coalition led by the U.S. Department of Energy's Pacific Northwest National Laboratory, Microsoft Quantum, and the University of Washington will convene in Seattle for an inaugural summit to launch the Northwest Quantum Nexus (NQN). The Summit will establish a center of geographic and intellectual gravity in the Northwest, where a talent pool can flourish and contribute to the quantum economy, through knowledge sharing, skill and experience development, research impacts, and community engagement.
We invite you to join leaders in quantum information science and fellow decision-makers for this inaugural workshop to share your perspectives on the future of quantum information science (QIS). At the Summit, we will explore how the Northwest can shape the future of quantum computing and its applications while giving back to the region by creating a vibrant industry that will contribute to the economic vitality of the region for decades to come.
The Northwest Quantum Nexus Summit is organized by:

Organizing committee:
Microsoft
Pacific Northwest National Laboratory
University of Oregon
University of Washington
Washington State University
Agenda
The NQN Summit organizing committee has gathered the region's top academic, business, and public leaders to share their expertise vision on how QIS will transform the Northwest.
Monday March 18th , 8:00 AM - 7:00 PM
Breakfast & registration
Morning keynote address & panels: Overview of the NQN and research themes
Lunch
Afternoon keynote address & scientific panels:
QIS applications
Algorithms and programming
Materials applications
Evening reception & poster sessions
Tuesday March 19th , 8:00 AM - 5:00 PM
Breakfast & registration
Lunch
Morning & afternoon keynotes, panels, and workshops:
Building a quantum workforce;
Developing a quantum innovation ecosystem;
Northwest region innovation and workforce idea sharing session;
Business opportunities for quantum science;
Federal commitment to developing quantum computing capability
About the Northwest Quantum Nexus
Quantum computing is poised to accelerate the global cycle of economic innovation. Recognizing the opportunity to help shape the development of this potentially transformative technology, a core group of partners formed the Northwest Quantum Nexus (NQN). Members of the NQN are dedicated to developing applications for quantum computing and testbeds for future scalable computing architectures. The NQN leverages scientific expertise, institutional capabilities, and global engineering capacity that creates a hub for all aspects of quantum technology.
Our mission is to incubate innovation, evaluate experimental concepts, and translate promising technology into real-world commercial applications.
The initial focus of Northwest Quantum Nexus is scalable quantum computing for clean energy applications, with a focus toward quantum sensing and other QIS applications. Building on existing successful partnerships in quantum chemistry, and core research strengths of NQN partners, we will pursue research directions that feed a continuous cycle of discovery, testing, development, and implementation.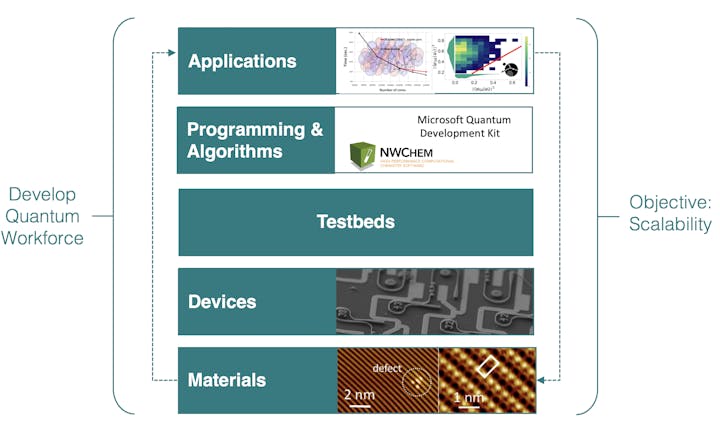 The NQN members recognize that to realize the potential of the technology and its applications will require a coordinated effort that cannot be realized by an individual existing entity. The NQN provides a nucleation site for fostering and coordinating collaboration across several dimensions.
Multi-disciplinary research: fostering relationships among researchers with complementary expertise towards developing a system-level platform for QIS and its applications. It is anticipated advances generated through the NQN will feed clean energy applications, particularly the discovery of new materials and processes to increase the efficiency of industrial chemical operations and recycle carbon from diverse sources.
Public-private partnerships: extending the principles established among the existing public-private partners to inculcate a culture of technology development and transfer as an integral part of the virtuous cycle of development. The NQN will foster an ecosystem for startup incubation and spin-off of quantum-enabled products and practices.
Workforce development: educating and training the next generation to become fluent in the language of quantum computing and to be prepared to join the Northwest workforce created through the effort of the NQN. It is a primary tenant of the NQN that an educated workforce will be a critical component to realize the potential of quantum computing in our lifetimes.
Other information:
We do not have a dedicated conference hotel but there are several major chain hotels near the conference venue on the University of Washington campus. The UW campus is easily reachable by the Seattle light rail which has direct access to downtown if you prefer to stay there as well.