Description
The Northwest MBA Career Conference on February 28, 2014 brings employers, students and alumni together from the region's top business schools. If you are an employer, this is an opportunity to get your company noticed by students and recruit for open jobs and internships. If you are a student or alumni, this is an opportunity to expand your career management skills through a series of workshops and to connect with employers.

Agenda:
1 – 1:50pm: Session One Workshops for students and alumni: Recruiter Point of View Panel, International Student/Alumni Panel, Elevator Pitch Workshop, Career Changer Panel
2 – 2:50pm: Session Two Workshops for students and alumni: Recruiter Point of View Panel, Managing Your Professional Image, Salary Negotiation, Mastering the Case Interview Workshop
3 – 3:50pm: Session One Employer Showcases: 3 - 4 companies per Showcase will give an 8-10 minute presentation that provides valuable insight into their company, culture, and job opportunities. This is a great way to learn more about companies interested in recruiting students.
4 – 4:50pm: Session Two Employer Showcases: same as above
5 – 6:30pm: Networking Reception for Employers, Students and Alumni (appetizers included, cash bar available)
Currently registered employers:
Aequitas Capital Management

AXA Advisors

Banfield Pet Hospital

Boly Welch

Broad River

Bulk Handling Systems

Cambia Health Solutions

Ecova

Fisher Investments

Hitachi Consulting

Kaiser Permanente

Legacy Health

Northwestern Mutual

Oregon Department of Human Services

Portland General Electric

Rubicon International

Slalom Consulting

SurveyMonkey

more to come....
Employer Registration Includes:
Access to top graduate business students in the region

Two, 10-minute presentation slots in the Employer Showcases (You will be assigned to two Employer Showcases; one session from 3 - 3:50pm and the other session from 4 - 4:50pm. In each Showcase, three or four different employers will each present about their company, and then there will be time for questions.)

Admission for two company representatives at the Networking Reception, where you can continue to chat with students you met at the Employer Showcases, and maximize your return on your investment in the Conference

A designated bistro table at the Networking Reception
Note: The employer portion of this event starts with the 3:00pm Employer Showcases. Please check in no later than 2:45pm so you are ready for your first Showcase. You are welcome to come and experience the workshops starting at 1:00pm if you would like.

Student or Alumni Registration Includes:
Admission to a variety of career development workshops (see schedule above)

Networking with key employers during Employer Showcases

Entry to the Networking Reception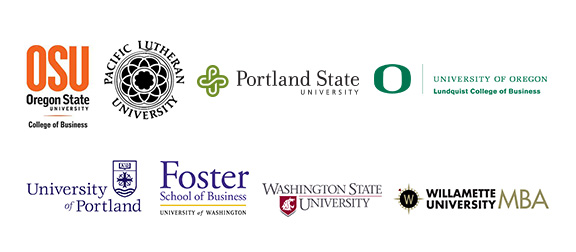 Organizer of Northwest MBA Career Conference