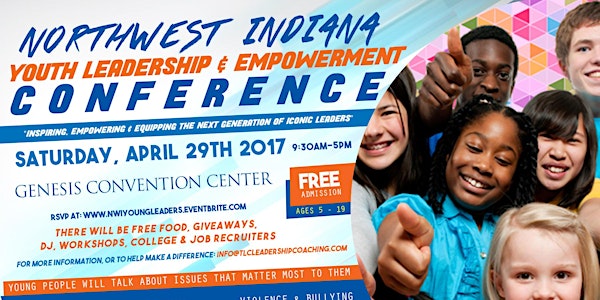 NORTHWEST INDIANA YOUTH LEADERSHIP & EMPOWERMENT CONFERENCE
Location
Genesis Convention Center
1 Genesis Center Plz
Gary, IN 46402
Description
On April 29, 2017, Gary, IN native Tramaine L. Crawford (TLC Coaching & Leadership Development), Reach One Consulting, and FLY (First Love Yourself) will help kids, teens, and young adults become bright leaders and change makers. Join us at the Genesis Convention Center as we host the NWI Youth Leadership & Empowerment Conference in support of the John Maxwell Team Global Youth Initiative.
The John Maxwell Team Global Youth Initiative will reach 500,000 young people in large cities, small towns, and villages internationally. As parents, teachers, and leaders, you have an opportunity to participate in a world-changing youth movement that will empower our children to make a greater impact on the world!
During this event, young people will interact with leaders who are experts in the fields leadership development, anti-bullying, self esteem and more. They will also be equipped, inspired, and empowered to:
•Have a Positive Self Image
•Respect Themselves and Others
•Be a Leader & Positive Influence
•Achieve Success
Let's spark an intentional and lifelong leadership interest in our children. We have the chance to impact tomorrow's leaders today!
This event is FREE and open to the community.
***FOOD, ENTERTAINMENT, & MORE***