Description
VR is the future of Storytelling.
Join us for an Northside Innovation Meetup on Thursday, November 3rd, where we'll be exploring why VR is the future and how brands and filmmakers are looking to no longer just tell stories, but allow viewers to experience stories. Come learn how to utilize VR to build your company, market your brand and be a better consumer.
Complimentary dinner from Okimoto Kitchen, beer and wine will be served!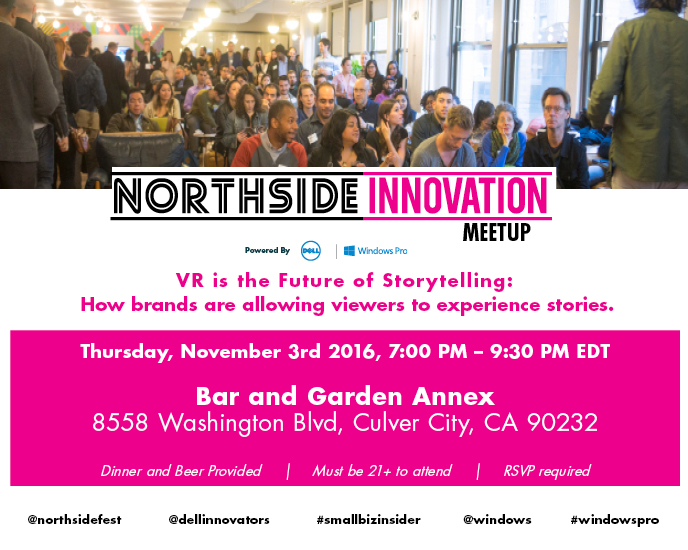 Lightning Speaker:
-Jessica Naziri, Founder, TechSesh.co
-Philippe Lewicki, Captain, AfterNow

Panel:
-Rebekah Iliff (Moderator), Chief Strategy Officer, AirPR
-Andrew Abedian, Level Designer, Survios
-Jeffrey Abramson, VR Producer & Strategist
-Alejandra Quesada, Executive Producer, The Virtual Reality Company
-August Bradley Cenname, COO/CMO, Kite and Lightning


Meet with Dell and Microsoft to learn more about its technology solutions as well as their commitment to supporting and helping small businesses grow.

Schedule:
7:00 - 7:30 pm - Grab a beer and mingle
7:30 - 8:30pm - Panel Discussion
8:30 - 9:30pm - Dinner, drinks + networking