Description
Unleashing Change: Technology as a Force For Good
Join us for a Northside Innovation Meetup on Wednesday, December 7th, where we'll explore how technology is being used for positive changes both socially and environmentally. You can't afford to miss this Northside Innovation Meetup.
Complimentary dinner from Honey Butter Fried Chicken, beer and wine will be served!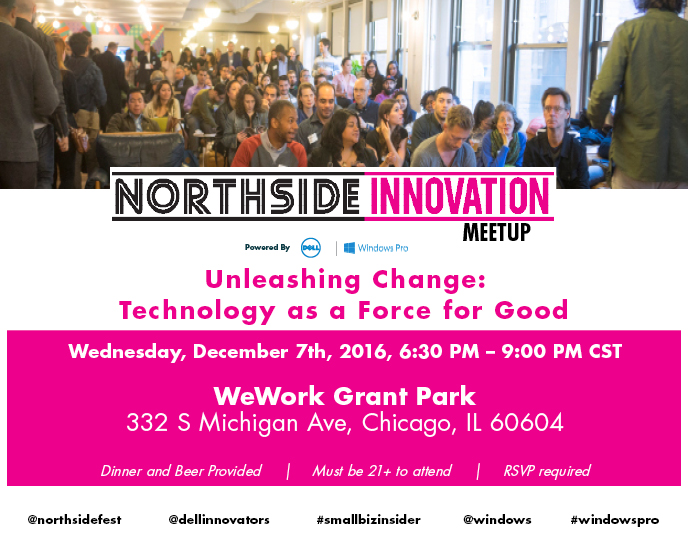 Lightning Speakers:
- Raj Karmani, Founder and Chief Impact Officer, Zero Percent
- Jim Alvarez, Founder & CEO, Gesture
Panel:
- Andrea Rodgers, Marketing Ops Senior Advisor, Dell
- Annie Warshaw, Co-Founder & CEO, Mission Propelle
- Aviva Rosman, COO, BallotReady
- Melissa Anderson, President, Public Good
- Jeff Rosset, Executive Director, Chicago Leadership Alliance

More speakers coming soon!
Meet with Dell and Microsoft to learn more about its technology solutions as well as their commitment to supporting and helping small businesses grow.
Schedule:
6:30 - 7:00 pm - Grab a beer and mingle
7:00 - 7:45pm - Panel Discussion
7:45 - 9:00pm - Dinner, drinks + networking
About WeWork:
WeWork provides small businesses, startups, freelancers, large enterprises, and everyone in between with the workspace, community, and services they need to make a life, not just a living. With weekly events, personalized support, month-to-month flexibility, and access to over 70,000 like-minded creators around the world, WeWork is the perfect place to grow your business.