Description
Better, Farther, Faster, Stronger: Productivity in the Workplace
Join us for an Northside Innovation Meetup on Thursday, September 29th, where we'll be exploring how to be most effective at work. You can't afford to miss this Northside Innovation Meetup. Get practical tips on what tools managers and remote workers use on a day-to-day basis.
Complimentary dinner, beer and wine will be served!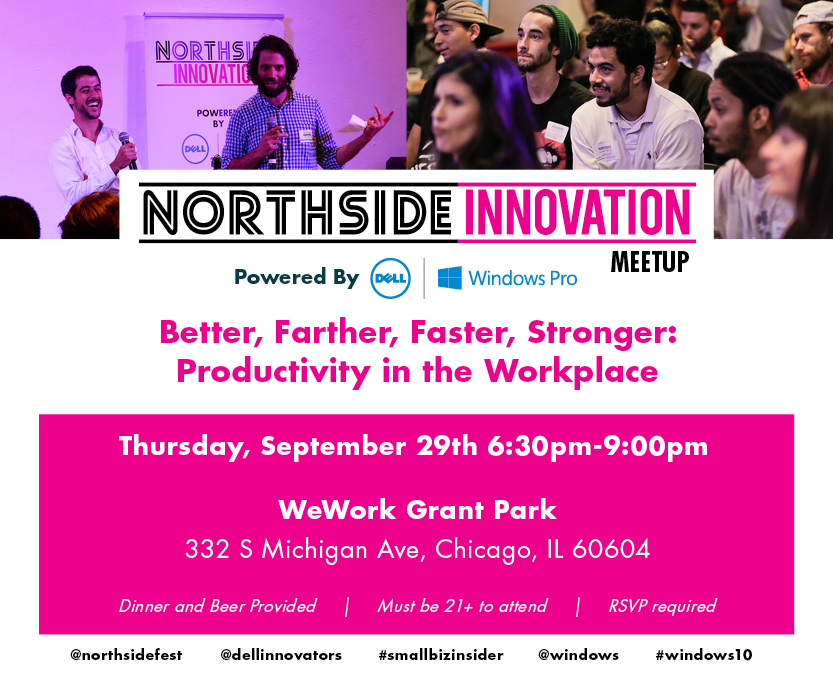 Speakers:

- Tom Cullen, Co-Founder, LaunchPad Lab
- Megan Matt, Founder & CEO, Augl
- Jes Sherborne, Founder & CEO, Team Everywhere
- Phil Alexander, Founder & CEO, ConceptDrop
- Allie LeFevere, Founder Shameless.ly
- Kelli Hodges, Global Marketing Manager, EUC-Tablets, Dell
Meet with Dell and Microsoft to learn more about its technology solutions as well as their commitment to supporting and helping small businesses grow.

Schedule:
6:30 - 7:00 pm - Grab a beer and mingle
7:00 - 7:45pm - Panel Discussion
7:45 - 9:00pm - Dinner, drinks + networking

WeWork provides small businesses, startups, freelancers, large enterprises, and everyone in between with the workspace, community, and services they need to make a life, not just a living. With weekly events, personalized support, month-to-month flexibility, and access to over 65,000 like-minded creators around the world, WeWork is the perfect place to grow your business. Book your tour here!