NSHH presents "It's Time to Build," our 2019 Event Series as we discuss infrastructure & education w/ local artists, educators & scholars.
About this Event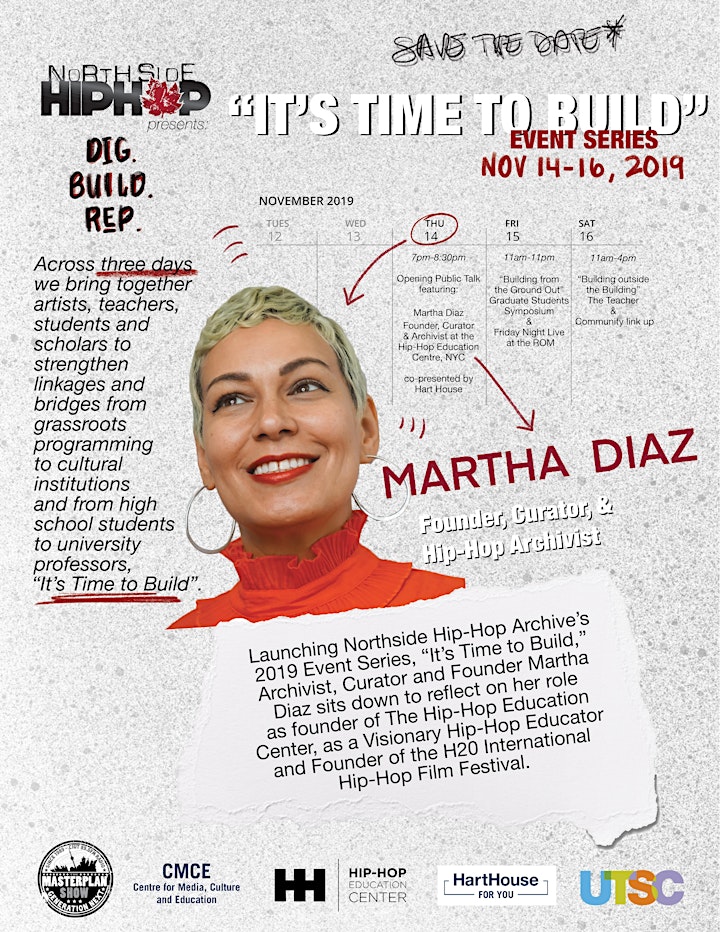 | DIG | BUILD | REP |
Over the course of three days, our sessions build on Northside Hip Hop Archive's inaugural 2017 conference, One Hundred and Fifty Futures of Hip Hop Culture in Canada. Join us as we bring together artists, teachers, students and scholars to strengthen linkages and bridges from grassroots programming to cultural institutions and from highschool students to university professors
Day One: DIG Co-Sponsored by Hart House
Opening Public Talk featuring Martha Diaz (see bio below)
#time2dig #nshhsessions
Thursday, November 14, 2019
7:00PM
Hart House, 2nd floor, 7 Hart House Cir., Toronto, ON
Day Two: BUILD
Building from the Ground Out: Graduate Students Symposium & Friday Night Live @ the ROM
#time2build #nshhsessions
Friday, November 15, 2019
11:00am
Hart House, 7 Hart House Cir., Toronto, ON
Day two embodies the communal and collaborative spirit of what it means to build. As a gathering of scholars, students and artists we envision and invoke the kind of hip hop community and culture that interrogates pedagogy, education, global relations and builds sustainable communities.
Session: Building from the Ground Out: Graduate Students Symposium
This session will discuss emerging hip hop research inside and outside the academy, and the accompanying ethical, political and social implications. What does hip hop look like in an institution? What are our teaching goals, and how does hip hop inform our pedagogical approaches? How might teaching hip hop in the community influence the inner workings of the University system?
The Digital Syllabus Mashup Continues
Launching on opening night, this activity builds an online, open source Canadian hip hop syllabus. This resource is designed to provide the public with access to written sources on Canadian hip hop music and culture. Our 2017 syllabus is housed in the resources section on the Northside Hip Hop Archive website.
Friday Night Live @ Royal Ontario Museum, 100 Queen's Park, Toronto, ON Doors open at 7PM
Featuring Maestro & surprise guests
Mark'd Sneaker Design Competition, DJs Grouch, DTS, JC Sunshine, Grumps & a VR experience of For the Record--An Idea of the North with Mixit Media
*Please note this is a separately ticketed event. Get your ticket here.
Day Three: REP
**See the lineup and register here
Martha Diaz (MD) is a community organizer, media producer, archivist, curator, and educator. MD is one of Women's eNews distinguished 21 Leaders for the 21st Century whose work has traversed the hip-hop entertainment industry, the public arts and education sector, and the academy over the last 25 years. Her passion is advancing human rights and transforming communities through media, technology, and social entrepreneurship, while also lecturing internationally and facilitating workshops on hip-hop as a medium for education, cultural exchange, and building social capital. She began her career as an undergraduate student at Fairleigh Dickinson University studying Communications and Television and Film Production. She has associate produced and consulted on several hip-hop documentaries including, Where My Ladies At? by Leba Haber Rubinoff (2007), Black August: A Hip-Hop Concert by Dream Hampton (2010), and Nas: Time Is Illmatic by One9 (2014). As an educator, she has taught middle and high school students in Harlem and the Bronx and was an Adjunct Professor at New York University's Gallatin School. MD has produced several community-based initiatives and solution-driven platforms that address social inequities, transform public spaces and challenge gender norms and epistemologies around the production of hip-hop. In 2002, MD founded the highly acclaimed Hip-Hop Odyssey (H2O) International Film Festival, the first and largest festival of its kind. She was invited to curate the first Hip-Hop movie series presented by the Academy of Motion Picture Arts and Sciences and served as a guest curator at the Museum of the Moving Image. In 2010, as a Graduate student at the Gallatin School, MD formed the Hip-Hop Education Center to research, cultivate and formalize the field of hip-hop-based education. Through her publications of research reports, books, and curricula, she has chronicled hip-hop history to preserve its cultural value and memory. She is co-editor of the Hip-Hop Education Guidebook, Vol. I ( 2007) and Rebel Music: Resistance Through Hip Hop and Punk (2015). A graduate of New York University's Moving Image Archiving and Preservation Program, MD has worked on archival projects with Parkwood Entertainment (Beyoncé Knowles-Carter), Tupac Shakur Estate, The Paley Center for Media, Kaos Network, and National Jazz Museum in Harlem. She was a Senior Fellow – Smithsonian Institution's National Museum of American History, Lemelson Center for the Study of Invention and Innovation, Curator – Alternate Routes Festival, New Jersey Performing Arts Center, Fellow – Catherine B. Reynolds Foundation Program in Social Entrepreneurship, Curator/Scholar – The Schomburg Center, Community Scholar – Columbia University, and The Nasir Jones Fellow – The Hiphop Archive and the W.E.B. Du Bois Institute, Harvard University. MD is currently completing the New School Creation Fellowship at the High Tech High Graduate School of Education where she is designing the first online hip-hop high school. Most recently, she was invited to be a 2020 MacArthur Civic Media Fellow at USC's Annenberg Innovation Lab. www.marthadiaz.com | www.hiphopeducation.com