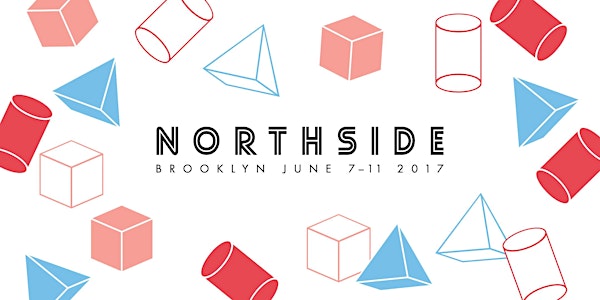 Northside Festival 2017
When and where
Location
Williamsburg Bedford Avenue and N12th Street (McCarren Park, William Vale Hotel, various locations) Brooklyn, NY 11222
Description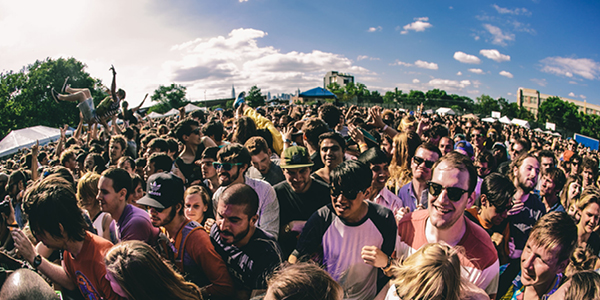 For five days every June, over 100,000 creative and cultural trendsetters converge in Brooklyn to uncover the future of music, innovation and content. Now in its ninth year, with over 300 bands and 300 speakers coming together across 30 venues, attendees venture to Northside Festival to say I saw it here first.
North Brooklyn is transformed into an urban festival unlike anything you've ever experienced. As opposed to a traditional festival or conference where events take place in one or two locations, Northside spans across Williamsburg, Greenpoint and Bushwick, encompassing a constellation of venues – small clubs, epic outdoor spaces like McCarren Park, boutique hotels, local movie theatres and more. A single day might include discovering your new favorite artist, the next big startup, or the most inspiring digital content you've seen all year.
Click here for HQ and Badge Pick-Up info!


Northside Innovation, June 7-9, welcomes a vibrant community of startup founders, entrepreneurs, designers, journalists, VCs, developers across three days of keynote talks, interviews, panels, workshops, pitch competitions, VR playground, and evening parties. Talks will cover a wide range of themes across many technology-driven industries, including startups, entertainment, activism, marketing, design, food, music and fashion.
Northside Report is a new track during the Innovation conference, June 8-9. "You Are Fake News": Truth, Lies, and Politics in the Age of Trump, is a two-day event focused on making sense of journalism and media in 2017. Produced by The Intercept and BuzzFeed News, topics will explore the changes occuring within news and modern media, and the critical role it plays within our political landscape. Taking place within Northside Innovation on June 8th and 9th, both days will feature special guests and significant personalities -- all thought leaders in technology, politics, media, and the current state of news.
Building off of the forward-thinking talks and topics featured at the conference, the Northside VR Playground will be reimagined in 2017 as a mixed use space for the latest ideas and experiments in mixed media reality, tech, products, and creative agencies. Lounges, co-working tables, charging stations, brand activations, and food stations will provide attendees with a place to both network and recharge across two days within the festival.

Home to a thriving independent scene and a magnet for top national and international talent, Brooklyn is host to some of the most exciting live music happening anywhere in the world. Northside strives to present the best version of this celebrated music culture. Working hand in hand with local bloggers, record labels, independent promoters and more, we bring together over 300 artists, both emerging and established.
R&B superstar Miguel, Post-Hardcore heroes Thursday, and Dirty Projectors playing one of two shows since the last album release. In addition, Jay Som, BJ the Chicago Kid, PUP and Kamasi Washington are all set to headline the festival at McCarren Park benefit shows (proceeds going to the Open Space Alliance for North Brooklyn) in addition to the multitude of club shows June 8-10.
This year, Northside will bring together both emerging and established artists to perform on outdoor stages and in the beloved indie clubs scattered throughout north Brooklyn for one massive celebration of the borough's ongoing artistic life. Showcase presenters include: Pitchfork, Kickstarter's The Creative Independent, 33 ⅓ Book Series, Sacred Bones, AdHoc and dozens more.
Lineup here + more TBA

Northside Art takes place on Saturday and Sunday, during our community event Williamsburg Walks, when Bedford Avenue is transformed into a creative oasis. Covering 13 city blocks, Williamsburg's mecca is reimagined, giving the neighborhood the opportunity to stroll the street to see art installations and live music, enjoy local food and relax on the lawn.


- Once you purchase a badge, you will receive an order confirmation email from Eventbrite on behalf of the Northside Festival. If you do not see your order confirmation in your inbox, make sure to check your junk/spam folder. If you still do not see your order confirmation, click here to access the Eventbrite help center.
- Before attending the event, you'll need to trade in your email confirmation for your physical badge. Print out the email you received after purchasing or download the Eventbrite app on your phone. Bring the printed out PDF confirmation or your phone to Festival Headquarters.
- All sales final. No refunds or exchanges.
- Festival is rain or shine. Artists, speakers and schedule subject to change.
- Individual tickets for select shows during Northside Music are available. Please check our website for more info as shows are announced.
- A badge does not guarantee entry. Entry is based on venue capacity and will be based on a first-come, first-served basis. Please arrive early to shows and panels that you can't miss!
- While badges are all ages, entry to specific music shows are per venues' legal age restrictions. Please check individual venue rules before arriving. Innovation venues are all ages.
- By purchasing a ticket you will be agreeing to allow your image to possibly be photographed or filmed for the use of the producers.