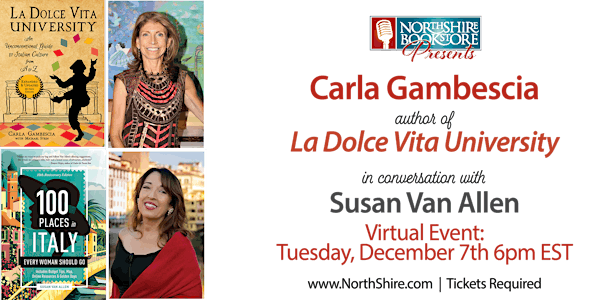 Northshire Online: Carla Gambescia "La Dolce Vita University"
Join us for a virtual exploration of Italy and its remarkably rich cultural gifts, both past and present.
Refund Policy
Contact the organizer to request a refund.
About this event
Gambescia will share her delightful La Dolce Vita University with Susan Van Allen, author of 100 Places in Italy Every Woman Should Go in this virtual event.
True to its lighthearted name, La Dolce Vita "U" is all about pleasurable learning, or what we prefer to call "edu-tainment." Its dozens of entertaining yet authoritative mini-essays on a wide assortment of intriguing topics encourage random dipping at the reader's pleasure. Even the most erudite Italophile will discover fun new facts and fascinating new insights in the pages of La Dolce Vita U."Imagine it as a dessert course filled with dark chocolates filled with exotic fruits and nuts, packed with knowledge and love of history and art, wisdom and wit, Italian, American, global. Carla wears her scholarship lightly, you never get overfull—but what a feast!" —Denise Scott Brown, Winner of the Jane Drew Prize for Women in Architecture
If you have questions about this or any Northshire event, please e-mail us at events@northshire.com.
Please note that the "Ticket With Book" option is for shipping or pickup within the United States only. If you live outside of the United States & wish to order a copy of the event book, please do so on our website, northshire.com (if you do so after purchasing a $5 event ticket you will have a coupon code valid for $5 off the book).