Location
Northgate Mall
9501 Colerain Avenue
Cincinnati, OH 45251
CincySmallBiz Takeover cultivates an experience for the shopper by making small business without brick and mortar locations more accessible.
About this event
This summer 2022 we are taking over NORTHGATE MALL!
Once monthly from May 2022- September 2022 we host a pop up shopping event to give small business an opportunity to sell their product or service at a familiar location.
VENDORS WANTED from all different backgrounds, products and services.
Go to the website to apply, just click BECOME A VENDOR! You can sign up for one or multiple events.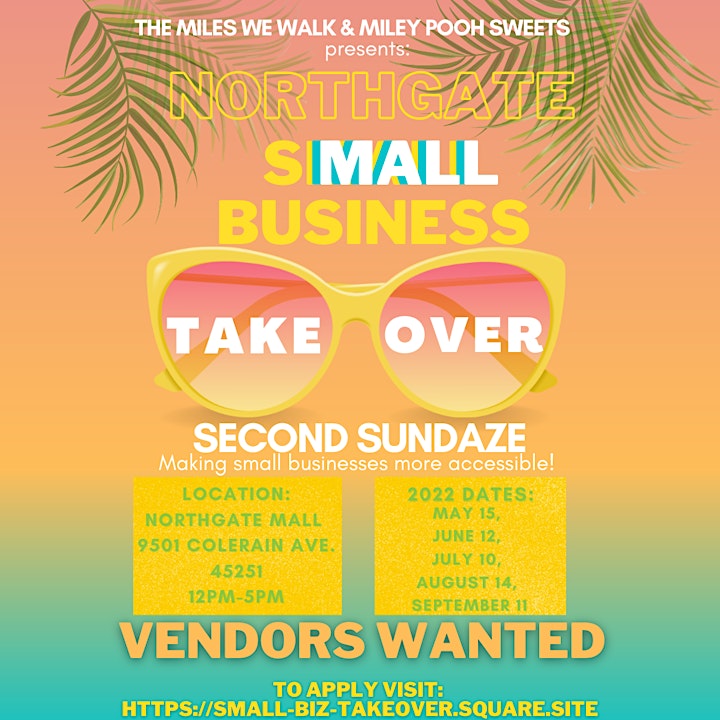 These events are hosted by small business, just like you!
The Miles We Walk Foundation
The Miles We Walk is designed to support, educate and empower the familes and the indivdiuals navigate and create new pathways through these tough times.
Miley Pooh Sweets
Miley Pooh Sweets was born to continue the legacy of owner, Bri'Ana Heard's oldest brother, D'Mile "Miley Pooh" Cunningham. Miley Pooh Sweets is a black owned and operated home based baking business based in Cincinnati, Ohio. Miley Pooh Sweets serves up assorted pound cake, specializing in pineapple upside pound cake.
https://small-biz-takeover.square.site