Northern California Waldorf Teachers Conference 2021
Event Information
Refund policy
Contact the organizer to request a refund.
Eventbrite's fee is nonrefundable.
Soul of the Nation, Spirit of the Land Sensing the Call to Evolve Waldorf Education in North America with Keynote Speaker Orland Bishop
About this event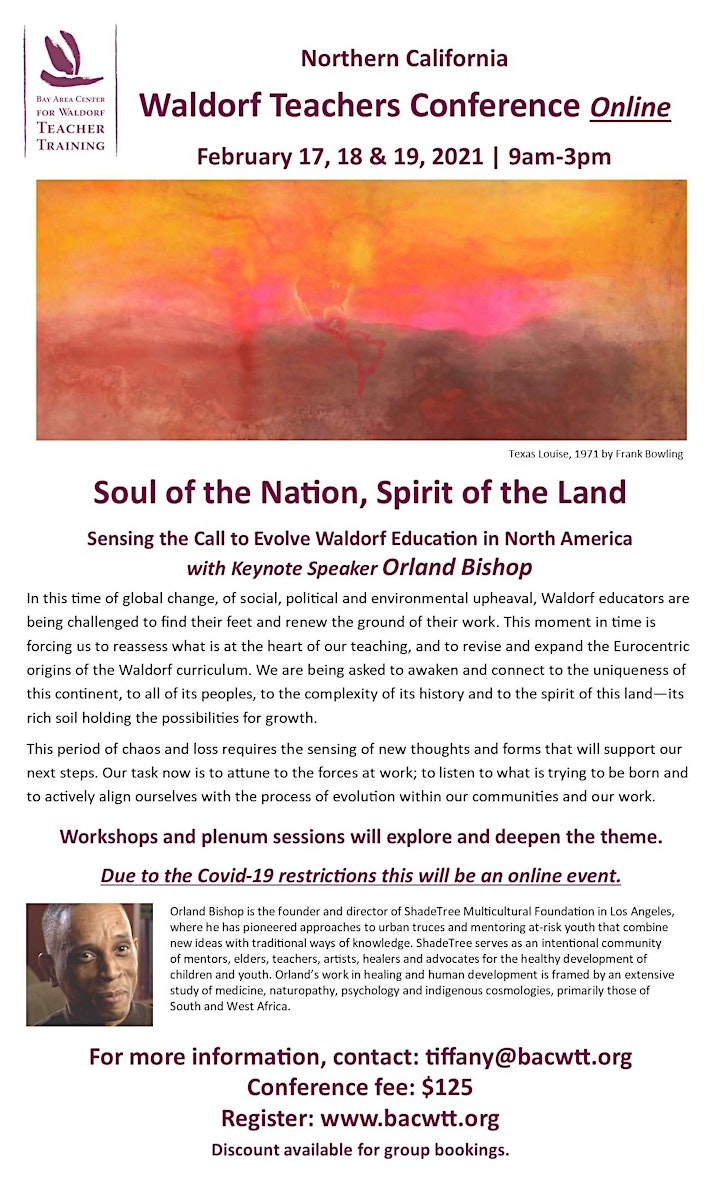 Please note that you must be a currently practicing Waldorf teacher, Waldorf teacher training student, or on your school's DEI committee to attend this conference.
Daily Conference Schedule
9am-10:30am: Lecture with Orland Bishop
10:30am-11am: Snack Break
11:00am-12:30pm: Workshops (see below)
12:30pm-1:30pm: Lunch Break
1:30pm-3pm: Plenum Discussion
Workshops
Workshops will be enrolled on a first come, first served basis. Please choose only ONE workshop for the whole three days.
As we are on Zoom this year, please consider the workshop of your choice, knowing that there will be some restrictions due to being online.
Each workshop will require art materials you may or may not have on hand. Please give yourself enough time to gather the materials you will need before the start of the conference. Click here for the list of materials that you will need for your workshop.
Most workshops will have 2 co-leaders, the intention being that one leader will provide an activity and the other will facilitate discussion on the important and sensitive themes that may arise.
We may add further workshops depending on the number of attendees.
Developing Multiple Viewpoints with Ken Smith and Madhulika Chambers
Sculpture is a 3-dimensional art form that requires moving and observing from many angles to realize the full picture. We will sculpt with clay and share texts that open up the necessity of being able to see and hear from many different positions.
Materials needed: 10 lbs clay, modeling board. We will forward you readings.
Early Childhood: Steady Roots in Changing Times with Diane David & Anna Rainville
Amidst the intensifying weather of childhood, rediscover your adult equilibrium to enhance child observation and care. Through conversation, singing games and artistic exercises, we will explore practical and inspirational ways to ground our presence and attention.
Materials needed: Paper and your choice of drawing materials. There will be a short reading to prepare.
The Work That Reconnects with Liz Turkel Vose
Take up the body of group work developed by Joanna Macy as a means of supporting Waldorf schools, teachers and families in awakening the will towards a more inclusive, just and vital future for our schools and our children.
Materials needed: Paper and writing/sketching materials.
Splendid Transformations: Creative Processes from the World of Story with Nancy Mellon
Explore therapeutic story-telling and story-making to expand your creative presence for addressing challenging behavior and mindsets. Gain strategic wisdom and guidance through the gateways of imagination, intuition and inspiration to meet the ordinary and even the most heartrending, nerve-wracking challenges.
Materials needed: Paper and writing/sketching materials.
Common Ground the Land that Connects with Ronni Sands and Willow Summer
The Earth is our collective home. Can we reweave ourselves back into the Web of Life? How is our relationship with the land a powerful vehicle for change and healing? In this workshop, through group Zoom conversation, guided Nature activities and Goethean observation, we will build a common picture of "the land that unites us," and see how that might inspire our work with our students. What is trying to be born at this unique time in history?
Materials needed: Paper and writing/sketching materials.
West Meets East: Observing the Geography and Culture of America (with special emphasis on the San Francisco Bay Area) with Dr. David Gershan
What rises up out of the qualities of the land we live on, influencing for better and for worse our culture and human behavior? What can we observe and how can we characterize a kind of Geographic Medicine to assist in a new social and medical hygiene? In this workshop, we will explore a Goethean phenomenological approach to our geography and consider ideas given by Steiner in his lectures on this theme.
Materials needed: Paper and writing/sketching materials.
Working in the Light: Colored Tissue Paper Windows with Margrit Haeberlin and Jennifer Doebler
In the tradition of stained glass windows, which give color and form to the natural light entering into our rooms, this workshop will explore a more modern, flexible and responsive approach to creating colored windows. Through free and open exploration with the full rainbow of colors and shapes, can we create compositions that weave together into a harmonious whole?
Materials needed: Colored tissue paper and water soluble PVA glue.
Getting Beyond Black and White: Embracing Diversity While Discovering Oneness with Pamela Whitman
The Anthroposophical/Goethean approach to light, color and darkness can help us to move into a more conscious and loving appreciation of the full diversity of humanity as expressed in skin tones. On a spiritual level, we are asked to lift up above our differences and experience our connection to each other through our I-being, which provides the basis for community. In this workshop we will explore both the deeper aspects of the threefold ideal, brotherhood, freedom and equality, and work with practical color skills to create a wide range of skin tones needed for artistic work in the classroom.
Materials needed: Painting paper, brush, painting board and water jar. Color pencils. We will ask you to purchase specific watercolor paints.
Holding the Vessel for Change with Megan Neale and Chantal Valentine
Meet the challenges and tasks faced by the administrators of Waldorf schools, as we take the necessary steps to ensure Waldorf education is aligned with the spirit of the times.
Materials needed: Paper and writing/sketching materials.
Moving To Make Space with Kate Hammond and Marita Tulloch
Explore new ways of creating movement and finding fresh spaces within and without. In this workshop, we will practice Bothmer Gymnastic and Spatial Dynamics exercises, working with the interplay of mind and body, outer space and inner space, to try to bridge the demands for outer change with our own inner experience.
Materials needed: Clothing suitable for movement.
Eternal Archetypes New Voices with Jeff Loubet and Sean Chiki
Through imaginative and artistic work, we will search for new expressions of archetypes in the Waldorf curriculum. By seeking both the roots and buds of the curriculum in storytelling and study, we will re-envision the developmental needs of our students and deepen our commitment to cultural diversity. We will explore how to widen our world with examples from both the early and middle grades.
Materials needed: Paper and writing/sketching materials.
Call and Response and The Art of Listening with Kristine Deason and Meg Weber
How do we practice listening—to voices that we can't hear, to what the future is calling for—so that our response is what is truly needed? The idea of LISTENING as the call. We will use active listening techniques, observation and creative writing activities.
Materials needed: Paper and writing/sketching materials.
Attuning our Soul to Welcome the Unknown through Eurythmy and Word with Renate Lundberg and America Worden (CANCELLED)
Through a weaving together of Eurythmy and conversation, we will explore the experience of place as both a noun and a verb. We will experiment with embodied relationship (to ourselves, to each other and our communities both human and ecological) as a way of orienting ourselves in the "ongoing of the telling" (Leslie Marmon Silko) of life. We will seek to connect as a bodily experience with what lies in the past or in the future, and to find ourselves in the present. We will use a short poem to explore the relationship to ourselves as an individual, "the other" as a meeting between two and the more objective relationship to something out there and we will seek to come up with our own words and forms to illustrate and express these relationships.
Materials needed: Paper and writing/sketching materials. Clothing suitable for movement.
Gathering Ancestors and Children of the Future to Create a New Treaty for America with Rosemary McMullen and Kathleen Thompson
In this workshop, we will work through a process together, calling on the ancestors and acknowledging the land to connect to the spirit of the place where we are living. With deep listening and presencing, we will acknowledge the wounds and scars of colonialism. Then we will explore how to creatively shape a new treaty that opens paths toward self-determination in culture, rights, economy and ecology, and how we can bring this immediately to reform and renew Waldorf education.
Preparation: Land acknowledgement and ancestor research. We will reach out to you with details.
Materials: Pastels and drawing paper; notebook.
Creating out of Black and White with Carla Schaareman and Renita Nesby LiVolsi
In this workshop, we will explore the ways of creating dramatic images and portraits using the method of torn pieces of black and white paper glued together. It is a method that forces us to work deliberately and skillfully with polar opposites directly next to each other in order to create clarity and beauty.
Materials needed: Black and white art paper; a glue stick.
Date and time
Location
Refund policy
Contact the organizer to request a refund.
Eventbrite's fee is nonrefundable.
Organizer of Northern California Waldorf Teachers Conference 2021
The Bay Area Center for Waldorf Teacher Training was founded in 2001 by students seeking an in-depth Waldorf teacher program. BACWTT offers a Waldorf Teacher Training Certificate program and Foundation Studies program during the academic year, Summer Intensives in Waldorf pedagogy and related topics for the public, and community enrichment classes, workshops, and lectures throughout the year.