Sales Have Ended
Registrations are closed
Registration for the 2014 Job Fair has ended, but walk-ins are still welcome to attend. The job fair is 10am-1pm- see you there!
Event Information
Location
Schlesinger Concert Hall and Arts Center
Northern Virginia Community College-Alexandria Campus
3001 North Beauregard Street
Alexandria, VA 22311-5097
Sales Have Ended
Registrations are closed
Registration for the 2014 Job Fair has ended, but walk-ins are still welcome to attend. The job fair is 10am-1pm- see you there!
Description
Did you know…Research shows that networking is still the best way to land a job?

Come to the NVCC Alexandria Campus and the City of Alexandria's JobLink 2014 Job Fair to network, seek job/internship opportunities, and learn about employment resources availalbe to you!
This event is FREE and open to all!
Bring copies of your resume and dress professionally.
Visit these websites for Interviewing, Resume, and Job Fair Attire Tips!
http://www.careeronestop.com/ResumesInterviews/ResumesInterviews.aspx
http://www.career.vt.edu/interviewing/interviewappearance.html
Participating Employers & Organizations
A Pea in the Pod (Retail/Sales): www.apeainthepod.com
Acentia IT Government Contracting (Consulting for Federal Government): http://www.acentia.com Positions Available: Please refer to our website, we have close to 200 open positions.
Alexandria Medical Corps (Public Health, Volunteer Organization): www.alexandriava.gov/medicalreserve MRC units are community-based and include volunteers who want to donate their time and experience to prepare for and respond to emergencies. MRC volunteers also provide support to their local health department and help promote healthy living throughout the year.
Americorps (National Service Program):www.nationalservice.gov/programs Positions Available: Pursuing a career in Emergency Management, Intrigued in volunteer work and traveling around the country.
Arlington Employment Center (Services for job seekers; local government jobs as well.): www.arlingtonva.us
Ashley NVA Furniture (Home Furnishings): Positions Available: Warehouse, HFC, CSR.
AAA Mid-Atlantic (Insurance, Retail): http://aaamidatlantic.jobs Positions Available: Insurance Sales Agents, AAA Retail Associate, Retail Member Relations Specialist, Other.
BB&T (Banking/Finance): http://bbt.com Positions Available:Teller - PT and FT, Relationship Banker - PT and FT
BF Saul Company (Hospitality/Hotels) Positions Available: Servers, Busser/Food Runner, Guest Service Representative, Housekeeper, Cooks, Sales Coordinator.
Bright Horizons Family Solutions (Child Care/Development): www.brighthorizons.com Positions Available: Child care Teachers - Full time, Child care Assistant Teachers - Full time, Child care Subs- Part time.
City of Alexandria (Local Government): http://alexandriava.gov/jobs Positions Available: Available positions will vary in Finance, Housing, Public Safety, Code Administration, Transportation & Environmental Services, General Services, Recreation, Health, Emergency Communications, ITS, and Dept. of Community & Human Services.
City of Alexandria Job Link (Employment Services): www.alexandriava.gov/Joblink
Clyde's at Mark Center (Restaurant/Service): http://clydes.com Positions Available: server/host/food runner/busser.
Diamond Transportation (Transportation): www.diamondtransportation.us Positions Available: Driver: providing transportation services to people with disabilities.
Dominion Power Company (Energy/Utilities): http://dom.com/careers Positions Available: Various
Express (Retail): www.express.com Positions Available: Sales associate, Stock associate, Visual associate, Stylist
Gap Inc. (Retail): www.gap.com Positions Available: Sales Associates, Stockers.
Greyhound Lines, Inc. (Transportation):www.greyhound.com Positions Available: Motor Coach Operator/Driver
Hilton Worldwide (Hospitality/Hotel): www.hiltonworldwide.com Positions Available: Food and Beverage, Housekeeping, Banquets.
Home Depot (Home Improvement): www.homedepot.com Positions Available: Sales Associate, Sales Speciality, Cashier, Overnight Freight, and others.
Koons Automotive Group (Automotive Retail) : www.koons.com Positions Available: Sales Professionals, Certified Automotive Technicians.
Lindsay Automotive Group (Automotive Retail): http://lindsaycars.com Positions Available: Customer Service, Automotive Sales, Automotive Servicing, Business Development Center.
Living Social (Online Media Sales): www.livingsocial.com Positions Available: Inside Sales Specialists.
Metropolitan Communications Group (Engineering/Utilities): http://www.mcgfiber.com/ Positions Available: CAD Drafter I, This is an exciting entry level position for a motivated graduate or soon to graduate student with AutoCAD experience. As a CAD Drafter I, you will be a key member of our team and will work with our engineers to develop drawings for both permit approval and construction in the telecommunications field.
Miller's Office Supply (Wholesale Office Supplies): www.millersop.com Positions Available: Outside Sales/Account Executive.
Morrison Healthcare (Healthcare Food Services, Culinary, Customer Service): Positions Available: Line Cook, Line Server, Catering To You Associate, Cashier, Porter, Utility Worker.
Navy Federal Credit Union (Financial Services Institution-Banking, Customer Service, IT): www.navyfederal.org Positions Avaliable: Marketing, Call Center (Member Service Representative), Collections (Delinquency Control Counselor), Business Systems & Operations Analyst, Requirements Analyst, Data Modelers, Web Content Writer/Strategist
NV Area Health Education Center( Language Services/and Health Career Exposure to HS Students): www.nvahec.org Positions Available: Medical and community interpreters in the following languages:Korean, Pashto, Hindi, Kurdish, Tamil, Telugu, Vietnamese, Cantonese, Hindi, Tigrigna, Urdu, Gujarati, Thai and ASL. Visayan & Pashto Language Evaluators.
OBXtek (Information Technology, Government Contracting): www.obxtek.com Positions Available: Java Developer, Marketing Assistant, Information Assurance Engineer
PNC Bank (Banking/Finance): http://www.pnc.com Positions Available: Customer Service Positions
United States Secret Service (Federal Law Enforcement): www.secretservice.gov/join/ The Secret Service is a Federal Law Enforcement agency with its headquarters in Washington, D.C. and over 125 offices throughout the United States and abroad. Congress charged the Secret Service with two responsibilities, protection of our nation's leaders and criminal investigations.
The protective mission of the Secret Service includes protection of the President and Vice President of the United States; their immediate families; former Presidents and their spouses; widows and minor children of former Presidents; major Presidential and Vice Presidential candidates and their spouses; and visiting foreign heads of state.
Its investigative responsibilities have expanded to include the area of counterfeiting of currency and securities; forgery and altering of government checks and bonds; thefts and fraud relating to electronic funds transfer; financial access device fraud; identity fraud; telecommunications fraud; computer fraud; telemarketing fraud; and fraud concerning federally insured financial institutions.
Secret Service careers are available as Uniformed Division Officers, Special Agents, and a variety of administrative, professional, technical and clerical occupations.
Verizon Wireless (Sales/Technology Solutions):http://www.verizon.com/jobs/verizon/search-jobs Positions Available: Retail Sales Representatives. You're focused on your future – on finding the right fit for your talent and charisma, and making your presence known. And when you join Verizon Wireless, you'll find unlimited opportunities to evolve, excel and amplify your success with a company that's continually redefining the communications industry. If you're ready to make your mark with a team that thrives on collaboration, you need to consider a future as a Verizon Wireless Retail Sales Representative.Take a giant leap toward a career for everything you are. Visit us at careersatverizonwireless.com.
Volunteer Alexandria (volunteer positions to help individuals gain experience in a variety of fields): www.volunteeralexandria.org Volunteer Alexandria is the local volunteer center and we connect volunteers looking for opportunities with organizations that need volunteers. Volunteering is a great way to gain experience while looking for a full time job. Examples of volunteer opportunities include receptionists, office assistants, special event planners, tutors, and many more. We have also helped organizations fill internship positions.
Weichert Realtors (Real Estate/Sales): www.weichert.com Positions Available: Real Estate Sales Associates
Wells Fargo (Banking/Finance): www.wellsfargo.com Positions Available: Tellers
The Westin Alexandria (Hospitality): http://westinalexandria.com Positions Available: Valet Attendant, Trademark Drink and Eat Bartender, Service Express Agent, Starbucks Barista, etc.
Directions to the Schlesinger Center:
http://www.nvcc.edu/schlesingercenter/directions.html
Parking for the Event is FREE- please follow all parking instructions the day of the event. There will be free parking on the lower levels (1 and 2) of the Beauregard Street Garage (accessible directly from N. Beauregard St). Other parking will be designated in areas around the Schlesinger via signs. Students with NOVA parking stickers can also park in any designated "B" lots on campus. Please follow instructions provided by signs and parking attendants that will be on hand to direct parking.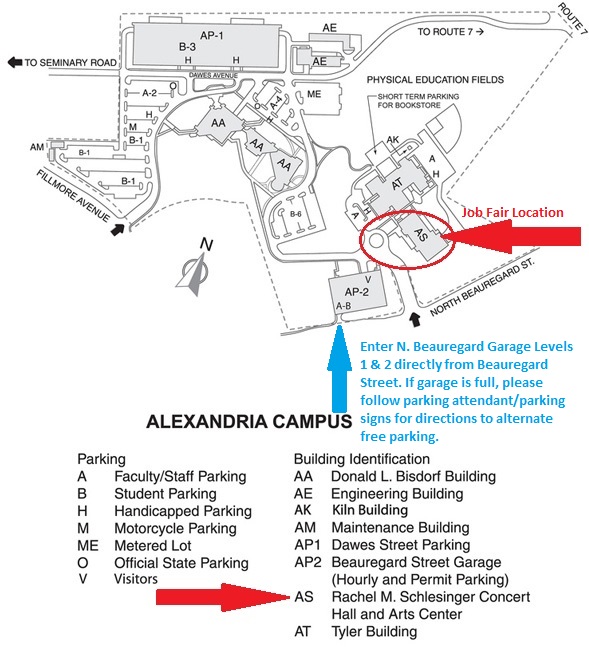 Date and time
Location
Schlesinger Concert Hall and Arts Center
Northern Virginia Community College-Alexandria Campus
3001 North Beauregard Street
Alexandria, VA 22311-5097