Description
In the field, hands-on training in prescribed fire planning,
preparation and implementation, along with classroom sessions
on fire ecology and fireline communications, will combine to
form a busy week for participants in this first TREX
(training exchange) ever for Oklahoma. We will be burning
on several sites in an oak-pine ecosystem in northeast
Oklahoma.

This training is for all interested fire practitioners and no NWCG
certification is necessary to participate. College students,
private landowners, tribal members, and fire fighters who are
interested in learning more about utilizing prescribed fire as a
land management tool are all welcome. Registration for this
training is limited to 20 people.

Training is free and GRDA bunkhouse lodging near Miami, OK
is provided free of charge for the first 10 registrants. Internet
is available at the bunkhouse but not on the burn units.
Participants will need to provide their own food.
Participants should bring wildland PPE if they have it.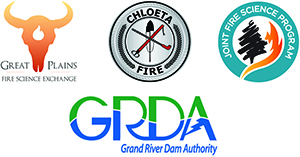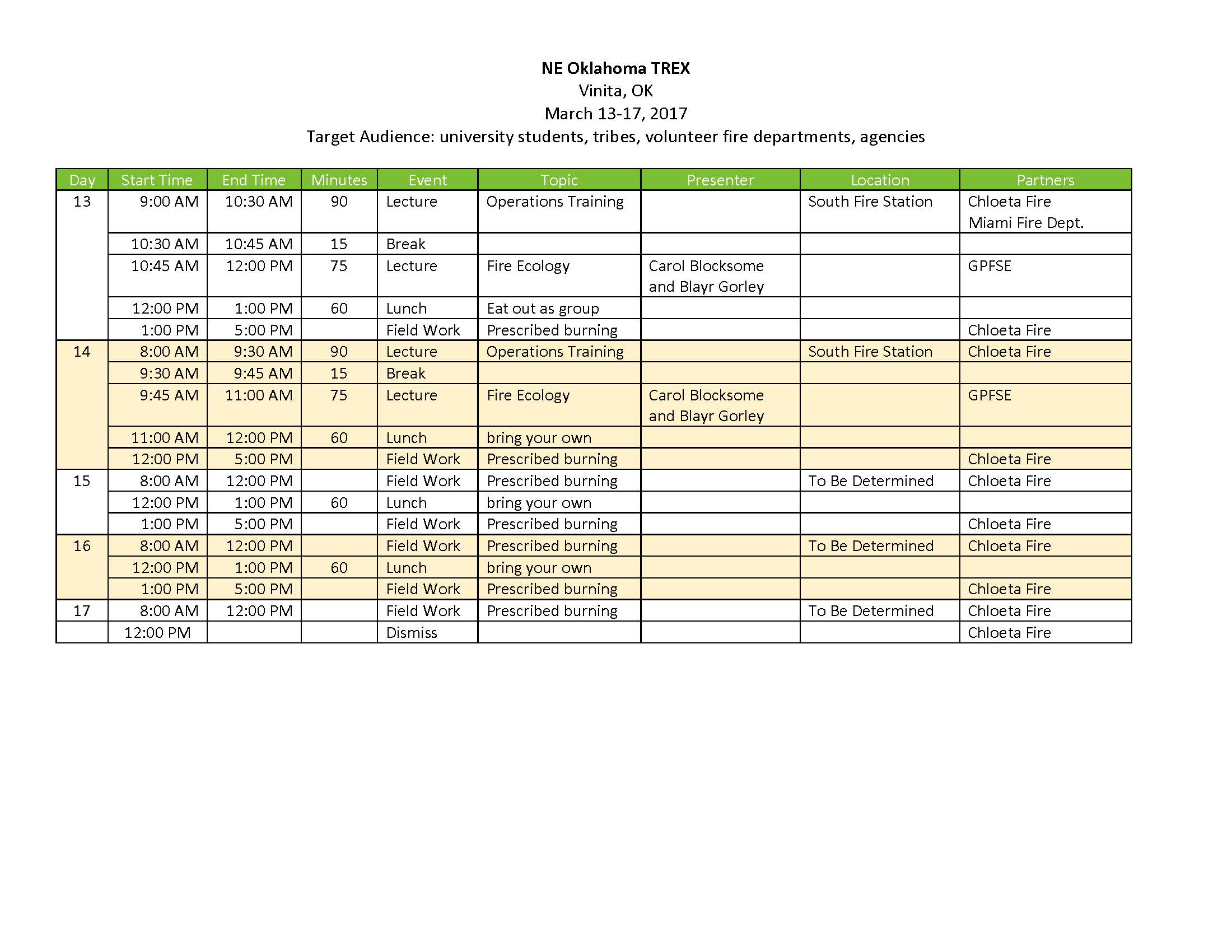 What is a TREX?

A prescribed fire training exchange, or TREX, is a novel training
event that brings together fire practitioners from diverse
backgrounds to obtain hands-on fire experience, share
knowledge and expertise, and better understand the art and
science of fire management and ecology.

What is the Fire Learning Network?

The Fire Learning Network (FLN) engages dozens of
multi-agency, community-based projects to accelerate the
restoration of landscapes that depend on fire to sustain
native plant and animal communities. By restoring this
balance, the ecological, economic and social values of the
landscapes can be maintained, and the threat of catastrophic
wildfire can be reduced. Collaborative planning,
implementation, adaptive management and the sharing of
lessons learned are at the core of the FLN.
Workshops, peer learning and innovative fire training are
just a few of the mechanisms the network uses.

What is the difference between TREX and other
available training?

The TREX model is rooted in a hands-on approach, so
participants walk away with experiences that it could take
years to accrue in other settings.Further, the TREX model
relies on diverse participation, which enables a uniquely
rich learning environment, and it offers a blend of fireline,
ecology, and media and communications training that is
unprecedented in typical training events.

Why not just burn?

Why all the extra training? Fire management is inherently
complex, involving not only fire behavior experience and
situational awareness, but also an understanding of local
ecology and natural resource issues, incident management and
media communications, regulations and permitting, and more.
The TREX model engages all of these pieces, and participants
finish the training with a well-rounded perspective on fire,
in addition to new networks of colleagues from science,
management, and other backgrounds.

Who should attend a TREX?

TREX events are intended for anyone interested in building
their fire experience and engaging with fire practitioners
from other organizations and agencies. TREX events are
designed to include and meet the needs of a broad spectrum of
fire practitioners, from new firefighters who have never held
a drip torch to seasoned fire professionals working on burn
boss qualifications, and everything in between.