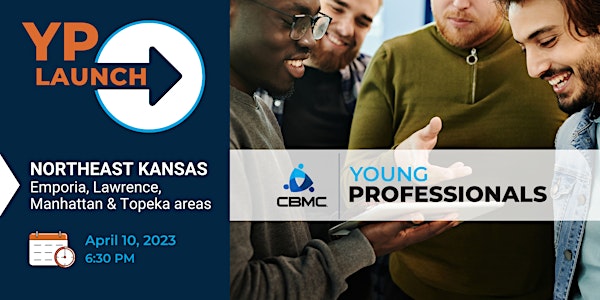 Northeast Kansas YP Launch
Be part of a network of like-minded 25-40-year-olds growing personally, professionally and spiritually. Join the YP launch for NE Kansas!
Date and time
Monday, April 10 · 6:30 - 9:30pm CDT
Location
Dime's Place 2721 N. E. 39th Street Topeka, KS 66617
Refund Policy
Contact the organizer to request a refund.
About this event
Join us for the LAUNCH of our Young Professionals team in Northeast Kansas!
:: Emporia, Lawrence, Manhattan and Topeka
CBMC trains the modern man in doing business God's way and equips them in how to integrate their work and faith. By providing opportunities for career-minded men to gather together, CBMC helps the young professional connect with other business professionals and guides them to grow in their faith.
+++ A Young Professionals (YP) team is designed for the 25-40-year-old. This team is a group of 8-12 believing brothers working and praying together through life challenges and connecting with the men that came before them. Mentoring and coaching by a SAGE (seasoned action-oriented Godly executive) adds value and depth that other peer advisory groups fail to offer. +++
| Why YP? |
CBMC Young Professionals members receive best-in-class training and resources. They have access to time-tested discipleship and evangelism tools to aid in their spiritual journey as well as a national network of business professionals that is over 10,000 strong. Sharpen your business skills and activate a life of purpose today. Step into your calling.
Visit our website to learn more
Hear from other guys in this one-minute video.
| Community. Growth. Calling. |
The mission of CBMC Young Professionals is to provide Gospel-centered leadership coaching in an authentic atmosphere. We all need community, and these teams allow men a safe place to share struggles, both personally and professionally.
:: Community: Be a part of a network of like-minded young Christian professionals.
:: Growth: Learn from seasoned executives, gain valuable mentors, and grow spiritually.
:: Calling: Live out your calling as Christ's ambassador in the marketplace.
| Our Speakers |
Our guest lineup includes:
We are excited to present Kelly Donaldson as our SAGE guest for this April launch.
(Seasoned Action-oriented Godly Executive)
Kelly has over 18 years of experience as a financial advisor with Edward Jones and loves what he does! His biggest enjoyment comes from time spent with couples and families discussing their goals and dreams for their future and learning what's important to them. Kelly blends his engineering education with his financial advisor experience and uses an established five-step process to build personalized strategies to meet their goals.
From the age of 16, he has come to believe that we all have a responsibility to be the best stewards possible of what God blesses us with. As part of his journey, Kelly graduated from Kansas State University with a degree in industrial engineering. This education has proved to be a great benefit as a financial advisor – analyze data, think critically, solve problems. He is better able to tailor plans specifically to the needs and goals of each person or family.
Kelly's goal? To serve his clients faithfully, get to know them personally though the stories they share with him, and partner together throughout their lives to keep them on track with their future aspirations. It's a journey Kelly feels blessed to take with them, from his kitchen table to theirs.
+ + + A little more about Kelly
Kelly has been married to his wife, Judi Donaldson, for over 25 years. They have six children and were recently blessed with their first granddaughter. They enjoy family travels and love to open their home to entertain guests. Kelly and Judi delight in serving in their church and are part of a small group. Kelly grew up in the church but did not have a saving faith in Jesus. At age 24, upon meeting his future bride, he gave his life to Jesus in the summer of 1997, about five months prior to their wedding in November.
Over the last 25 years, as Kelly has devoted his family and business to the Lord, he has seen and experienced God's blessing and sovereignty on many occasions, in many different ways. He is committed to living out God's great commission and sharing what God has done in his life to help encourage others to follow the Lord.
+ + + + +
| Questions |
We look forward to meeting with you!
Contact Gary Tenpenny with any questions.
gtenpenny@cbmc.com
913.219.9064
About the organizer
Christian Business Men's Connection of Central Midwest
CBMC connects business and professional men to God and each other through Christian peer groups, one-on-one mentoring, and events, so they become more like the men God designed them to be.
Contact us to learn more.
Gary Tenpenny -
Senior Area Director, gtenpenny@cbmc.com, 913-219-9064
Sean West -
Area Director, swest@cbmc.com, 913-244-1205
Click HERE to support the ministry of CBMC Central Midwest Region
Want to be notified about our upcoming events? Click FOLLOW.