Description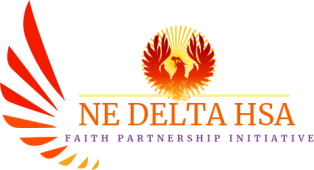 Northeast Delta HSA has an ongoing series of Faith Partnership Initiative training events focused on helping faith communities deal with addiction in their congregations and memberships. This is another in the series. This two-day training focuses on the development of addiction prevention and recovery ministry teams in faith congregations and communities.
The training will be hosted by Dr. Monteic A. Sizer, executive director, Northeast Delta HSA. Facilitated discussions will be led by Mr. Drew Brooks, executive director, Faith Partners Inc., and Ms. Katrina J. Wyche, associate trainer, Faith Partners, Inc.
Objectives - At the end of the training attendees will be better able to:
Demonstrate effective team functioning
Understand ATOD congregational ministry areas
Initiate educational sessions with their team
Identify and work with community resources
Develop an initial action plan
Utilize evaluation tools in measuring effectiveness
---
Agenda
Friday, May 17: (2:00 - 8:00 p.m.)
2:00 - 6:00 p.m.
Welcome and Introductions

Team Development (Capacity Building)

Ministry Development (Readiness)
6:00 - 6:30 p.m. DINNER
6:30 - 8:00 p.m.
Ministry Development (Mission)

Prevention Ministry

Daily Wrap-up
Saturday, May 18: (8:30 a.m. - 5:00 p.m.)

8:30 a.m. - 12:00 p.m.
Evaluation and Planning

Planning the Team Ministry

Early Intervention

Referral Assistance
12:00 - 12:30 p.m. LUNCH & FELLOWSHIP
12:30 - 5:00 p.m.
Referral Assistance: Community Resource Panel

Recovery Support

Planning the Team Ministry

Closure

---
NOTE:

This Team Training is the second of a series of trainings that provide an effective on-ramp for any faith community seeking to begin or strengthen an addiction prevention and recovery ministry team in their congregation.
Please contact Strategic Initiatives Coordinator Andrew Koetsier, at 318-362-4237 or via email at andrew.koetsier@la.gov to get the information you will need to be up to speed if you were not a part of the previous training.
We welcome faith-based congregations from all denominations and traditions.
Who We Are
Northeast Delta Human Services Authority manages the operation of community-based programs that improve the quality of life for individuals with major mental illness, developmental disabilities and addictive disorders. NE Delta HSA accomplishes this by utilizing a nationally recognized and integrative approach that identifies and addresses behavioral and primary health care needs.
Nationally, Faith Partners Inc. has been developing congregational team addiction ministries since 1995 and under the direction of Drew Brooks since 2011. Drew Brooks, executive director, has served in ministry since early childhood and has over 35 years of experience in the treatment, prevention and public health fields.