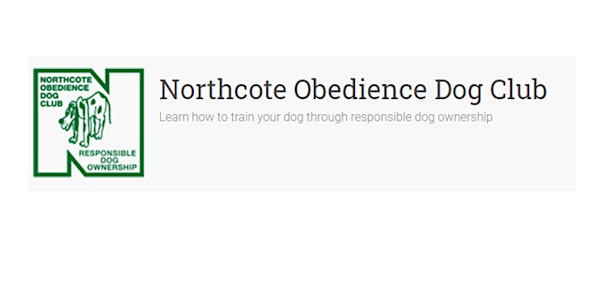 Northcote Obedience Dog Club
Registration for members of Northcote Obedience Dog Club for return to training during COVID-19 restrictions.
When and where
Location
Alphington Park 28 Parkview Road Alphington, VIC 3078 Australia
About this event
The Northcote Obedience Dog Club is excited to see you all back at training for 2022. Easing COVID-19 restrictions allow us to return to a more normal graded class structure, however will still require members to book into their classes through this registration system each week until further notice, for contact tracing purposes and to manage class sizes.
Class times as follows:
Puppies: 1.00 - 1.30pm
Advanced Puppies: 1.30 - 2.00pm
Class 1: 2.15 - 3.00pm
Class 2: 3.15 - 4.00pm
Class 3: 3.15 - 4.00pm
Class 4: 3.15 - 4.00pm
Class 5: 2.15 - 3.00pm
For the health and safety of everyone at the Northcote Obedience Dog Club, please remember the following still applies:
If you are unwell please do not attend
If you have any COVID‐19 or flu like symptoms including fever, sore throat, cough or shortness of breath it is imperative that you do not attend training.
Masks
Masks are no longer a requirement outside, however members are very welcome to wear a mask if they wish and please wear a mask if you are in a situation where social distancing is not possible.
Hand sanitisers
Hand sanitiser will be available for members' use and members are also encouraged to bring their own personal hand sanitiser should they wish.
Hand hygiene and cough etiquette
All members are encouraged to practice good hand hygiene and cough etiquette at all times.
Toilets
Toilets will be available for use by members. Members are advised that the toilets at the far side of the cricket oval will also be open, should they require.
Heat Policy
The NODC Heat Policy continues to apply: if the forecast (at the night before) for the Saturday temperature is 35 degrees or higher, training will be cancelled. This will be communicated via the Club's Facebook page and via email.
- Registrations will be open for the month ahead and close at 5.00pm on the Friday before class.
- By registering for training you are acknowledging that you have read and agree to the above requirements, including that you will not attend training if you have any COVID‐19 or flu like symptoms.