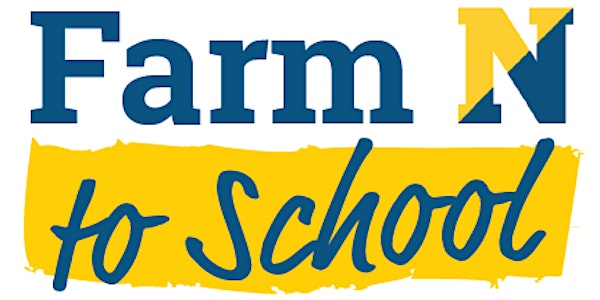 Northampton Farm to School Summit 2020: POSTPONED
Date and time
Saturday, March 21, 2020 · 9am - 1pm EDT
Location
Smith College Campus Center. Carroll Room - 2nd Floor 100 Elm Street Northampton, MA 01060
Description
Join us for the 2nd annual Northampton Public Schools' Farm to School Summit! Since we last gathered, so much progress has been made to include student choice and voice in decisions, incorporate more local items on the cafeteria menu, build a District-wide Farm to School network, and bring programming up to the Middle and High schools. Learn more about our progress here. But we recognize that a culture shift in how we value healthy food is necessary for lasting impact. Join us to explore how we can shift the culture to value healthy food as a foundation for learning.
Who should attend?
Students
Caregivers and family members
Teachers, all grades
School administrators
Local elected officials
Food service professionals
Anyone interested in connecting students with healthy food - it doesn't matter if you are familiar with Farm to School work
Schedule:
8:30-9:00: gathering and refreshments
9:00-12:00: Update on progress, Food Service 101, breakout discussions
12:00-1:00: Lunch
Childcare and lunch will be provided. NPS teachers will receive a stipend for attending.

Breakout discussions:
Student Choice and Voice: a student-led discussion about shifting the culture around school food.
Composting Food Waste: what we've learned so far about composting District-wide, and how we can shift the culture around sorting our waste.
Family Engagement: a caretaker-led discussion about how families can help improve school food.
Community Advocacy: a discussion on how we can organize and advocate for a culture shift at NPS.
At some point after registering, we'll send a follow-up email with a few questions about reserving spots for childcare, the age of your children, and your role in the community. Please stay tuned, as we need that information for planning purposes.
Thank you to the Northampton Education Foundation, the USDA Farm to School grant program, and Cooley Dickinson Health Care for their support!
About the organizer
Grow Food Northampton strengthens our local food economy so that everyone can support local farmers and eat healthy local food. We believe in a food system that uses the land sustainably, helps farmers thrive economically, and provides healthy food for all members of the community, regardless of income. We take concrete steps to make this happen by:
owning a 120-acre community farm and leasing much of our land to four farmers (including Crimson & Clover)
operating the vibrant downtown Tuesday Market, facilitiating half a million dollars in transaction between local residents and local farmers and food vendors
managing a 290-plot community garden, helping nearly 400 residents grow some of their own food
teaching thousands of school children about local farms and healthy food with in-class workshops and farm field trips
helping hundreds of local families to eat over 20 tons of healthy and local food who would otherwise be unable to afford it, through a variety of subsidy programs for farmers' market and farm share purchases, partnerships with local schools and senior center, and donations to food pantries and meal sites.