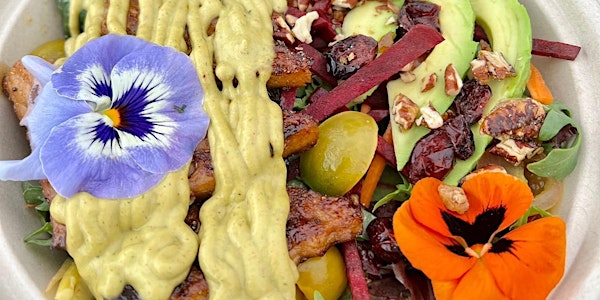 North Park Vegan Food Popup
Don't Miss San Diego's Biggest Outdoor Vegan Market!! Pizza, Donuts, Sushi, Tacos, Noodles, Corn Dogs, Crunchwraps, Lumpia & So Much More!
Date and time
Saturday, April 8 · 12 - 4pm PDT
Location
North Park Mini Park 3812 29th Street San Diego, CA 92104
About this event
Vegan Food Popup is a FREE event that showcases the best plant-based food in So Cal, featuring a rotating lineup of diverse vendors from San Diego, Orange County and LA.
The North Park Vegan Food Popup is located at the new North Park Mini Park, a beautiful outdoor plaza that features several seating areas, gardens, a playground, and a stage.
In between bites, attendees can shop a select group of vegan-friendly products including apparel, jewelry, beauty, wellness and home goods as well as services such as body work, reiki and henna.
Live DJ | Family-Friendly | Dogs Allowed | Free Parking
VENDORS
A Way Home For Dogs
A West Style Story
Alive Ferments
Big Squeeze
Bonjour Patisserie
Brothers Dips
Casa de Luz
Compilations In Art
Dirt Don't Hurt
Double Batch
Down To Ferment
Dr. Bronner's Magic Chocolate
Dr Hope's Children's Books
Farm Animal Refuge
Farm Fresh To You
Fresh Breath Always
Fully Loaded
Gelü Italian Ice
Goddess Again Resale Boutique
Gourmet Tamales
Grammy's Bake Shop
Grow To Love You
H2OM
Henna Joy
Hot Bevs Coffee & Tea Co
Illustrated Melanin
Juci Roots
Krishna's Kitchen
Lady G's Canteen
Luv Mylk
Macros Goods
Majestik Kulture
Maribel y Oliva Cocina
Mountain Meadow Mushroom Farms
Ms Kim's Kitchen & More
Neptune Apothecary
Nomad Eats
Odd Fare Affairs
Pink Pantree
Proof Foods
Rafikiz Foodz
Reda's Ethiopian Cuisine
Romolo & Remo
Sabor Piri Piri
Samadhi CBD
Sea Shepherd Conservation Society
SeaCo Catch
Seva Foods
Simply Perfect Powder
SoCal Rescue Tails
SoulSpark Candles
Stone Monkey
Tara's Luscious Cheats
Teif's Pacific Island Grill
Tea Bazaar
The Donuttery
The Laughing Vegans
The Vegan Painter
Totful Treats
Tracy's REAL Foods
Turkish Grill
Underdog
Uprising Pizza
Vegan Mirai Sushi
Xarieya's Vegan Delights
___________________________________________
Upcoming Events
BARRIO LOGAN: Saturday, March 25th | 12pm – 4pm at Mujeres Brew House - 1983 Julian Ave, San Diego
VISTA: 1st Friday of the month, 5pm-9pm at the Local Roots Boochyard - 1430 Vantage Ct, Vista | Upcoming Dates: 4/7, 5/5, 6/2
NORTH PARK: 2nd Saturday of the month, 12pm – 4pm at the North Park Mini Park - 3812 29th St, San Diego | Upcoming Dates: 4/8, 5/13, 6/10
SAN DIEGO EARTHFEST: Saturday, April 22 | 12pm - 4pm at Balboa Park - Park Boulevard and Presidents Way Lawn
All events are family-friendly and dog-friendly and feature music and free parking.
Vegan Food Popup has been featured on CBS News, Fox News, The San Diego Union-Tribune, KUSI, San Diego Magazine, San Diego Reader, ABC News and VegOutMag.com.
Since launching in 2019, Vegan Food Popup has supported dozens of local food and craft vendors by creating an accessible venue for sharing their offerings with the community.
PARKING: There is a 6-story garage with $1 an hour parking on 29th St across the street from the North Park Mini Park. Additionally, there is free street parking nearby.