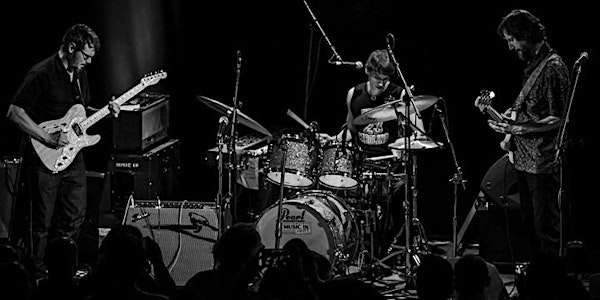 North Mississippi Allstars w/ Southern Avenue @ HI-FI
Ages 21+
Indy Mojo & Sun King Brewery
North Mississippi Allstars w/ Southern Avenue at HI-FI Indianapolis
Date and time
Starts on Thursday, January 23, 2020 · 8pm EST.
Location
HI-FI 1043 Virginia Ave. Suite 4 Indianapolis, IN 46203
Performers
Headliners
North Mississippi Allstars
More Performers
About this event
DOORS: 7:00 PM, SHOW: 8:00 PM
AGE RESTRICTIONS: 21+
GENERAL ADMISSION, LIMITED SEATING
Important Notice: All tickets are nonrefundable and nontransferable with the exception of event cancellation. Support acts are subject to change
----------------------------
About North Mississippi Allstars:
A forgotten roll of film inspired a musical accompaniment, the North Mississippi Allstars' new record Up and Rolling. Shot before the turn of the century, the photographs resonate with the music of four families from the Mississippi hills. The album captures the communal spirit upon which the band was founded.
In 1996, a photographer from Texas, Wyatt McSpadden, traveled to North Mississippi looking to photograph local musicians. Brothers Luther and Cody Dickinson had grown up just south of Memphis and cut their teeth playing experimental rock & roll together, as well as the roots repertoire pioneered by their father, Jim Dickinson, a legendary producer (Big Star, the Replacements) and session player (Rolling Stones, Bob Dylan). Their feet were firmly planted in the North Mississippi mud and music scene, and they were excited to show Wyatt around their community, to introduce him to the musical families of Otha Turner, RL Burnside and Junior Kimbrough.
Their first stop was Otha Turner's farm. Then in his late eighties, he was the last living fife and drum musician in the hills -- "and a friend to all," Luther exclaims. "He looked sharp that day, still in his Sunday best and ready for a good time." They all sat together on Otha's fabled front porch, which was something like a classroom for the elder Dickinson brother. The two would sit for hours, the kid playing guitar while the old man made up lyrics on the spot. That's how "Call That Gone" came into the world, decades before the Allstars recorded it for Up and Rolling.
After Otha treated Wyatt to an impromptu concert featuring his family band of drummers, the fife player sent them down to Junior Kimbrough's nightclub. They crossed the county line to see Junior and his Soul Blues Boys perform electrified, multigenerational cotton patch blues in their own unique style. Later that evening RL Burnside showed up, took the bandstand with beer in hand, and proceeded to tear the house down. "Wyatt was so smooth nobody felt he was taking photos," Luther recalls. "No one was self-conscious or posing. Wyatt had a cloak of invisibility."
Once the Peavey amps were turned off and the jukebox unplugged, Cody and Luther parted ways with the Texan. Wyatt shared a handful of the images with Otha and the Dickinsons but no one saw the remaining photographs for decades. Wyatt's images were forgotten. The Dickinsons had other matters demanding their attention -- namely, a new band they envisioned as a loose collective of local musicians who would play the community's repertoire.
A month after Wyatt took those photos, the North Mississippi Allstars made their Memphis debut, incorporating their father's concept of roots music as a framework for improvisation and blending experimental/psychedelic excursions into Hill Country anthems. As Luther tells it, "after NMA first shook em' down in Memphis, RL Burnside hired me to tour with him in '97. A natural momentum began building up that slowly led to Cody and I hitting the road full-time. Our lives changed forever with the release of Shake Hands with Shorty in 2000. The music that rings thru the hills carried us away and became our home away from home as we began touring around the world. In orbit, we lost track of time and of ourselves."
Shake Hands with Shorty made the Allstars one of the most celebrated roots acts around. In 23 years they've released ten studio albums, three of which were nominated for Blues Album of the Year Grammys. (Luther has notched another four nominations in various categories on top of that.) More important, they've played countless shows in front of avid crowds, touring alongside Robert Plant, Patty Griffin, Mavis Staples, and John Hiatt, among many others. Says Luther, "I'm grateful to work together as a family -- with Cody, the musicians we roll with and the people who support our live shows. Together, we keep this music up and rolling."
All those years of touring took the Dickinson brothers far away from their North Mississippi home and the people who taught them this music. "The elders passed on in our absence -- Junior, Otha, RL, our father," Luther says. "Every time we returned home, it was less recognizable." In 2017 Wyatt tracked the brothers down and shared those photographs with them. "The images stopped me in my tracks and blew my mind. The music that changed our lives was captured in these photographs. Cody and I wanted to set the music free and record an album to accompany these photographs illustrating what Mississippi music sounded like in 1996 -- and what it sounds like now. The fantasy of what music could have been on the radio that day in '96 was the portal for the new original songs we recorded for this soundtrack. 'Drunk Outdoors', 'Up and Rolling', 'Bump That Mother', and 'Living Free' sing about life in Mississippi, be it our memory, reality, or dream for the future."
Inspired by Wyatt's images, the Allstars returned home to their family recording studio, the Zebra Ranch, to make the record they heard in those photographs. "We trimmed back the wisteria, emptied the traps, and swept out the old barn. Firing up the tube amps and the old computers, we began conjuring up modern Mississippi music, ancient and futuristic."
Along with originals, they covered some of their favorite songs by these local heroes, with help from Cedric Burnside and Sharde Thomas, Otha's granddaughter. "She was only a child when she became his apprentice and heir to the bamboo throne of fife and drum music," says Luther. "Now she's the Queen of the Hill Country and my favorite singing partner." In addition to duetting with him on RL's raunchy "Peaches," she also sings with Luther on Otha's "Call That Gone." "She read over her grandfather's lyrics and proceeded to nail it in one take. It was like she was singing from the collective soul of her family."
Cedric Burnside, RL's grandson and two-time Grammy nominee, is featured on two tracks. "It's an honor to play with Cedric. "Out on the Road" was a highlight of the RL tour we played together in '97 and he sang his heart out on the new version."
"When we make a record," says Luther, "we invite the people close to us at the time to join us. Recording with the musicians we are touring with or hanging with help capture a record's time frame." The great Mavis Staples takes them all to church on the old spiritual "What You Gonna Do?" Jason Isbell joins to record a tune that has been in the Dickinson family for years: "Our father recorded 'Mean Old World' with Duane Allman and Eric Clapton during the Layla sessions. Jason invited me to record an acoustic, slide guitar duo version. Cody came up with the new arrangement and wanted to record an electric version with Jason and Duane Betts, using Mean Old World as a vehicle to lay down an epic statement about modern-day roots rock guitar."
As Cody puts it, "It's all inclusive. Everyone is invited, the bar is always open, and drinks are on the house. But it's important to us that we stay true to the vision of Hill Country music. There is incredible talent here in North Mississippi, so I'm always learning. The best thing about being in this band this long is developing a sound and identity that is unique. That's truly a blessing, so we do our best to keep the music honest."
While inspired by the community and music of that Sunday more than 20 years ago, Up and Rolling is the sound of modern Mississippi. Luther hopes, "the music is rooted, but spreads evasively from the kudzu jungle grown over Junior's concrete slab and Otha's porch boards thru the Zebra Ranch's razor wire chain link fence. Transcending time and space, music reaches out into the dark of night like the wisteria vine, looking for free-hearted souls to latch onto and wedge into the foundations of hate, slowly tearing down walls a generation at a time."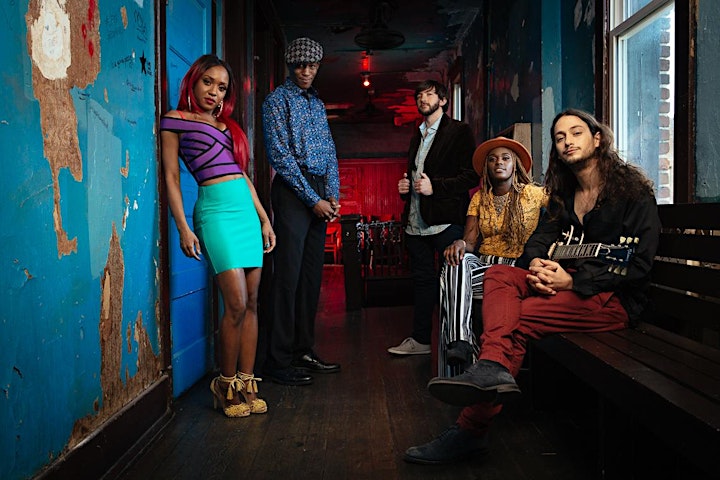 About Southern Avenue:
On their self-titled 2017 debut album, the boundary-breaking Memphis combo Southern Avenue sparked a one-band musical revolution, embodying an effortlessly organic soul/blues/R&B fusion that reflects the band members' diverse roots as well as their deep commitment to their chosen style. On their second album Keep On, set for release on May 10, 2019 via Concord Records, the dynamic outfit expands its gritty musical vision to embrace new musical challenges and a more expansive creative vision.
Southern Avenue combines the talents of a prodigiously talented set of young musicians who bring their individual backgrounds to the table to create music that carries the Southern soul legacy into the 21st century, spanning the band members' wide-ranging musical interests while showcasing the powerful chemistry and electrifying live show that they've honed through extensive stage and studio experience. Since the release of their debut, Southern Avenue has played in over a dozen countries and wowed audiences at such festivals as Bonnaroo, Firefly, Electric Forest and Lockn'.
Guitar phenom Ori Naftaly originally built his reputation in his native Israel before joining forces with deeply expressive Memphis-bred singer Tierinii Jackson and her subtly powerful drummer sister Tikyra Jackson. The band's lineup is rounded out by versatile keyboardist Jeremy Powell, an early alumnus of Stax Records' renowned music academy.
Keep On brilliantly captures Southern Avenue's combustible chemistry, with the emotion-charged energy of such distinctive originals as "Whiskey Love," "Savior," "Too Good for You" and "We Are Not So Different" reflecting the players' evolving talents as well as the influence of the extensive roadwork that they've invested in the band. The musicians recorded the album with producer Johnny Black (Jessie J, Daughtry, Estelle) at Memphis' legendary Sam Phillips Recording, with guest appearances by seminal Stax Records artist William Bell, noted Memphis musician Gage Markey (who serves as guest bassist on most of the album) and a horn section comprised of Art Edmaiston (JJ Grey & Mofro, Gregg Allman) and Marc Franklin (The Bo-Keys, Gregg Allman).
GRAMMY Award winner Bell, a formative figure in the development of Southern soul, was impressed by the band's talents. "In terms of new artists with the talent to become the stars of the future, you need to look no further than Southern Avenue," Bell commented.
The critics have been similarly impressed. "Southern Avenue's modern sound melds gospel-infused R&B with a rootsy rock feel," wrote Mix. Relix referred to Southern Avenue as "a deeply soulful Memphis band that's turning the scene on its head," while Goldmine called their music "a frothy Memphis soul stew fit to twitch your body to in ways you didn't think you could," The Chicago Reader called the band's debut album "a boiling retro-soul primer," adding that "Tierinii has a riveting stage presence. They do the Stax legacy proud." No Depression commented that it's "easy to imagine Southern Avenue as a house band in their native Memphis or Muscle Shoals in the glory days of the '60s, sent back to the future to save us from in-authenticity and our collective hurt."
The seeds for Southern Avenue's birth were first planted when Ori Naftaly, who'd grown up in Israel with a deep-rooted passion for American soul, blues and funk, came to Memphis in 2013 to compete in the prestigious International Blues Challenge. Although his talents were embraced by American audiences, Naftaly felt constrained in his own band, feeling the need to embrace a more expansive musical vision. That opportunity arrived when he met Tierinii Jackson, who'd gotten her start singing in church, before performing in a series of cover bands and theatrical projects. Despite not having a record deal at the time, Southern Avenue quickly found success touring in America and Europe. They won additional attention playing some high-profile festivals and making it to the finals in the International Blues Challenge.
The band's self-titled debut was released in 2017, hitting #6 on Billboard's Top Blues Albums Chart, reaching #1 on the iTunes Blues Chart and prominently sitting in the Americana radio Top 30 for nearly six months. The success of the album created demand for the band in both the U.S. and throughout the world performing in high-profile festivals around the globe. Since that time the band has seemingly lived on the road with over 300 shows under their belts. Building their audience one show at a time, they have headlined countless rooms from coast to coast and have toured with artists including Buddy Guy, JJ Grey & Mofro, Umphrey's McGee, Los Lobos, North Mississippi Allstars and Karl Denson to name a few. "We love playing live," says Ori Naftaly, "It's that connection with our fans that makes the time away from home worth it. Fans become our family out on the road and we love experiencing music together with them each and every night."
Their efforts were further acknowledged by fans and peers in 2018, when their Stax debut was honored with a Blues Music Award for Best Emerging Artist Album. "What makes it Southern Avenue," Tierinii states, "is that when we come together, the music we make together is music we could never come up with individually. It's really rewarding to have so many influences in the band, and that we can find the balance between them."
"I'm proud that we don't sound like anyone else," Ori asserts. "We've been all over the world, from Australia to Poland to Norway to Spain to Canada to Mexico. Those experiences, and all the highs and lows, it's all reflected in the music. I've waited all my life to be in a band like this, and it's amazing to me that I get to play with these people every night."
About the organizer
HI-FI Indianapolis and the newly renovated LO-FI Lounge combine to give fans two great live music venues in one location. Both venues are located in the heart of Fountain Square, along the Indianapolis Cultural Trail. HI-FI can be accessed from Virginia Ave at street level. Access LO-FI Lounge via the back entrance to the Murphy Arts Building and head to the 2nd Floor. Tickets for all shows are available at hifiindy.com or at the HI-FI Box office. All shows are 21+. No Exceptions.