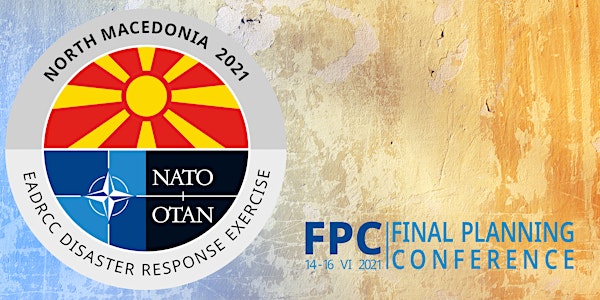 "NORTH MACEDONIA 2021" Final Planning Conference
The Final Planning Conference for the "NORTH MACEDONIA 2021" Exercise will take place from 14 until 16 June 2021 in Ohrid, North Macedonia
Date and time
Mon, 14 Jun 2021 08:00 - Wed, 16 Jun 2021 16:30 UTC
Location
Ohrid Hotel Inex Olgica Ohrid Macedonia, Republic of
About this event
IMPORTANT: this conference is limited to one representative per nation / international organization, except for the neighbouring nations to the Republic of North Macedonia and the Next-Generation Incident Command System (NICS) project participant nations; these nations can designate two representatives to the conference.
The Final Planning Conference will be dedicated to developing the exercise scenario and the Exercise Instructions (to be circulated in due time) for the conduct of the exercise composed of 1) a Field Training Exercise and Table Top Exercise, 2) a VIP Symposium and 3) Media Tour, as well as to discuss host nation support, including border crossing procedures.
All costs for participation in the Final Planning Conference will be paid by the participants of the sending nations/organisations. In the event that participants from partner countries may not be able to cover the costs for participation in this meeting, limited NATO funds are available to subsidise 100% of costs for visa, travel and accommodation ( including breakfast and lunch ) only. Funds are available for one participant only from each partner country eligible for NATO financial support. All other expenses (including per diem, dinner, transportation to and from airport or train station, hotel incidentals, etc) will not be reimbursed. A reference to the policy for financial support of eligible partner participation to CEP-related events has been provided in the invitation letter.
Requests for financial assistance should contain dates and times of departure and return travel, as well as the anticipated travel costs, and should be addressed not later than 26 May 2021 to this email address: nato.eadrcc@hq.nato.int.