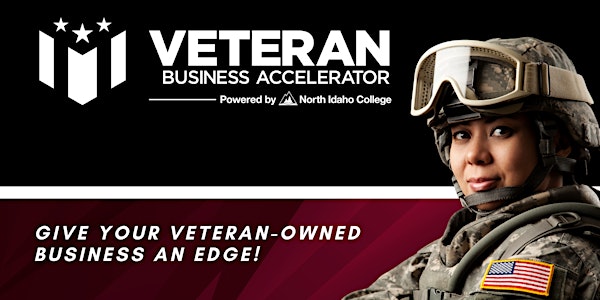 North Idaho College Veteran Business Accelerator - Fall 2022
NIC Veteran Business Accelerator Equips Veterans And Their Families With The Tools And Connections To Launch And Grow A Successful Business
When and where
Location
North Idaho College - DeArmond Building 1000 W Garden Avenue Coeur d'Alene, ID 83814
About this event
Give your veteran-owned business an edge!
The North Idaho College Veteran Business Accelerator is specifically designed to equip veterans and their families with the essential skills necessary to launch a new business, grow their existing operation, and develop a roadmap for business success.
Participants will learn as a cohort, make new business connections, and learn from other successful entrepreneurs in the military community as they hone their business skills over seven, in-person sessions at North Idaho College
The NIC Veteran Business Accelerator is open to all current and past members of the United States Military, spouses, and children.
What's Included:
15 hours of in-person business instruction at North Idaho College.
Course materials and two business leadership books ($40 Value)
Guest presentations from regional veteran-owned businesses.
Opportunity to connect with other veteran entrepreneurs in your cohort.
Your Instructor: Josh King, Managing Partner of Tinderbox Consulting
Josh is a recognized marketing and small business expert with a diverse background in digital media and corporate marketing. As an entrepreneur and small business owner, Josh has a passion for helping companies use 21st-century tools and resources to reach new customers, improve sales, and grow their bottom line.
Josh takes a hands-on, practical approach to workshops and presentations, and is a recurring instructor/presenter for organizations such as North Idaho College, Spokane SCORE, and North Idaho Small Business Development Center.
North Idaho College Veteran Business Accelerator Schedule (T/TH Evenings, 6:00pm - 9:00pm)
Week 1: Kick-Off and Business Finances
Tuesday 9/27 - Course Introduction - Setting The Stage For Your Business Success
Thursday 9/29 - Establishing Your Baseline - Business Finances
Week 2
Tuesday 10/4 - Leadership for Early-Stage Organizations
Thursday 10/6 - Entrepreneurship Grit, Strategy, and Dealing with Uncertainty
Week 3
Tuesday 10/11 -Business Ownership, Franchising, and Business Models
Thursday 10/13 - Transitioning from the Military to Becoming a Veteran Business Owner
Week 4
Tuesday 10/18 - Course Wrap Up & Final Presentations and Your Next Steps as a Veteran Business Owner
Location:
North Idaho College Bob and Leona DeArmond Building (DARM 106) 1000 W. Garden Ave. Coeur d'Alene, ID 83814
----
North Idaho College Masking Policy: To help safeguard the health of students, employees, and visitors, and following the guidance from the Centers for Disease Control to protect from the spread of COVID-19, North Idaho College encourages everyone – regardless of vaccination status – to wear a mask when indoors in college buildings whenever inside NIC buildings when two or more people are present.