An outdoor fun & interactive worship experience to bring the FUN back to worship.
About this event
Federation Sabbath
October 16th
715 Youngs Ln., Nashville TN.
Joint Hosted by : Kentucky Federation, Tennessee River Federation, East & Middle Tennessee Federation, and Mississippi- Tenn Federation:
Who: NASHVILLE, CHATTANOOGA, KNOXVILLE, LOUISVILLE, LEXINGTON, MEMPHIS, HUNTSVILLE, DECATUR, BOWLING GREEN, NORTH MISSISSIPPI... AND EVERYONE IN BETWEEN... COME ON OUT!
What: An In-Person, Outdoor Worship & Connecting Event- Bring your lawn chairs, picnic blankets, tents, hammocks, and umbrellas and hang out. (and Bug repellant)
When: Saturday 12:00 - 5:00pm
Why: Each year our youth attend a local federation in their city, or federation area. We have missed out on doing this in a major way due to Covid. This fall instead of each federation attempting to pull off a big youth event in their city, with limited funds, and possibly closed churches, we decided to give them a place to come back to and fellowship again, safely. 5 Federations have come together to create a fun, safe, gathering for our youth who have been hit hard by social distancing, quarantine, missing friends, events, and more. Please support the youth today!
Covid Guidelines
Although this is an outdoor event, We will be strictly enforcing a mask mandate, and social distancing for everyone. Temperature Checks & Covid guidelines will be followed at check-in/on-site registration. In the event of rain, our contingency plan is to move indoors by rotation so that we can continue to practice social distancing. Each activity will include sanitization before and after youth engage. Anyone feeling ill should remain at home.
Please see the following: https://www.cdc.gov/screening/paper-version.pdf
You Will receive a Covid-screening tool when you pull up for registration. Please fill it out before your arrival.
Registration
Please meet us at the Check-in table (Under the Awning at F.H.Jenkins) before you get out of your car and park or set up tents, food, etc. We will check temperatures, get your information, and give you a wristband that lets everyone know where to go and that they're been cleared to hang out. Everyone must register immediately upon arrival (Follow the signs) AND receive a wristband, no exceptions. Anyone present without a wristband will be asked to return to their vehicle.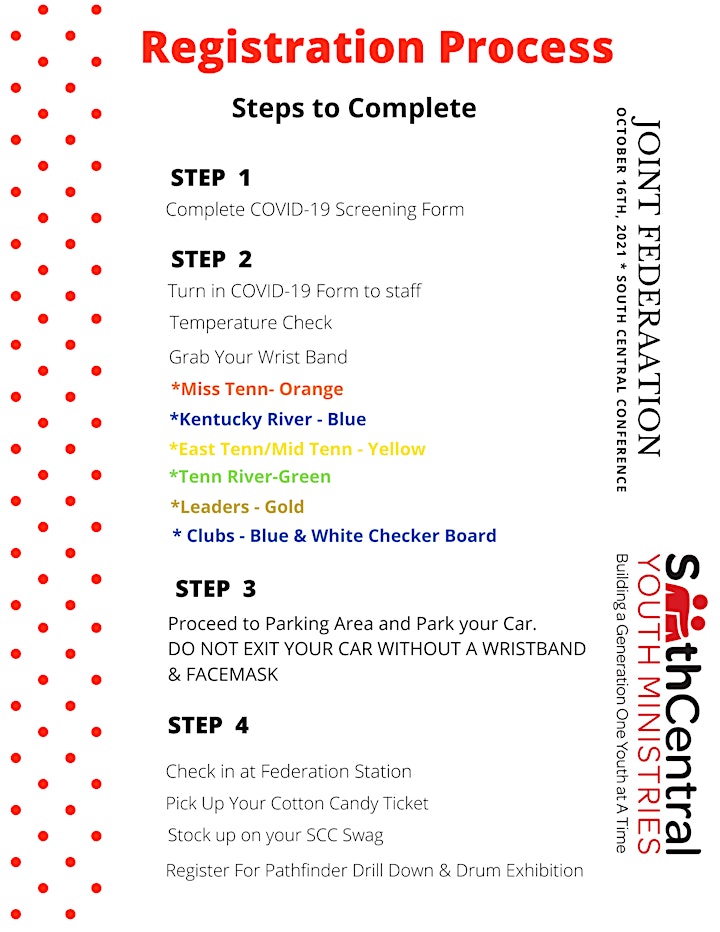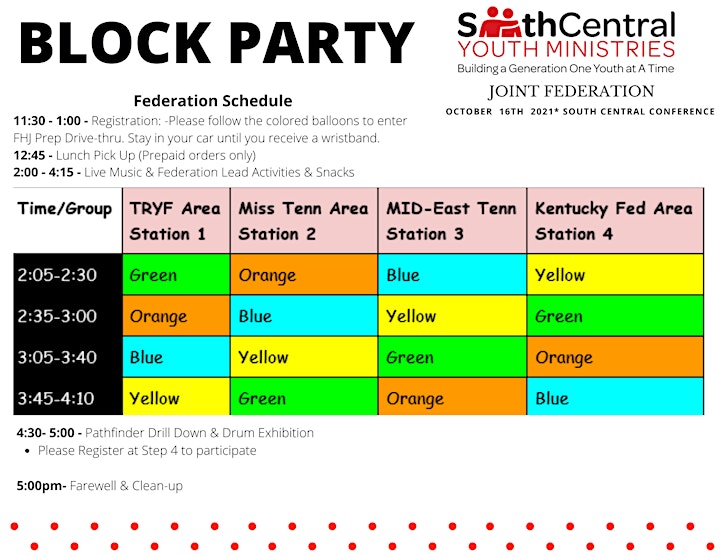 Schedule
11:30 - 1:00 Registration
Group and Individual Check-ins
1:00 - 2:00 Worship Jam Session and Lunch
2:00 - 4:00 Live Music & Federation Lead Activities and Ice Cream Party for Registrants, Adventurer/Children's Ministry Activities. Food Giveaway!
4:00 - 5:00 Drill Competition, Drum-Off, Games
5:00 Farewell & Clean-up
Meals - PRE-ORDER HAS ENDED!
You can bring your own food, or provide food for your club/group. Hot meals will be provided on a pre-order system so that you can enjoy lunch outside. This option is especially for those who are traveling to attend. Our meals will be provided by a local caterer who is familiar with our dietary restrictions. You MUST pre-pray for you meals beforehand and you will be able to pick it up when you arrive.
Pre-order by October 6th.
The Food Options are as Follows:
Meal 1 : $12:
Rice, Regular mac/cheese or vegan mac/cheese Vegetarian Entre, Green beans, Roll
Meal 2: $15:
Same as meal 1 includes a DRINK & DESSERT.
Send your Name & Vegan or Vegetarian in the memo to Cashapp: $Marciamet
For large orders or group orders please contact the conference office.
T-Shirts
Federation T-Shirts are available via Teespring. You may purchase a shirt prior to attending, we will have a limited number of shirts on site. All t-shirt purchases go toward YOUR FEDERATION and providing money so the youth can attend congress, do events, and be supported.
Get Your Federation Shirt Here! https://my-store-a9bb68.creator-spring.com/