Description
Northeast Class of 79 invites you to join them for their 40th year Class ReUnion Cruise. Put away the pots and pans, leave the cooking to someone else and come be pampered with your classmates, family and friends on this fabulous 5 night voyage Sailing to the Jewels of the Caribbean - Jamaica & Grand Cayman on Carnival Sunrise! November 25th to November 30th. Fun, food and fellowship and your very own on-board event. Experience the magnificent ports of call, rev up your spirit of adventure and zip line over the tree tops, or take a bob sled ride up Mystic Mountain Jamaica. Not one for the thrills? Then chill at the beach and enjoy the clear sparkling waters of the warm Caribbean. Wanna do something different? How about horseback riding in the ocean? Do as much as your heart desires or as little as you like. You want to be on this trip of a lifetime! Make your reservations now! Don't miss the ship! For more information please call Linda Solomon @ 478-973-1762
PLEASE NOTE* To maintain the integrity of the group all payments are non-refundable. Once cabins are assigned, name changes will incur additional fees.
If you would like to participate in this event, please click on the ticket link and complete the requested information along with your reservation payment. Thank you!
Interior Cabins (no windows) start @ $607 per person double occupancy

Ocean View Cabins start @ $653 per person double occupancy

Balcony Cabins start @ $813 per person double occupancy

ADDITIONAL GRATUITIES currently $13.95 per person per day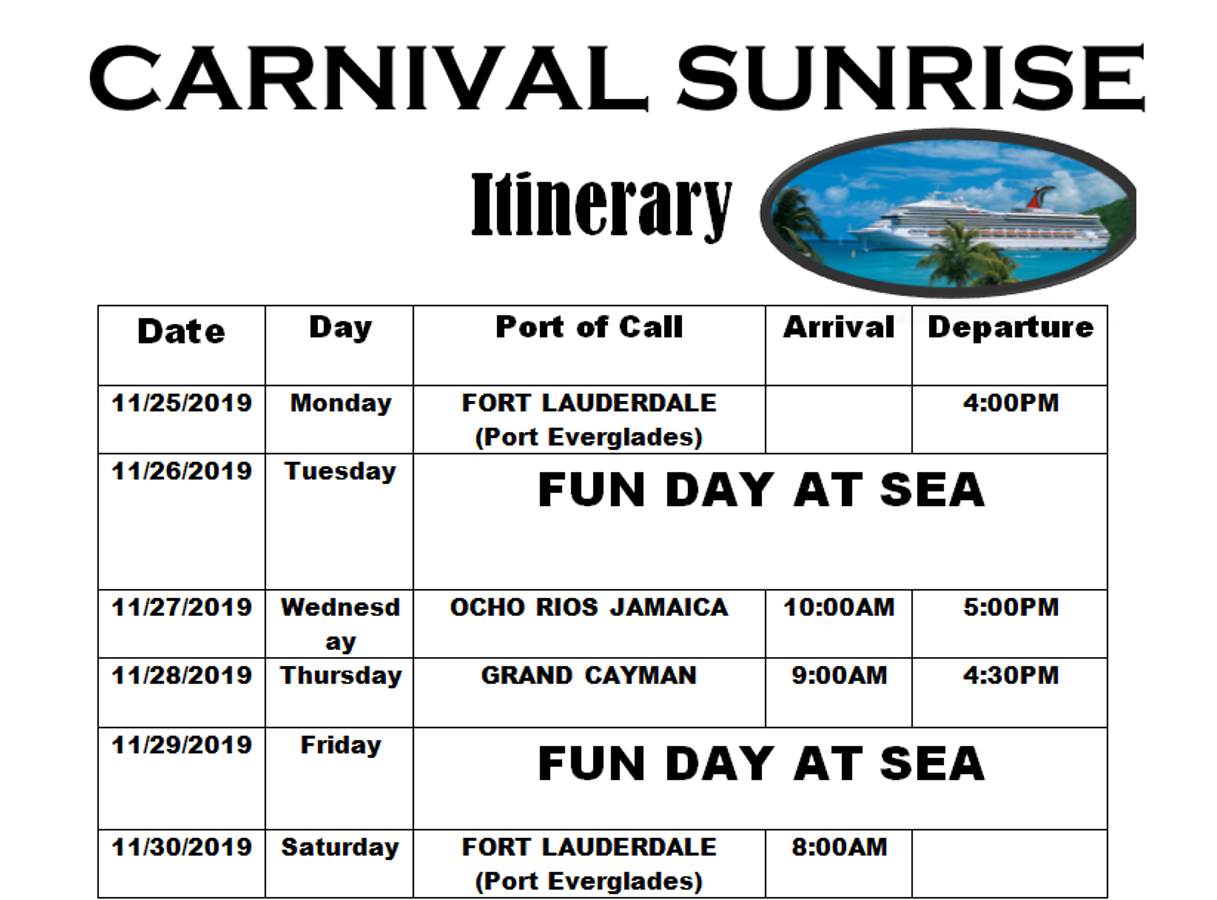 PAYMENT DUE DATES
1st Deposit $50 PP – WEDNESDAY JANUARY 30TH

2nd Deposit $50 PP WEDNESDAY FEBRUARY 27th

3rd Deposit $75 PP WEDNESDAY MARCH 27th

4th Deposit $75 PP WEDNESDAY APRIL 24th

5th Deposit 100 PP WEDNESDAY MAY 22ND

6TH Deposit $100 PP WEDNESDAY JUNE 26TH

ALL OUTSTANDING BALANCES DUE WEDNESDAY JULY 30TH
TRAVEL AGENT DISCLAIMER:
Traditional Elegance is not responsible for your actual vacation and assumes no responsibility for any bankruptcy by the suppliers. As an agent Traditional Elegance maintains no control of the operation, equipment, or personnel for any carriers, cruiselines, airlines, tour companies, hotels, bus lines, insurance carriers, et al, and therefore can assume no responsibility for personal injury, property damage or other loss, accident, delay or inconvenience, or irregularity which may be occasioned.
TRAVEL INSURANCE
Travel insurance although not required is strongly advised. The following companies are listed as a courtesy however it is your responsibility to research and make your own decision regarding travel insurance.