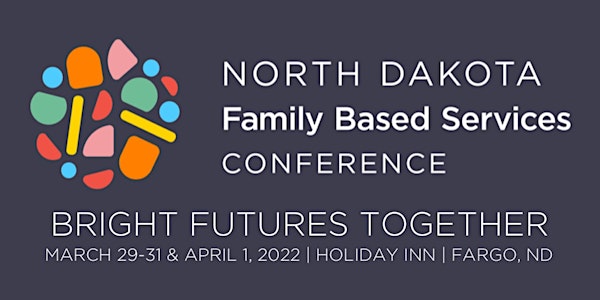 North Dakota Family Based Services 2022 Conference
Event Information
Location
Holiday Inn Fargo
3803 13th Avenue South
Fargo, ND 58103
Refund policy
Contact the organizer to request a refund.
Eventbrite's fee is nonrefundable.
About this event
Join us for the 33rd annual North Dakota Family-Based Services Conference: Bright Futures Together. This year we highlight and promote family-based services in North Dakota with those who share in our objective to maintain, strengthen, and empower families. The North Dakota Family-Based Services Association, along with our volunteer Board of Directors and committees, have a longstanding commitment to revitalize North Dakota's diverse audience of social workers, counselors, addiction counselors, therapists, educators, family advocates, youth leaders, foster parents, adoptive parents, and supervisors through education and professional development. Attend the four-day conference designed to inspire hope as part of our commitment to serving children and families of North Dakota.
View the Conference Registration Packet above for complete details about the agenda. Overview below:
TUESDAY MARCH 29, 2022
Pre-Conference sponsored by Chrysalis : 9:00am-5:00pm
An Overview of Reactive Attachment Disorder: Understanding Development Trauma from Etiology to Play Therapy Treatment
Introduction to Integrative Attachment-Informed Model (I AIM)): A Play Therapy for Traumatized Children
Dr. Angela Cavett
This pre-conference/workshop will provide an overview of early developmental trauma and how it impacts a child's attachments. Attachment concerns due to early childhood trauma impact children's ability to function throughout their lives. There are many different domains that are re-impacted by early developmental trauma including affective regulation, executive functioning, cognitive functioning, and perceptions of self, others, and their worlds. Participants will learn about how each area is impacted and how play therapy is beneficial. The literature and research will be discussed in terms of how teams, including parents/caregivers, extended families, schools, agencies, and mental health providers can decrease negative behavioral concerns and improve relationships.
In this workshop, participants will learn an overview of the Integrative Attachment-Informed Model (I AIM). Integrative Attachment-Informed Model is a tiered, prescriptive play therapy treatment dependent upon the attachment between child and caregiver. I AIM is a trauma-informed and neuroscience-informed treatment with the tier of treatment based on the child's symptoms which reflect the level of the brain that needs to be targeted in treatment. As the caregiver-child dyad, the child's therapy progresses as the treatment goes from lower brain regulation to cortex-dependent interventions. For children with attachment issues, including Reactive Attachment Disorder, I AIM includes Theraplay for the child and parent as well as sessions for the parent. After the relationship shifts, higher level, reasoning tasks (ie., cognitive restructuring), become the focus. It is consistent with the work of Daniel Siegel, Daniel Hughes, Phyllis Booth, Stephen Porges, and Bruce Perry. This workshop will include introductory information about each of the treatment tiers.
Make and Take: In this workshop, interventions discussed in the Integrative Attachment Informed Model workshop will be discussed. Experiential play therapy interventions will be the focus to explore how to use them in session and to practice using them.
WEDNESDAY MARCH 30, 2022
Continental Breakfast Provided- 7:30-8:00am
Keynote: Creative Strategies for Improved Client and Provider Mental Health- 8:30-11:30am
Dr. Renae Reinardy, PsyD
Many clients and clinicians have experienced extra challenges over the past few years. The need for mental health services will continue to grow and the wellbeing of those providing care needs to be a priority. We can build provider sustainability through strategies such as multidisciplinary collaboration, groups, limit setting, healthy work environments and self-care. To prevent provider burnout, it is also helpful to focus on additional strategies to use with clients. Common factors for successful therapy will be discussed as well as the use of humor, homework, and other tools that keep treatment fresh and effective. There will be an opportunity to practice skills together and get some hands-on experience with self-care!
Lunch Provided- 11:30-1:00pm
Yoga- 11:30-12:20pm (boxed lunch provided)
Roberta Pytlik, LPCC, LAC
All-levels yoga class that is focused on healing, recovery and body awareness.
1st Breakout Sessions- 1:00-3:00pm
A- 1: Treatment for Obsessive Compulsive Disorder and Body Focused Repetitive Behaviors
Dr. Renae Reinardy, PsyD
Obsessive Compulsive Disorder (OCD) and Body Focused Repetitive Behaviors (BFRBs) are common conditions that are often misunderstood, misdiagnosed, and not appropriated treated. OCD can manifest in many ways; we will review common obsessions and compulsions and closely related conditions. Exposure and Response Prevention strategies will be provided as well as a discussion of other useful tools such as inhibitory learning, ACT, and mindfulness. BFRBs are often grouped with OCD and include behaviors such as compulsive hair pulling, skin picking, and nail biting. An integrative treatment approach may be useful in treating children and adults with BFRBs and can include ComB, ACT, DBT, and habit reversal training. Case examples will be shared to help guide those interested in developing treatment plans for these conditions.
A- 2: Ethics
Katie Krukenberg
This session will explore current issues related to ethics encountered in social work practice and supervision in addition to ethical decision making models. Particular focus on ethical standards pertaining to work with children and families, social work in rural areas, ethical challenges resulting from the pandemic, and ethical considerations with colleagues in the workplace.
A- 3: DSM-V Diagnosis; Mental Health in North Dakota
Sara Stallman
As empowered advocates and healers, it is vital we understand mental health, common symptoms related to, implications in functional domains, and most importantly, how to talk about this often-challenging topic. In our session, we will start with reviewing basic stats specific to North Dakota, talk through the need to move our state's response style from "crisis management to mental health need detection," work to understand how mental health needs can show themselves in very challenging/confusing ways, learn how each of us can be active participants in normalizing mental health support, and finally, how to support someone in accessing mental health services. We will also examine the major diagnostic classifications in the Diagnostic and Statistical Manual of Mental Disorders, 5th edition (DSM-5) and typical diagnoses/symptoms you may come across in your professional and personal lives. Awareness and knowledge make us better advocates for all those we wish to support and for ourselves.
2nd Breakout Sessions- 3:30-5:00pm
A- 4: Triumphs and Challenges in the Treatment of Hoarding Disorder
Dr. Renae Reinardy, PsyD
Personal experiences will be shared in what I have learned treating hoarding disorder for over 20 years. Our understanding of this condition has grown significantly but there is still much to be learned about this multifaceted and complex behavior. Common symptoms including difficulty with discarding, compulsive acquisition, difficulties with decision making, perfectionism and decreased executive functioning will be highlighted. The common skills used in individual and group therapy such as cognitive restructuring, exposure therapy, motivational interviewing, and harm reduction will also be shared.
A-5: The Face of Mental Health
Christy Wilkie, LCSW; Lucas Mitzel, LCSW
The Dakota Family Services outpatient mental health providers will discuss interventions for understanding and regulating disruptive children and adolescents in classrooms. They will review what some common diagnoses look like in the classroom and interventions for teachers. The providers will also talk about the impact of mental health on all children and the effect this has on the roles of teachers, including working with caregivers and building empathy.
A-6: Professional Ethics & Supervision in the Helping Field
Dr. Shauna Eberhardt, PhD, LPCC, LMAC
Boundaries and Professional Ethics in the Helping Field is an overview of boundaries as an element of ethical practice. This presentation will provide examples of the types of boundaries within the therapeutic relationship, practice ethical decision-making through a review of hypothetical scenarios, and provide additional resources for aiding the process of ethical decision-making in the state of North Dakota. Recommendations will also be provided from a supervisory standpoint to address counter-transference and boundary issues within the therapeutic alliance. This session is approved for Supervision CEUs by NDBCE.
THURSDAY MARCH 31, 2022
Continental Breakfast Provided- 7:00-8:00am
Keynote: Handle with Care- 8:15-10:15am
Gaelin Elmore
When we buy things from the store, off Amazon, or get something delivered to our home, chances are you get instructions, information on the item, and warning labels. If the package is fragile, it may even have a label that states, "Handle with Care." Although that may be helpful, when dealing with people, that's not possible. Honestly, those kinds of labels or expectations may be more harmful than helpful, especially when dealing with youth who are/have been in the foster care system. The trauma and adversity experienced by youth within the system can sometimes make progress feel impossible, and normalcy unattainable. But that's not the truth - that's just a lie, told by adversity, that allows us to make sense of situations that seem nonsensical. The truth is that everything is not doom and gloom when we get the right perspective and begin moving forward with intentionality.
This keynote will equip, inspire, and motivate you as you continue your journey to caring for youth in the system. Utilizing his story, experiences, and practices, Gaelin will explore the intersection of adversity and trauma, what it's like to not be "handled with care" and the life-changing impact of adults moving intentionally to not make the same mistakes as the ones before them.
Takeaways: Have a revised perspective and approach toward adversity, gain insight into the experience/perspective of someone who's been in foster care, understand and implement the CARE model which will greatly impact how you approach youth in the system, learn about the intersection of adversity and trauma, and be motivated and energized to continue doing the work.
Plenary: North Dakota Behavioral Health Program Updates- 10:30-11:30am
Heather Brandt; Kelli Ulberg; Tracy Miller; Monica Haugen
Please join the North Dakota Department of Human Services for a session that will highlight opportunities for additional programs and supportive services for children and families in North Dakota.
This session will include information on:
-Medicaid 1915(i) State Plan Amendment
-Family First Title IV-E Prevention Services and Programs
-Other behavioral health supportive services/programs
Lunch Provided- 11:30-1:00pm
1st Breakout Sessions- 1:00-2:30pm
B- 1: Creating Belonging for Youth in Care
Gaelin Elmore
We are all on our own journey to belong to a family, a group of people, or both. What separates foster youth from everyone else is that, for one reason or another, their most immediate and safest bet to belong (their family) is no longer available to them. The deepest desire for every foster youth can be simplified into two categories: 1. To be back with the people they believe they belong with (their family); or 2. To find a family, place, or group of people in which they belong. In order to create a space where youth can find belonging, we must start with understanding belonging. Only then can we focus on implementing. In this breakout, while continuing off the CARE model, we will work to obtain a baseline understanding of belonging and begin brainstorming ways to implement belonging for youth in care. Through large and small group discussion, activities, and stories, walk away from this breakout with fresh perspective and ways to create belonging for the youth you encounter.
Takeaways: New understanding of key concepts related to belonging, perspective on how belonging fits into different aspects of the foster care system, how to implement belonging into everyday life, reflection of practices or norms that prevent belonging.
B- 2: Students in Transition: Services for Homeless Youth
Sherrice Roness
This presentation will be informational to service providers and school staff who engage with students who are in transition or are homeless. Bismarck Public Schools has a program implemented to assist these students by offering them extended services to assist in creating a stable education experience. This program not only assists in dealing with the students' education, but by thinking outside the box to diminish barriers these particular students face on a daily basis due to their temporary housing.
B- 3: Psychological Medications & Mood Disorders in Children
Linda Jo Volness
This session will have symptom overview of Disruptive Mood Dysregulation Disorder (DMDD), Major Depressive Disorder (MDD) and Bipolar Disorder (BP). It will also cover medications commonly used to treat youth suffering with a mood disorder. A case study presentation will be used to help with differential diagnosis of pediatric mood disorder and medication considerations.
Attendees will be able to identify mood disorder symptoms as they present in youth. Attendees will become familiarized with classes of medications used to treat mood disorders.
2nd Breakout Sessions- 3:00-5:00pm
B- 4: "Things I wish they told me"
Gaelin Elmore
For a long time, I believed once I left foster care it would no longer have an impact on my life. And for a while, I was able to convince myself that was true. Well, in the last three years, I have experienced the long-lasting symptoms of foster care more deeply than when I was still a child within the system. This breakout is aimed to be an intimate conversation around the good, bad, and ugly of foster care. Oftentimes, speakers only touch on topics that they've wrestled down to the ground, conquered, and mastered. But that's not real life, and who better to truly represent real life than those in the foster care community. I will cover situations like running into a former foster parent at church, navigating childhood abuse with the people who were also victims, finding never-before-seen childhood photos, and so much more.
Let's talk, share, and dive deep on the hidden impacts of foster care, while encouraging one another about the beauty of something so hard.
Takeaways: Become aware of long-term impacts of foster care, learn how to assist former foster youth to navigate similar situations, and gain insight on the perspective of a former foster youth.
B- 5: Transcranial Magnetic Stimulation
Dr. Lisa Schock, MD
Major depressive disorder (MDD) can be a chronic and progressive illness, with many patients failing to reach complete remission of symptoms. This session will review the scope, challenges, and new developments in the treatment of MDD, with a special emphasis on neuromodulation.
B- 6: Opioid Crisis in North Dakota
Paul Cichos, Fargo Police Department
This presentation will focus on current narcotic trends in the Fargo area and how these trends are affecting our everyday life. In this presentation, participants can expect to learn about current local statistics, learn drug identification techniques, and what local law enforcement is doing to fight the current opioid crisis.
FRIDAY APRIL 1, 2022
Continental Breakfast Provided- 7:00-8:00am
Overview: Community-Wide Impact of Juvenile Justice Reform- 8:30-10:00am
The Juvenile Justice Reform is a result of the Council of State Governments (CSG) Justice Center partnered with the North Dakota Juvenile Justice State Advisory Group, in collaboration with the Commission on Juvenile Justice and Interim Judiciary Committee, to conduct an assessment of North Dakota's juvenile justice system. The goal is to identify shared priorities for improvement and opportunities to align state policy, practice and funding with what research shows works to protect public safety, reduce disparities, and improve youth outcomes. All of which lead to the reform of North Dakota Century Code (NDCC) 27-20, formally known as the Uniform Juvenile Court Act.
Q & A: Community-Wide Impact of Juvenile Justice Reform- 10:30am-12:00pm
An opportunity for the audience to ask questions pertaining to the Reform.
Lodging: Holiday Inn, Fargo, ND
Please book hotel room reservations directly with Holiday Inn at 701-282-2700.
A block of single rooms and double rooms have been set aside at the Holiday Inn for conference attendees under ND Family Based Services Association. The Conference Rate is $126.00 for a standard room. Blocked rooms will be held at conference rates until March 1st, 2022.
For a State Rate room, when you book the reservation, you will initially get the block conference rate. Upon check-in, you must provide a State ID Card to get the state rate of $86.40 for a single occupant, $96.40 for double occupants.
Refunds
After March 15, 2022 (3/15/22), a refund, minus $25 admin fee will be issued via initial registration payment (card or check). All requests must be submitted in writing via Eventbrite or email to ndfamilybasedservices@gmail.com
Potential for up to 22.5 CEUs for North Dakota social work, counseling, addiction counseling. This conference is approved for Wraparound Recertification.
Please click here to nominate a deserving individual or program for a North Dakota Family Based Services award.
Date and time
Location
Holiday Inn Fargo
3803 13th Avenue South
Fargo, ND 58103
Refund policy
Contact the organizer to request a refund.
Eventbrite's fee is nonrefundable.