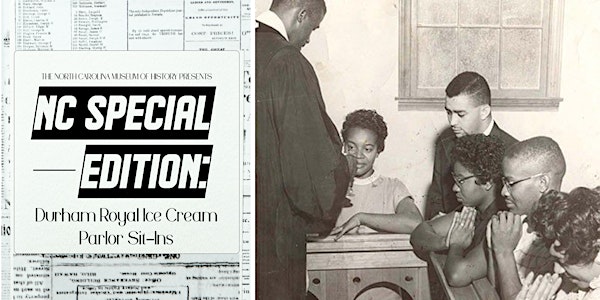 North Carolina Special Edition: Durham Royal Ice Cream Parlor Sit-In
On June 23, 1957, Rev. Douglas Moore led six young African Americans into Durham's segregated Royal Ice Cream Parlor.
About this event
Access the program using the Zoom link below!
Passcode: 948089
Or One tap mobile :
US: +16692545252,,1604033667# or +16468287666,,1604033667#
Or Telephone:
Dial(for higher quality, dial a number based on your current location):
US: +1 669 254 5252 or +1 646 828 7666 or +1 669 216 1590 or +1 551 285 1373
Webinar ID: 160 403 3667
International numbers available: https://www.zoomgov.com/u/adQ2xo1ho1
Or an H.323/SIP room system:
H.323: 161.199.138.10 (US West) or 161.199.136.10 (US East)
Meeting ID: 160 403 3667
Passcode: 948089
SIP: 1604033667@sip.zoomgov.com
Passcode: 948089
Speakers: Mrs. Mary Clyburn Hooks and Ms. Virginia Williams
On June 23, 1957, Rev. Douglas Moore of Asbury Temple Methodist Church led six young African Americans into Durham's segregated Royal Ice Cream Parlor. The group entered the "Colored" entrance at the back of the restaurant and proceeded to the White section, where they sat down and ordered ice cream. Denied service, the protestors refused to leave. They were arrested and fined $10, plus court fees. The Royal Ice Cream sit-in provoked controversy in not only the White community; it created a huge uproar among Black citizens, many of whose members viewed the protesters not as freedom fighters but as troublemakers. Although the sit-in did not receive a lot of support, it did help inspire future protests, including the Greensboro F. W. Woolworth store lunch-counter sit-ins. Join us on the 65th anniversary of the Royal Ice Cream Parlor sit-in, as two of the protestors share their memories of that historic day.
Mary Clyburn Hooks is a native of Monroe, North Carolina. As a young woman, she moved to Durham, hoping to acquire an education and work in a more progressive town. After participating in the sit-in, Hooks married and started a family. She attended North Carolina College at Durham (now North Carolina Central University), before settling in New Jersey. Virginia Williams came to Durham from her home in rural Northampton County, seeking employment. After attending a political meeting, the two young women felt compelled to take part in the upcoming protest. Following the events at the Royal Ice Cream Parlor, Williams participated in other Durham demonstrations. She retired from a long career in food services and still resides in Durham.