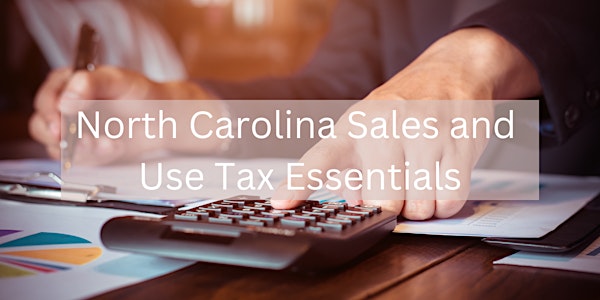 North Carolina Sales and Use Tax Essentials
North Carolina Sales and Use Tax Essentials
Refund Policy
Contact the organizer to request a refund.
Eventbrite's fee is nonrefundable.
About this event
Sessions Consulting, Inc. presents the most powerful and informative one-day NC Sales and Use Tax seminar you may ever attend. You can get the specific answers you need in everyday language to make North Carolina Sales and Use Tax clear and easy to understand
The curriculum has been prepared by and is presented by a former NC Department of Revenue auditor with over 35 years of experience auditing and assisting North Carolina's taxpayers. We know the most common oversights discovered in audits and can help you avoid them.
We know what the auditors know. Our curriculum is planned and presented by a former auditor, so we have the knowledge and experience to give you the answers you need. We can also give you insider tips that will make your job, and even your next audit, go much more smoothly.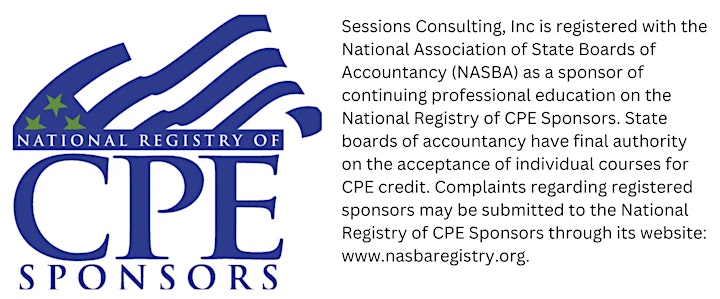 1. The fee for this webinar is $159 per participant.
2. This is a basic level course, and it does not require any advanced preparation or prerequisites.
3. After completing this course you will be able to:
Confidently determine the proper tax rate to be applied to your transactions
Discover mistakes that may be causing you to overpay your tax
Understand the most common mistakes that auditors commonly look for
Help your vendors/suppliers correct situations in which they are overbilling tax
Understand sales tax exemptions that may apply to you
Understand how recent law changes can affect you
4. Topics that will be discussed include:
NC sales tax rates
Sales tax on utilities and fuel
Sales tax on motor vehicle sales and leases
Sales tax nexus
Credit for tax paid in another state
Proper use of the Certificate of Exemption
Sales tax on interstate and foreign commerce
Tax on transportation charges
Tax on repair, maintenance, and installation services
Procedures regarding sales tax on construction projects
Tax on service contracts
Tax on computer software
Tax on leases and rentals
Procedures regarding tax previously paid on bad debts
5. Delivery method: Group-Internet Based
6. Recommended CPE Credits: 6.0
7. Field of Study: Taxes
8. Refund Policy-A full refund will be provided for any cancellation received more than 24 hours before the beginning of the presentation.
9. Complaints may be registered by calling our office at (828) 689-4056.
10. This seminar is a basic course designed to give a solid understanding of the general rules regarding North Carolina sales and use tax for a variety of types of businesses. A foundation is laid with basic topics such as various tax rates, nexus, delivery charges, computer software, and many other sales and use tax topics of general interest. We also discuss the application of sales and use tax to repair labor, construction contracts, leases, and service contracts. This course is taught in lecture style and participants are encouraged to raise questions. There are no prerequisites, and no advance preparation is required but some experience working with sales and use tax may be helpful.