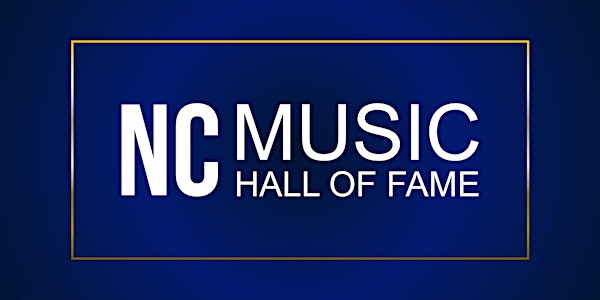 North Carolina Music Hall of Fame 2021 Induction Ceremony
A historical night on the red carpet honoring music legends from North Carolina.
When and where
Location
Gem Theatre 111 West 1st Street Kannapolis, NC 28081
About this event

Inductions take place annually at the North Carolina Music Hall of Fame to honor music legends with roots in North Carolina. This year's event will feature a "Double-Induction" in one night! Due to the pandemic, the 2020 and 2021 inductees will be honored in one extravagant event.
2020 Inductees:
The Briarhoppers
Jermaine Dupri
Michael Mauldin
Charles Whitfield
Donald Lawrence
The Squirrel Nut Zippers
2020 Lifetime Achievement Award Recipients:
2021 Inductees:
INDUCTION CEREMONY TICKET HOLDERS - THURSDAY OCT 21:
Guests will enjoy the Induction Ceremony program beginning at 7:00pm. The ceremony will take place at the historic Gem Theatre in Kannapolis, NC. The ceremony will feature each inductee's acceptance of their induction, video presentations , and live performances.
Please have your tickets available for entrance and re-entry at the Gem Theatre. Doors open at 6:00pm. All tickets are general seating which includes the main floor and balcony seats. Balcony is only accessed by stairs, no elevators are available. If you need special handicap seating please call the NCMHOF Museum: (704) 934-2320.
VIDEO & PHOTOGRAPHY RELEASE:
By purchasing a ticket to the 2021 Induction Ceremony and/or Concert, I hereby grant the North Carolina Music Hall of Fame, Inc. the irrevocable right and permission to use photographs and or video recordings of me and/or my child for websites and in publications, promotional flyers, educational materials, derivative works, or for promotional purposes only.
I understand and agree that such photographs and or video recordings of me may be placed on the internet. I waive the right to approve the final product. I agree that all such portraits, pictures, photographs, video and audio recordings, and any reproductions thereof, and all plates, negatives, recording tapes and digital files are all and shall remain the property of the North Carolina Music Hall of Fame, Inc.
I hereby release, acquit and forever discharge the North Carolina Music Hall of Fame, Inc., its current and former trustees, agents, officers, sponsors, and employees of the above named entities from any and all claims, demands, rights, promises, damages and liabilities arising out of or in connection with the use or distribution of said photographs and or video recordings, including but not limited to any claims for invasion of privacy, appropriation of likeness or defamation.
FAQ's:
Who is being inducted as part of the 2020 and 2021 class?
2020 Inductees: The Briarhoppers, Jermaine Dupri, Michael Mauldin, Charles Whitfield, Donald Lawrence, The Squirrel Nut Zippers.
2021 Inductees: Tony Rice & Robert Moog.
The Hall of Fame is also presenting Lifetime Achievement Awards to our past inductees who have achieved a lifetime of success in the music industry. Lifetime Achievement Recipients: Tony Brown & Roberta Flack.
Read more about our inductees: NorthCarolinaMusicHallofFame.org/induction2021
What is an Induction Ceremony?
Our annual Induction Ceremony is a commemorative occasion where music industry professionals, who have made an impact on American Music, are introduced as new members of our Hall of Fame. Inductees that enter the NCMHOF have reached national recognition in their field of at least 10 years and they have roots in North Carolina. The ceremony reflects an awards show format which includes inductees accepting their induction, an insightful history of their careers, and performances by some of the inductees. Living inductees may be in attendance to accept their induction, whereas deceased inductees will have someone accepting on their behalf.
Will there be live performances at the ceremony?
Yes! Many of our inductees will perform. Full list of performances TBA.
Do I have to bring my printed ticket to the event?
You MUST show your tickets at the door! All tickets will be scanned at the door. You may bring your printed ticket OR show your digital ticket on your smartphone.
Is there an age limit to enter the event?
No. Our annual induction event welcomes all ages. This is an educational, entertaining and historical event that no one will want to miss!
What are my parking options getting to the event?
Guests attending the event should park in the designated areas in the downtown area. Click here for the downtown Kannapolis Parking Map.
What should I wear?
Dress code for all attendees is Black Tie Optional.
Is seating reserved?
No. For the 2021 Induction Ceremony all guests may choose their seats upon arrival.
Will there be concessions at the ceremony?
Yes. The Gem Theatre Concessions will have sodas, candy, and their famous popcorn.
What can/can't I bring to the event?
Cameras are allowed at the red carpet & ceremony. NO smoking at the venues. NO outside food or beverages are allowed. NO pets.
Are the event venues handicap accessible? 
Handicap guests will not have access to an elevator at the Gem Theatre. The Gem Theatre balcony seating is accessed ONLY from stairs. Limited handicap seating is available on the floor level at the Gem, please call 704-934-2320 for more information or assistance finding a handicap seat.
Will there be a meet & greet with the inductees?
This year, due to the health and safety of everyone during this unpredictable time, there are currently no scheduled meet & greet sessions. Inductees are scheduled to attend the Induction Ceremony at the Gem Theatre. If circumstances prevent an inductee from attending, they will be honored and inducted into the Hall of Fame by a representative who will accept the induction on their behalf.
Where is Chophouse 101?
Chophouse 101 is located beside the Gem Theatre within walking distance. They are now accepting reservations exclusively for guests attending the 2021 Induction Ceremony. Chophouse 101 will be open after the Induction Ceremony upon availability. You must have a reservation for a meal. All reservations are coordinated by the restaurant. Cash bar in the restaurant will be open before, during, and after the ceremony for attendees.
Are there any social distancing measures?
The venue policy along with state & local guidelines, at the time of this event, will be followed.
What is your refund policy?
Sorry, all tickets are nonrefundable. There will be no exceptions for refunds. There are no rain dates for this event nor any substitutes for tickets. Due to the pandemic, if for any reason the Induction Ceremony and/or Concert events are cancelled or if the inductees are not in attendance, there will be no refunds. When purchasing your ticket, you will be asked to confirm this information.