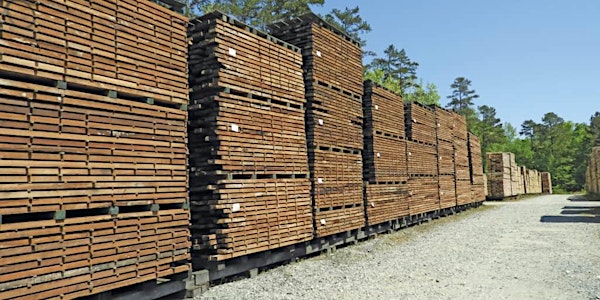 North Carolina Lumber Export Conference 2022
A one day conference that discusses the exporting of North Carolina lumber. Many species and export markets are discussed.
When and where
Location
NC Cooperative Extension - Guilford County Center 3309 Burlington Road Greensboro, NC 27405
About this event
This one day marketing conference is to be held at the Guilford County Extension Center located on the east side of Greensboro, NC. The date of October 26, 2022 is at the end of the High Point Furniture Market in nearby High Point.
The conference encourages both foreign buyers and domestic sellers of hardwood lumber to attend and network. We have several breakout rooms where buyers and sellers can meet in private to discuss privately potential buying and selling opportunities.
Discussions are to be led by industry professionals on the subject of the availablility of US hardwood lumber for export, current export statistics, species availability, export credit insurance, currency transactions and discussions of foreign markets.
Michelle Wang of the North Carolina Department of Agriculture who manages the export activities for lumber and logs for the NCDA is managing the linking of buying and sellers.
The morning will be devoted to covering these important export topics while the afternoon is available for our registered buyers to arrange visit times with lumber sellers to discuss in private business opportunities. Michelle Wang is managing the assignments of buyers and sellers in meeting time slots.
Lumber species being discussed include hardwoods and softwood species.
Lunch is at noon and is provided by the North Carolina Forestry Association.
This is a free event with financial support by the North Carolina Forestry Association and the NCDA. Also assisting with this conference is the Appalachian Hardwood Manufacturers Association, Tom Inman who will also contribute to the knowledge base of hardwood lumber exports as well as resources available from his membership in the AHMA.
Hotels are to be found in the nearby cities of Greensboro and High Point but be aware the the Fall High Point Furniture Market is also a user of local hotels.
Harry W. Watt of North Carolina State University is the host of the conference and can be reached at harry_watt@ncsu.edu and cell phone at 704-880-3067.
Michelle Wang of the North Carolina Department of Agriculture is requesting that buyers and sellers register with her as we may be limited in individual company meetings face to face based on time and meeting locations. Please email Michelle Want at michelle.wang@ncagr.gov.