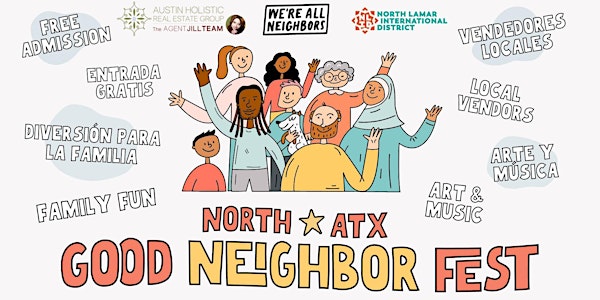 North Austin Good Neighbor Fest
Good Neighbor Fest is a community festival that brings North Austin neighbors together through interactive experiences, art, food and more!
When and where
Location
601 W Braker Ln 601 West Braker Lane Austin, TX 78753
About this event
The challenges of the past few years have divided us, but have also shown us how interconnected we are. It's more important than ever to come together and solve our shared problems … and that begins in our own backyard!
Our goal is for you to leave the festival feeling more connected to your neighbors and more clear on ways to get involved in our community.
Admission is free!
Learn more about what to expect and how to get involved at:
www.ATXneighborfest.com
====
Este evento para que los vecinos de Austin Norte se conozcan y se involucren en nuestra comunidad.
¡Habrá arte, música, comida, vendedores,recursos gratuitos, actividades para niños, un zoológico de interacción con animales, un brincolín y mucho más!
Para más información, visite:
www.ATXneighborfest.com
====
Sự kiện này là nơi để những người hàng
xóm ở Bắc Austin gặp gỡ nhau và tham gia vào cộng đồng của chúng ta.
Sẽ có biểu diễn nghệ thuật, âm nhạc, ẩm thực, người bán hàng, tài nguyên miễn phí, hoạt động dành cho trẻ em, vườn thú cưng,nhà thư giãn và hơn thế nữa!
Để biết thêm thông tin, hãy truy cập:
www.ATXneighborfest.com