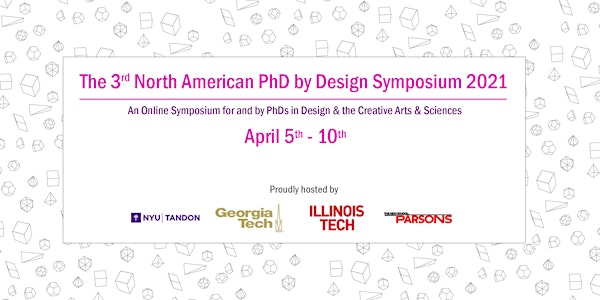 North American PhD by Design Symposium '21
The PhD by Design Symposium is an opportunity for doctoral students pursuing creative practice-driven research to meet and share their work.
About this event
The 3rd North American PhD by Design Symposium
April 5th - 10th, 2021
Call for Registrations
We are pleased to announce that the next North American PhD by Design symposium will be held online from April 5-10, 2021. This symposium invites PhD candidates in North America at various stages of their course of studies to come together to share their work and explore and discuss the many aspects of what it means to do a practice- based PhD. We invite PhD candidates at any point in their studies to register for the conference to present their research, hold discussion sessions, or conduct workshops with interested attendees.
An organizing committee of faculty from four US institutions: New York University, the Georgia Institute of Technology, The Illinois Institute of Technology, and the Parsons School of Design, has been hard at work planning and organizing this event, together with our afilliate partners at the University of Washington, and volunteers from many more institutions. This week-long event aims to give PhD candidates working through creative practice in art and design a platform to share their research and ideas, explore issues of common concern, and discuss how their work is helping shape the present and future discourses of creative practice, scholarship, and pedagogy.
Apart from the PhD-led events, we will also have a number of events curated by the organizing committee on themes and topics of relevance to the PhD in design and related fields in the creative arts and sciences. Over the course of the week, the symposium will host:
Presentation sessions where PhD candidates can present their work for feedback and discussion;
Discussion sessions where groups of PhD students can bring and moderate a topic or question to the table for discussion, debate and reflection;
Workshop sessions to pilot or conduct practice-based research with on-site with a community of people with adjacent practices; and
Public assemblies where we will have speakers from both industry and academia talk about issues of relevance to doctorates in design and related fields.

Deadlines
Please make sure to register for one ticket per person depending on how you wish to participate in the event. If you only wish to attend and participate in a session, please only buy a ticket for 'General Admission'. If you plan to both present your research, and attend other sessions as a member of the audience through the week, please buy a separate ticket under your name for both 'General Admission' and the event you wish to run, e.g. 'PhD-Led Presentations'.
Registering for Discussions & Workshops
If you are registering to conduct a discussion session or workshop, please register for these under one person's name on behalf of the group planning to conduct the discussion or workshop. Once we've confirmed these sessions, attendees will be given links to sign up to attend specific discussions and workshops.
Registrations close for presentations, workshops, and discussions: March 1st
Notice of acceptance of proposals: March 8th
Registrations close for general attendance: March 27th

Proposal Requirements
Details for the events and requirements are given below. Please email all required materials to aa7703@nyu.edu with a clear indication of which you are applying for in the email title. Please note that you have to send in all materials by March 1st in order to be considered for the symposium.
PhD-Led Research Presentations
Open critiques are an opportunity for students to present and introduce their research to a new audience and garner constructive feedback. Candidates who are preparing a proposal or who are already underway with their research may both use this as an opportunity to present, share their work. Each presenter will be given a total of 25 minutes, divided into a 10 minutes presentation followed by 15 minutes for Q&A and discussion.
Due to limitations on time we can only host so many participants interested in garnering feedback on their work. Candidates interested in presenting their work to attendees should submit
A research bio of a few sentences
A short abstract (around 350-500 words) of their thesis topic outlining the key question(s) they are asking and a description of your research
Three keywords that summarize your research
PhD-Led Discussion Groups
We invite groups of 2-3 people to coordinate,design and host 90 minute discussions that explore a theme, topic, or question with a larger group of up to 50 participants, with the intent of moderating and driving a critically reflexive discussion around an issue of import that speak to the field at large. The format of the discussion groups and how the time will be used is open to moderators to decide.
Moderators may augment discussions by providing readings or practice case studies in preparation for the session. These may take the form of scholarly texts that frame the discussion, but could also be provocations, manifestos, physical materials in the form of worksheets, probes etc. to inspire and invoke rich conversation. While the list of themes below is not exhaustive and we welcome interesting topics that might fall outside of the following, we encourage people to propose ideas for discussion groups related to:
Research of, by and for practice
Theory & history in relation to creative practice in art and design
The politics and\or ethics of design
Careers and other outcomes\outlooks for PhDs in arts and design
Academia and scholarship in relation to professional practice
Parties interested in running a discussion session should submit
A list of names and designations (school, dept, program etc.) for the moderators
A proposal outlining the theme of discussion and how they intend to curate the discussion, i.e. the format (around 350-500 words)
A tentative list of resources or materials
Workshops
Workshop sessions are allocated 90 minutes and will be planned to accommodate up to 20 people in total. These sessions should aim to involve participants in the creative work of the facilitator in some way. The workshops can be run individually or collaboratively, but must involve a substantial degree of interaction with participants, and have well defined goals or outcomes. Workshops can be created around the content of a particular PhD topic, test new theories, methods, or tools, or explore issues of relevance to the design community.
Parties interested in running a workshop should submit
A list of names and designations (school, dept, program etc.) for the facilitator(s)
A proposal outlining the content, goals, and format of the workshop (around 350-500 words)
A tentative list of resources or materials
Any accompanying image(s) that might help illustrate what will be done would be appreciated