North American Permaculture & Building Resilient Communities Convergence

Wednesday, September 14, 2016 at 9:00 AM

-

Monday, October 31, 2016 at 11:00 PM (PDT)
Event Details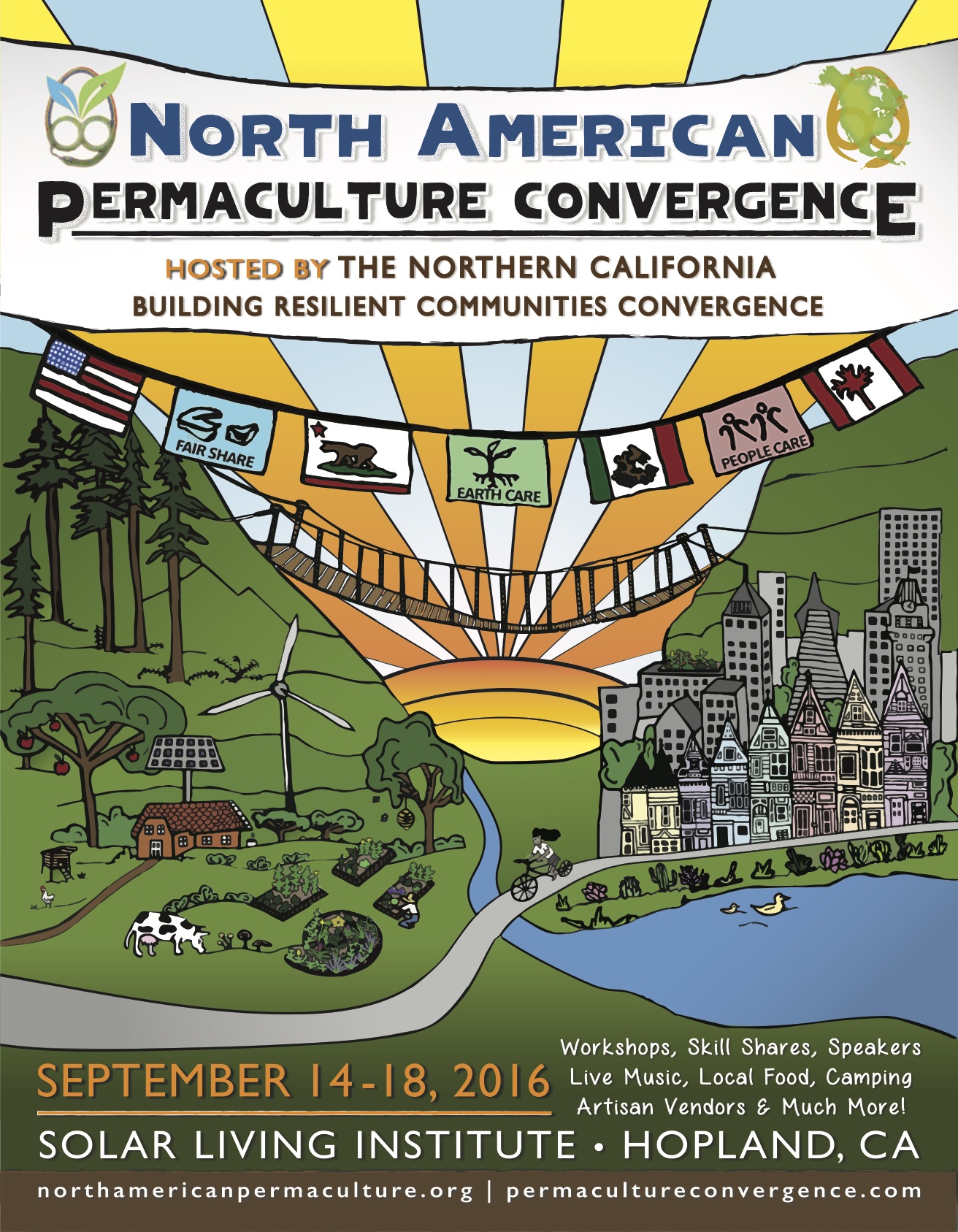 WHY IT MATTERS

At these times of growing ecological and social transformation, we have the opportunity now more than ever to come together and work collaboratively towards implementing regenerative solutions to the many serious problems facing the world today.
The good news is that the solutions are here!

ABOUT THE CONVERGENCE

This Convergence is a combined effort of the 2nd Annual North American Permaculture Convergence and the 11th Building Resilient Communities Convergence (formerly known as the Northern California Permaculture Convergence).
This Convergence will bring together an estimated 1000 sustainability enthusiasts, permaculture designers, social entrepreneurs, community organizers, social justice activists, and inspired people from across North America for a dynamic, engaging, and celebratory gathering designed to Build Bridges and strengthen a powerful movement for community resilience.
 Our common goals are to share, explore, and learn how to transform our communities, food, water, energy, and economies into more sustainable, resilient, and regenerative systems.
How can we design, build, and strengthen communities and habitats, in accordance with nature, for humans, plants, animals, our bioregions, and the Earth at large?
COME TO THE CONVERGENCE & FIND OUT!
 Practitioners across a wide-spectrum of skill-sets exchange ideas through concurrent workshops and discussions including themes of permaculture concepts and skills, regenerative design, resilient homes and neighborhoods, movement and capacity building, regenerative business and new economy, thriving food production, leadership skills, women centered solutions, youth activities, and much more.
 9 Stages, 60+ Workshops
10 Tracks, 100+ Presenters
Live Music & Performing Artists
Delicious Local Food, Green Vendors, Kids Village

Camping & Much More!
 In addition to a plethora of workshops and amazing speakers on a diversity of topics, there will also be live music, performing artists, collaborative discussions, amazing networking, children's activities, next generation youth education, educational displays, delicious local food, a market place with local artisan vendors, and much more.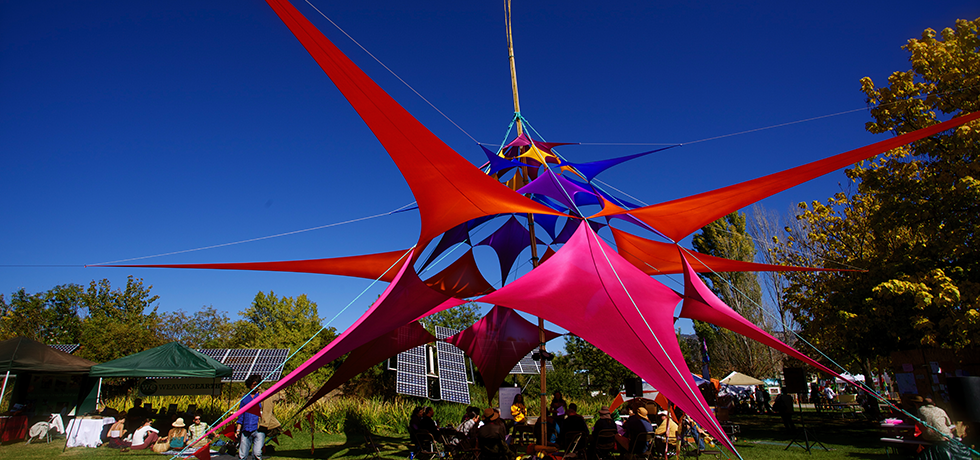 CONVERGENCE SCHEDULE & FLOW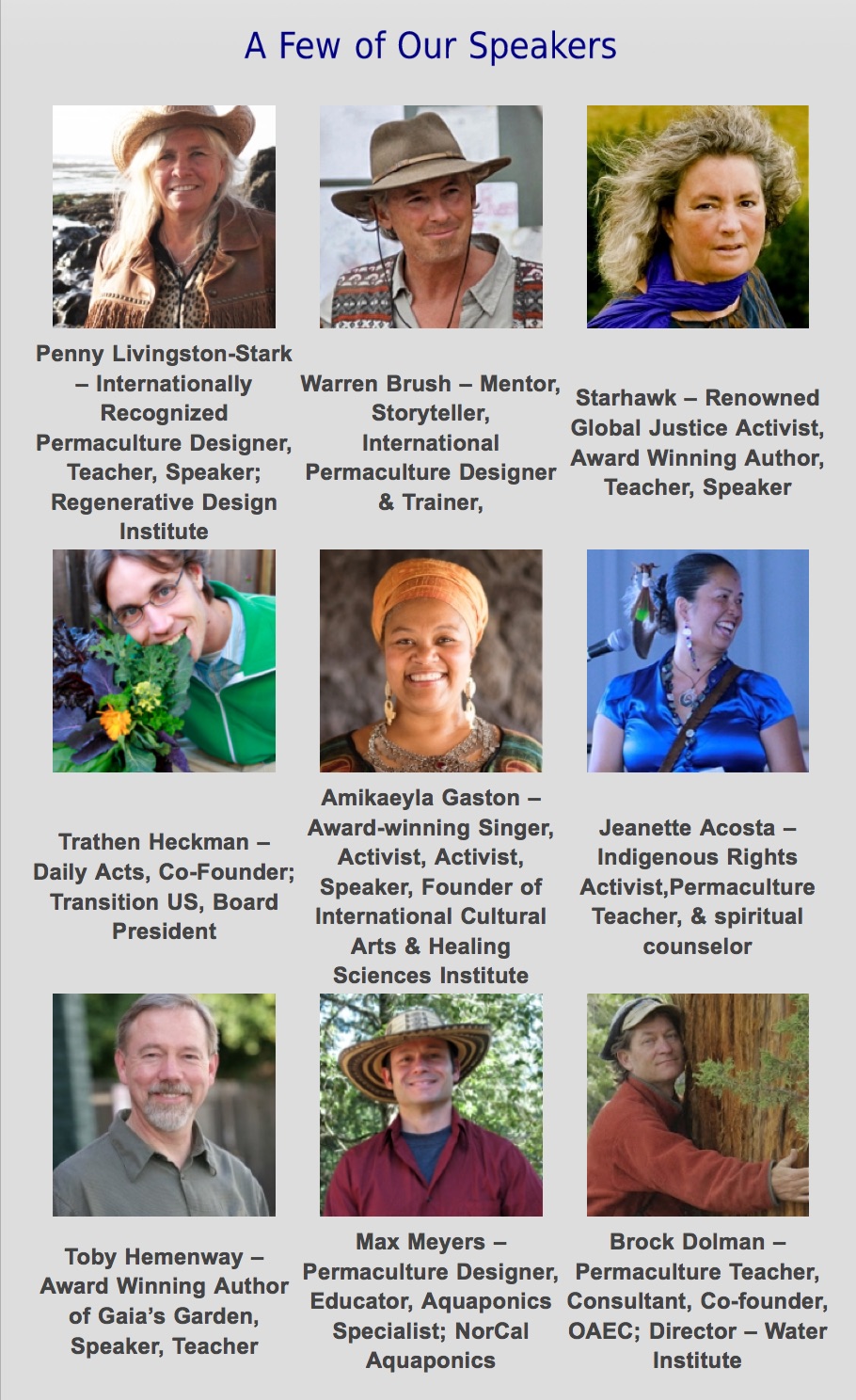 CONVERGENCE SCHEDULE & FLOW
NAPC : Wednesday - Friday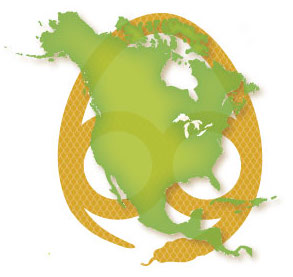 Primary sessions for The North American Permaculture Convergence (NAPC) will be Wedneday - Friday, building on the working groups and efforts from the 1st NAPC as well as the last International Permaculture Convergence held in the United Kingdom. In addition to the working groups, there will be a number of tracks, workshops, and open space sessions geared towards sharing advanced permaculture skills and expanding efforts in the permaculture movement at large. The NAPC is a fantastic opportunity to dive in, network, and broaden your depth of connections and skills in the Permaculture Movement. Working groups for the NAPC, as well as workshop content, will also continue throughout the  entire weekend.

BRCC : Friday - Sunday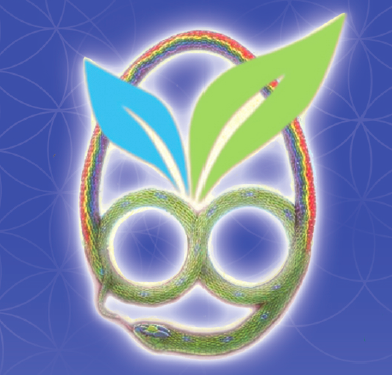 As we move into the weekend, the scope of the event will broaden to include a larger set of workshops, speakers, topics, and activities geared towards the public at large. Tracks will include: Skill Building, Regenerative Design, Ecological Stewardship, Land & Housing Access, Resilient Homes & Neighborhoods, Leadership & Oerganizational Development, Regenerative Biz & New Economy, Food, Inner Resilience, Women Centered Solutions, Youth Activities, and more. In addition to that there will be large group plenary sessions, open space, networking activities, and live music and performing artists. climaxing in the "Ultimate Permaculture Passion Show!" on Sunday evening.
HOSTING VENUE: SOLAR LIVING INSTITUTE

The Solar Living Institute (SLI) is a nonprofit solar training and sustainability organization with the mission of "Promoting sustainable living through inspirational environmental education". Founded in 1998, SLI has been providing professional solar training and a wide array of sustainability courses for over 15 years.
The Institute manages the Solar Living Center, a 12-acre renewable energy and sustainable living demonstration site that is visited by 200,000 people annually. The site includes organic gardens, ponds, natural buildings, biodisiel fueling station, Real Goods Store, and the Solar 2000 - one of northern California's largest solar arrays providing 160,000 kWh of clean renewable energy annually. www.solarliving.org

MORE INFO & EVENT DETAILS AT:

www.northamericanpermaculture.org      www.permacultureconvergence.com

When & Where

Solar Living Institute
13771 U.S. 101
Hopland, CA 95449


Wednesday, September 14, 2016 at 9:00 AM

-

Monday, October 31, 2016 at 11:00 PM (PDT)
Add to my calendar
Organizer
This event is a collaboration between the North American Permaculture Convergence & the Building Resilient Communities Convergence. Additional primary organizing partners include Permaculture Design International, Living Mandala, NorCal Community Resilience Network, Solar Living Institute, Permaculture Action Network, and a host of other partner organizations.
North American Permaculture & Building Resilient Communities Convergence