Description
anaxdent North America, GC America, Swiss NF Metals and Cendres Metaux have partnered to bring you this must-attend event in Chicago.
Join us for the first US conference devoted 100% to high performance polymer implant bridges! Studies, observations and techniques from American and European polymer pioneers to maximize your success with America's favorite high performance polymer: Pekkton Ivory.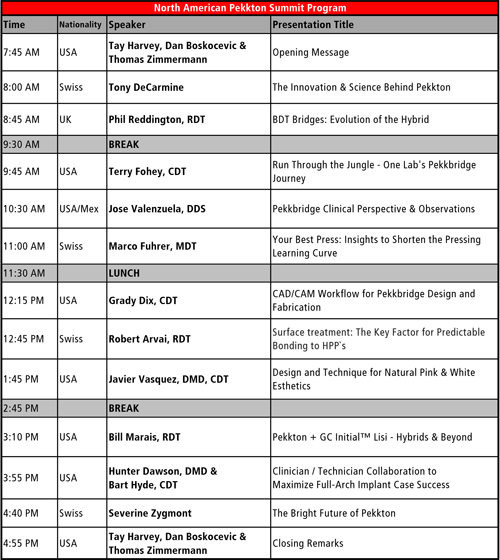 ---
IMPORTANT: All Pekkton Summit attendees will be eligible to enroll in exclusive add-on workshops Friday, February 23rd covering CAD CAM design and fabrication best practices with Pekkton, and a hands-on workshop using anaxgum Pink Composite to acheive natural pink esthetics. Upon registering for the Pekkton Summit, you will receive an email with a password giving you access to register for the workshops.
ADD-ON WORKSHOPS ARE NOT INCLUDED. REGISTER SEPARATELY USING LINKS AND PASSWORD IN YOUR PEKKTON SUMMIT REGISTRATION LETTER.
Workshop schedule is as follows: