Description
Slow Fiber Studios will present a special opportunity for indigo professionals to gather and have fun exploring the potential and magic of natural indigo. Invited experts are Michel Garcia, a world re-known natural dye expert from Brittany, France; Sarah Bellos of Stoney Creeks Colors, Tennessee; Rowland Ricketts a contemporary artist and expert in sukumo indigo and professor at Indiana University and Craig Wilkinson an indigo farmer. In light of the growing awareness of ecological responsibility, these experts of varied backgrounds are the leaders reviving the production and application of natural indigo in a broader social, cultural, economic context. Please join us to explore historical practices, chemistry and farm to trade as means to evolve 21st century ethical practices of indigo dye and how to integrate it in your own practice at home studio.
---
WORKSHOP - Limited Spots Available
Natural Dye Workshop: Printing & Painting
Led by Michel Garcia
Monday - Wednesday, April 1-3, 2019 | 9:30 - 16:00
Slow Fiber Studios, Annex | 1825 Eighth Street, Berkeley, CA
$675 | Materials Included


Learn first hand from Michel printing and painting techniques on cloth presented in our Natural Dye Workshop IV DVD. This workshop, he will teach you two methods how to process insoluble colors such as indigo, annatto, and alkanet for painting. For example, how to extract indigo from dried leaves of indigofera plant family as a dye paste. In addition, Michel will also cover printing with pagoda tree blossom buds, logwood, and cochineal together on wool. Learn how to combine and layer various colors together on the the same surface and steam set colors in cloth. Come join us for this rare learning experience of natural dyes that are not commonly used to extract and bond on cloth and to create colorful wool print.
---

EVENT DETAILS
INDIGO JAM - Sold Out
NEW: Afternoon Session added based on high demand!
Indigo Intensive with Dried Leaves, Compost (sukumo), Powder, and Paste.
Led by Michel Garcia, joined by Sarah Bellos, Rowland Ricketts, Craig Wilkinson, et al.
Saturday, 30 March 2019 | 9:30 - 13:00 | 2:00 - 5:00
Slow Fiber Studios Annex | 1825 Eighth Street, Berkeley, CA
$50 | $45 WSN Members




The Slow Fiber Studios Annex will initiate a dynamic experience with interactive conversations and exchange of information between invited indigo specialists. This unique crossover will facilitate the studio space as a platform to activate expert indigo knowledge, spark imagination and inspire the participants in a wide range of topics concerning indigo. Discussions and demonstrations may cover: sukumo (compost), dried indigo leaves, indigo powder and making indigo dye vats. Come jam with us.
---
Biography Description


Michel Garcia
Michel Garcia is a world-renowned botanist, chemist, naturalist, and natural dye expert now relocated his studio in Brittany, France. He is the founder of Couleur Garance (1998) in Lauris, France, and established Le Jardin Conservatoire de Plantes Tinctoriales (Botanical Garden of Dye Plants) in 2000 as a horticultural resource for chemists, natural dye researchers, and botanists. He has been instrumental in revitalizing the natural dye practice in France and abroad. He and Yoshiko have produced a series of instructional film "Natural Dye Workshop with Sustainable Methods."


Sarah Bellos
Sarah Bellos, is CEO and Founder of Stony Creek Colors. She has 10 years of leadership experience in the textile, agriculture and sustainability industries. Sarah developed Stony Creek Colors to help lead the sustainable transformation of the textile dye industry and build the most transparent and profitable textiles chemical company on earth. She has been a recognized leader to bring bio-based colorant production to farmers in the Southeastern U.S. In 2015, Bellos was awarded the Young Entrepreneur Award by the AATCC, American Association of Textile Chemists and Colorists.


Rowland Ricketts
Rowland Ricketts utilizes natural dyes and historical processes to create contemporary textiles that span art and design. Trained in indigo farming and dyeing in Japan, Rowland received his MFA from Cranbrook Academy of Art in 2005 and is currently an Associate Professor in the School of Art, Architecture & Design at Indiana University. His work has been exhibited at the Textile Museum in Washington, DC, the Museum of Fine Arts Boston, and the Seattle Asian Art Museum and has been recognized with a 2012 United States Artists Fellowship. He carried out a community based project with Awa (Tokushima Prefecture) indigo and mounted a large scale installation in 2018, Tokushima, Japan.
Craig Wilkinson
Craig Wilkinson grows Japanese Indigo along with other botanical dye plants including madder and coreopsis using biodynamic farming practices. He also grows cotton & flax on a small scale. Craig is a member of the Fibershed Indigo Collective and helped produce the blue for Fibershed's Grow Your Jeans project.
---
NATURAL DYE WORKSHOP FILM SERIES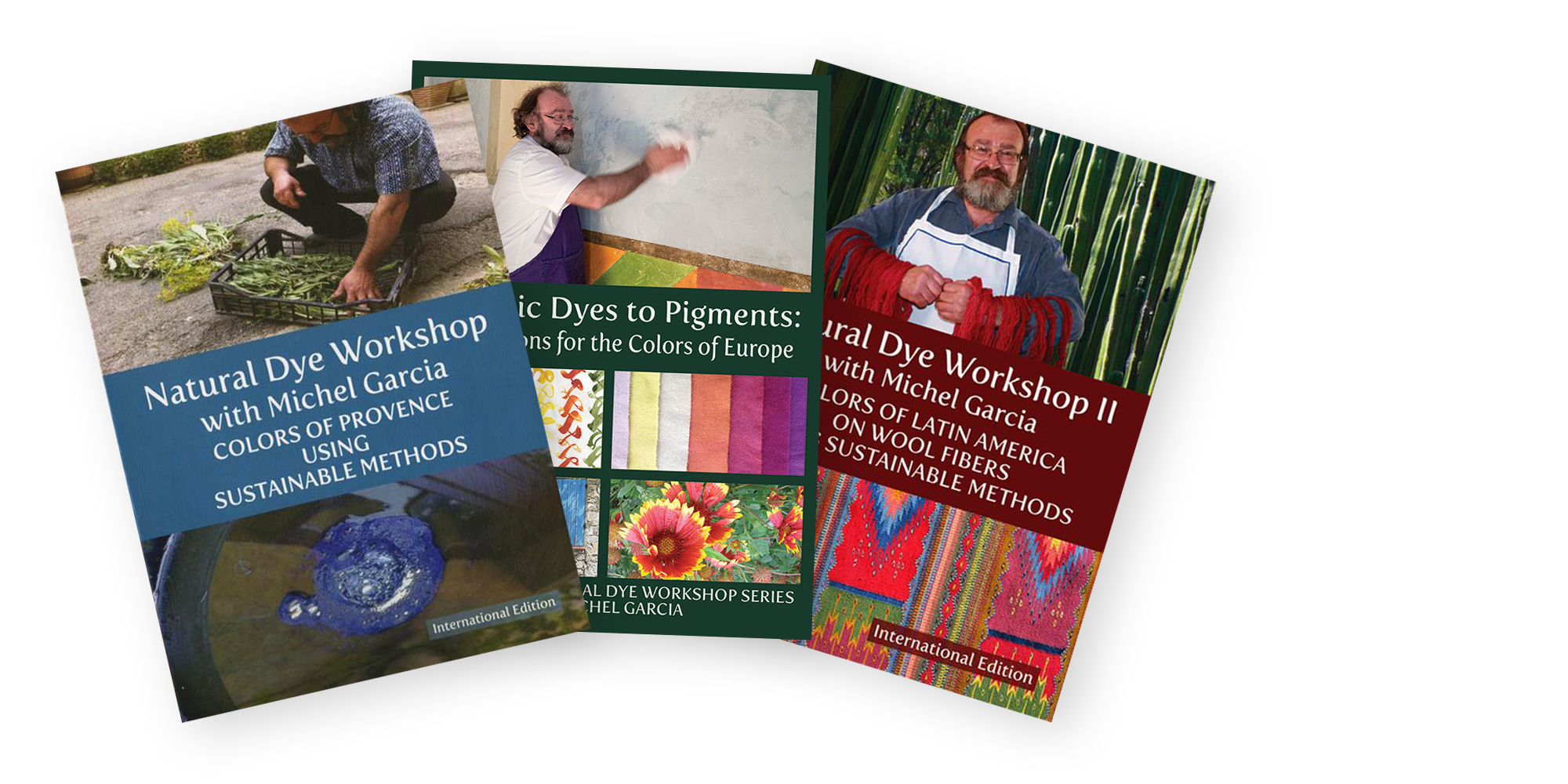 Michel Garcia takes us on a wondrous journey, sharing his keen insight as one of the leading natural dye experts of the world. Michel's approachable instruction demystifies the natural dyeing process; he offers a rare glimpse into what makes plants tick. Learn updated versions of traditional dye methods – once laborious and polluting – now revised into simpler, safer modern recipes sensitive to issues of sustainability.
Produced by Yoshiko I. Wada and Slow Fiber Studios
Directed and filmed by Andrew Galli
Purchase Natural Dye Workshop DVD Series here →
---
FOR QUESTIONS EMAIL STAFF@YOSHIKOWADA.COM