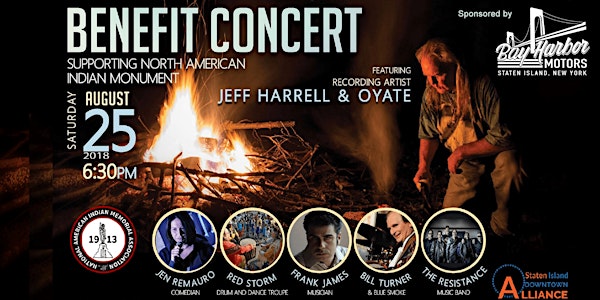 North American Indian Monument Benefit Concert
Location
Music Hall Snug Harbor Road
1000 Richmond Terrace
Staten Island, NY 10301
Refund policy
Refunds up to 7 days before event
Description
Concert to benefit the North American Indian Monument presented by the Staten Island Downtown Alliance with Comedian Jen Remauro | Music by: The Resistance, Frank James with special guests Bill Turner & Blue Smoke | Red Storm Drum & Dance Troupe | Featuring: Jeff Harell & Oyate
Enjoy an evening of great comedy and music to help raise funds to build the North American Indian Monument at Fort Wadsworth, Staten Island.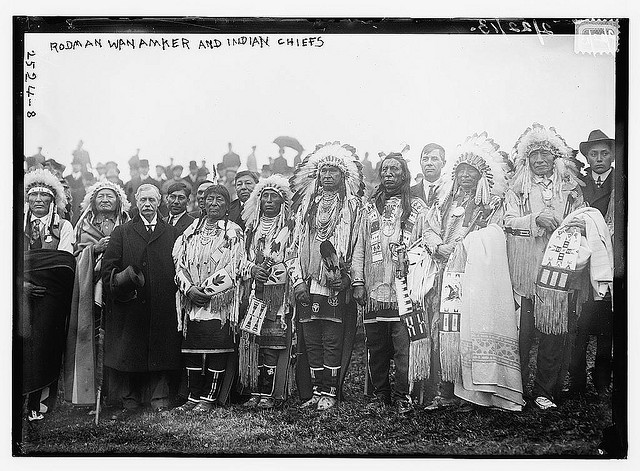 History of the North American Indian Monument
In the late 1800's and ealry 1900's, hatred and bigotry against Native Americans was common. In fact, during an 1886 speech given in New York, President Theodore Roosevelt said, "I don't go so far as to think that the only good Indians are the dead Indians, but I believe nine out of every 10 are and I shouldn't like to inquire too closely into the case of the tenth."
Fearful that accepted violence against Native Americans would cause them to vanish, wealthy merchant Rodman Wanamaker created the National American Indian Memorial Association to raise money to build the North American Indian Monument in honor of our nation's indigenous people. In 1913 President Taft was joined by 30 Indian Chiefs and NAIM board members, J.P. Morgan among others, to break ground for the monument at Fort Wadsworth, Staten Island. Unfortunately, support for the North American Indian was fleeting so the monument was never built.
Proceeds from this event will be used to finally fulfill the promise made by our government and well intentioned people more than 100 years ago to erect a monument to the North American Indian at Fort Wadsworth, Staten Island.
For more information about the monument please visit www.downtownsi.org.
Sponsorship packages are available online. Send inquiries to info@StatenIslandDowntownAlliance.com. A portion of your ticket purchase is tax deductible.
Doors open at 6:30pm. Show starts at 7pm - Casual Attire.