North America Chinese Directors Short Film Tour -The Boston Screening 北美电影学...
Description
跨越东西文化,融汇两种语言
探索电影视角,承载普世情怀
北美学成的新一代华人导演,已蓄势待发
华人电影新浪潮,正在全面涌来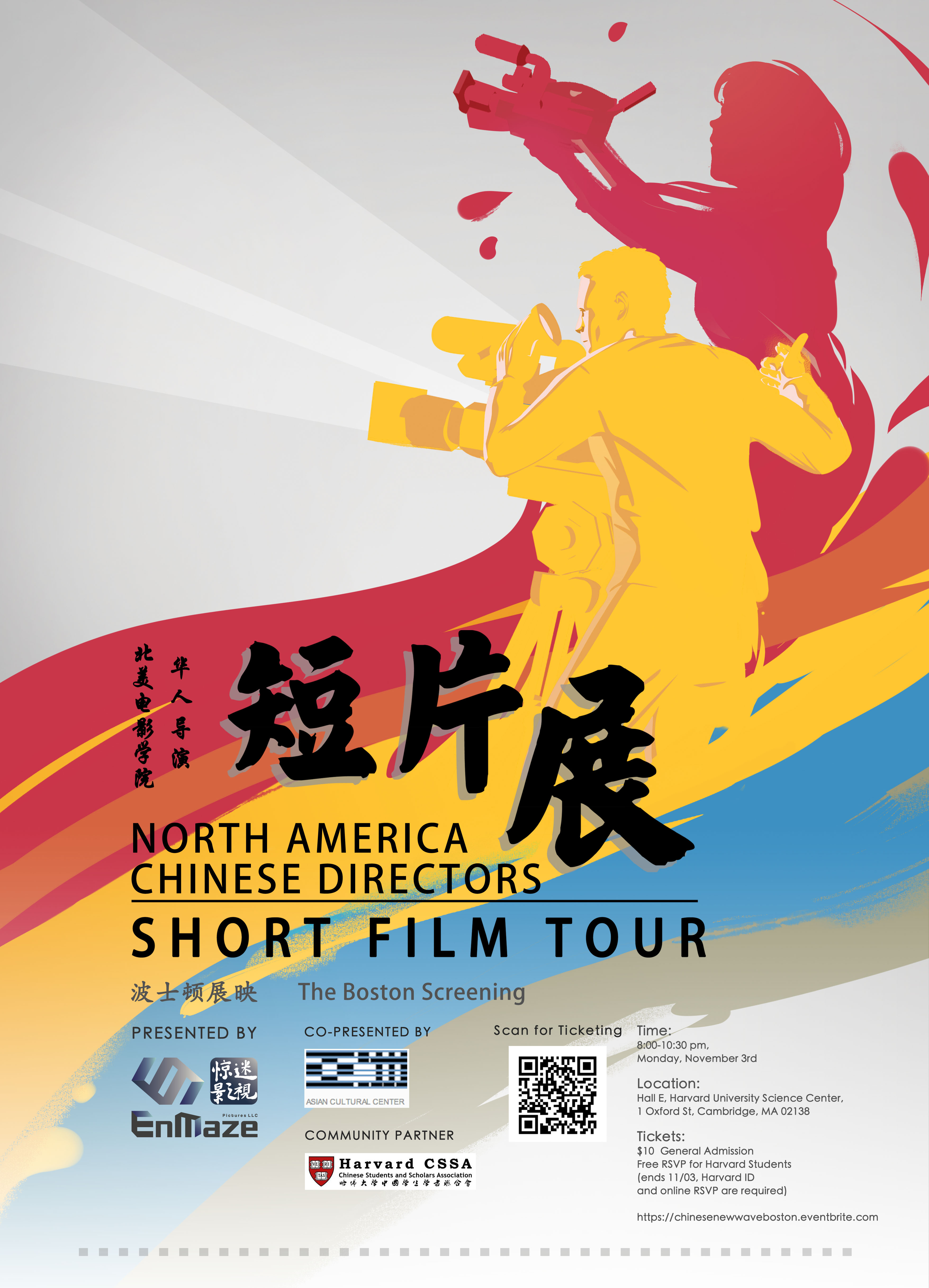 "北美电影学院华人导演短片展"是北美学成的新一代年轻华人导演及其作品的第一次大规模集中亮相。从今年10月初到11月,最终入选《北美电影学院华人导演优秀短片集》的21位导演及其作品,将陆续在纽约(10.09)、芝加哥(10.23)、旧金山(10.29)、波士顿(11.03)、洛杉矶(11.07)进行巡展,与观众和业界见面。
波士顿展映将放映其中的5部优秀电影。现在公众售票正式上线,惊迷诚邀你共襄盛举!
8:00pm - 10:30pm 包括电影放映,导演问答和观众交流。
波士顿联合主办方:亚洲文化中心 (Asian Cultural Center)
波士顿协办方:哈佛大学中国学生学者联合会 (HCSSA)
《北美电影学院华人导演优秀短篇集》简介
为了发掘在美国接受过系统电影教育的最有才华的青年华人导演并为他们的优秀作品及他们自身提供一个集中展示的平台,惊迷影视于今年5月15日发起了《北美电影学院华人导演优秀短篇集》的征集活动。组委会共收到了来自30所北美电影学院,74为导演的93部作品。最终由戴锦华、焦雄屏、Richard Peña等多位电影学界和业界著名人士组成的终审评委团,挑选出来自12所美国电影学院,21位华人导演的21部优秀作品,组成《北美电影学院华人导演优秀短片集》。
The North America Chinese Directors Short Film Collection is the first scaled showcase of the young Chinese filmmakers and their films in North America. Twenty-one finalists and their films selected from the North America Chinese Directors Short Film Collection will be presented in the North America Chinese Directors Short Film Tour from October 9th until late November across five major cities including New York (10.09) , Chicago (10.23) , San Francisco (10.29), Boston (11.03) , and Los Angeles (11.07).
Five of these award-winning short films will be screened in Boston. Now the online ticket selling is open, EnMaze invites you to join this unique experience.
Event Language:English The movies are in Chinese/English with English/Chinese subtitles.
Co-Presented by: Asian Cultural Center (www.asiancc.net)
Community Partner: Harvard CSSA
The North America Chinese Directors Short Film Collection
To provide a platform for promising Chinese filmmakers, EnMaze Pictures launched the North America Chinese Directors Short Film Collection (the Collection), a global event featuring a selection of the best shorts by Chinese directors in North America and an accompanying short film tour. Since May 2014, we have collected a total of 93 short films directed by Chinese filmmakers from 30 film schools in North America. A professional jury was invited to select the best 21 shorts as the finalists. The tour is the first of its kind in showcasing a selection of top-quality short films by Chinese directors in North America.
---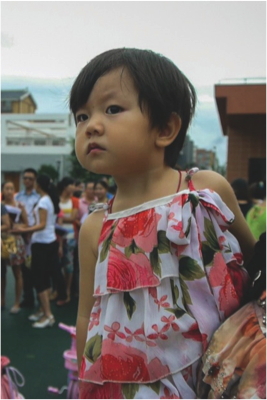 One Child《独·生》
导演: 母子健
40分 | 纪录
2008年四川地震是中国近三十年来伤亡最严重的自然灾害,数千家庭失去了家中唯一的儿子或女儿。地震后国家针对灾区制定了特别政策鼓励和帮助失去独生子女的家庭再生育。随后的几年,这些经历中年丧子的父母们用截然不同的方式继续着自己的人生。《独·生》采取了客观观察与跟拍的方式纪录了三个地震失独家庭试图重建家庭的旅程。
One Child
40'|Documentary|Chinese
Director: Zijian Mu
Three households set off on distinct paths after losing their only children to the 2008 Sichuan Earthquake, reportedly the deadliest natural disaster in China's recent history. The consequences of the long-implemented one-child policy emerge poignantly on top of the unspeakable loss.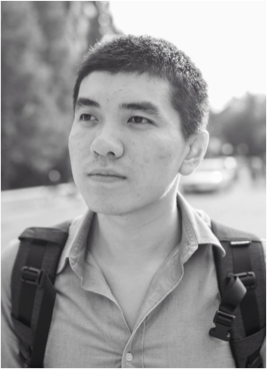 母子健
纪录片导演。出生于四川省北川县,本科毕业于四川大学吴玉章荣誉学院。研究生阶段获奖学金赴美国纽约大学新闻学院攻读新闻与纪录片。他纽约大学的毕业纪录片作品《独·生》获得了2014 年美国学生奥斯卡奖(纪录片单元),并获2014 Lighthouse国际电影节评审团最佳纪录片与2014洛杉矶亚裔影像电影节最佳纪录短片奖。
他的另外一部纪录短片《Free Advice Girl》进入了国际纪录片挑战赛的决赛并入围了北美规模最大的Hot Docs 国际电影节。他制作的其他作品曾在美国有线电视新闻网(CNN)、纽约电视台、《经济学人》和Vice 等媒体播出。他现居美国凤凰城。
Zijian Mu
Zijian Mu is a documentary filmmaker based in Paradise Valley, Arizona. His first documentary, One Child, explores the lives of the parents who lost their only child in the 2008 Sichuan Earthquake in China. The film has won the 2014 Student Academy Awards and the 2013 Sidney Gross Memorial Prize for Investigative Journalism.
Mu has also contributed work for The Economist, Vice and CNN. He produced a short film that was selected as a finalist for the 2013 Hot Docs International Documentary Challenge and screened at the festival. He holds a M.A. in News and Documentary from New York University.
---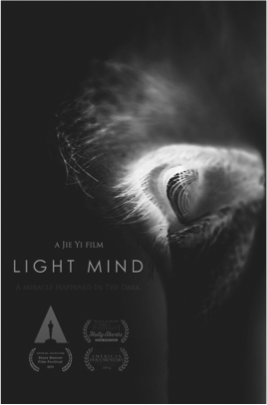 Light Mind《心灵之光》
导演: 衣洁
9分38秒| 纪录
心灵之光是一部关于盲人摄影师的纪录电影。通过视觉语言,导演细致的探讨了电影框架的先后顺序和具体镜头之间相互作用中的叙事结构。衣洁给观众们呈现了一场对话,这是一场关于个人心灵在集体探索中的位置的对话,同时这场对话也能涉及到社会。
Light Mind
9'38" | Documentary | English
Director: Jie Yi
Light Mind is a short documentary film about a blind photographer. Through a visual language that carefully explores narrative structures within the cinematic interplay of frame sequencing and specific shots, Yi engages her audience in a dialogue that asks them to consider their own position in a collective exploration of individual psyche as it relates to society at large.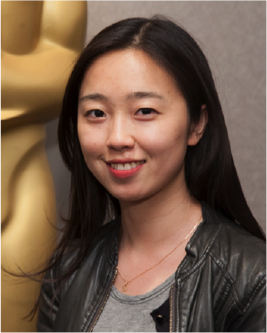 Jie Yi
Jie Yi is a New York based artist / filmmaker, who recieved her MFA in Computer Art with a concentration in video production from the School of Visual Arts in New York City in 2013. Ms. Yi's works have received numerous awards and nominations, including: the Puchon International Student Animation Festival (Korea), Beijing College Student Film Festival etc. Her current finished film LIGHT MIND incorporates animation within a documentary format to explore the inner world of a blind photographer which official selected by film festivals all over the world.
衣洁
驻纽约的艺术家兼电影人,2013年获得纽约视觉艺术学院电脑美术专业视频制作方向的硕士学位。衣洁的作品已经获得多个奖项和提名,包括韩国富川国际学生动画电影节,北京大学生电影节等。最新作品《心灵之光》已受到国际范围内众多电影节和影展的青睐,并受到Movie Makers杂志采访。
---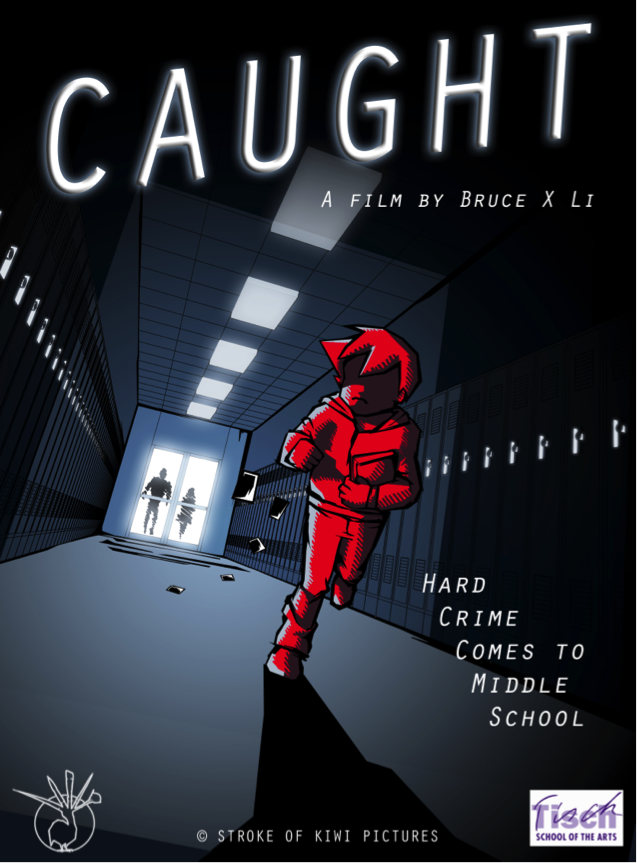 Caught《小学禁品》
导演: Bruce Li
19分54秒 | 剧情
Jason Bourne和Blood Diamonds来到了小学。2001年,小学生Gunn, 作为小学禁品交易联络人,刚刚经了一场非法的交易。现在,他需要完成最后一个任务,夺回他心爱的女孩儿Felicia。
Caught (New York,Boston)
19'54" |Narrative|English
Director:Bruce Li
Jason Bourne and Blood Diamonds come to Middle School. It is 2001. Gunn, a student experienced in trading illegal contrabands, acts as a liaison between traders. Now he's got to pull one last job to win the girl he loves—Felicia—who has an agenda of her own.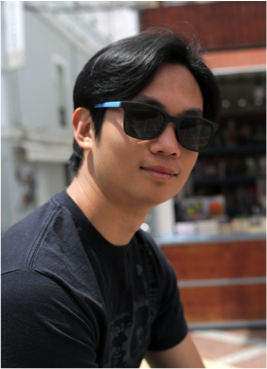 Bruce Li
出生于弗罗里达州,劳德代尔堡,在他去德克萨斯州沃思堡市就读高中之前曾在中国上海居住六年。他对电影的热爱始于在高中导演的一部40分钟喜剧片,该片在他的高中上映且为St. Jude儿童医院募集到了1300美元的善款。
在纽约大学的Tisch艺术学院学习电影,且着重于对电影执导的学习。他的本科毕业短片入围2013年学生奥斯卡。现今他正在制作自己的首部长片。
Bruce Li
Born in Fort Lauderdale, Florida, and lived in Shanghai, China, for six years before going to high school in Fort Worth, Texas. His love for filmmaking began in high school when he directed and produced a 40-minute comedy that screened at his high school and raised $1,300 charity for St. Jude's Children's Hospital.
Studied film at Tisch School of the Arts at New York University, with a focus on directing. His undergraduate thesis short was a nominee for the 2013 Student Academy Awards, and he is currently in development for his first feature.
---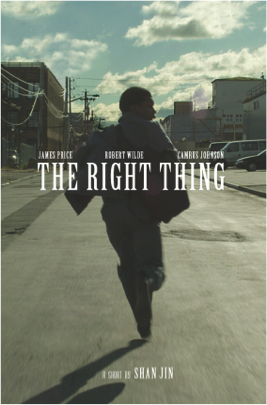 The Right Thing《善始善终》
导演: 金山
12分 | 剧情
三个老工厂的看守员决定去偷马上要跑路的老板保险柜中的巨额存款。三代人,一把枪和一麻袋的钞票,在偷到钱后的纠纷中,卷入了一名无辜的路人,而这名路人,是真正的意大利黑手党,一个狠角色……
11'57" | Narrative | English
Director: Shan Jin
While three factory's guardians heard that their boss was going to abandon their factory and running away with all the money. Frank, the oldest person made a decision - to steal the money they deserved from their boss. But changes run faster than plans. After they got the money, the conflict between three of them got involved another "innocent" people - a Italian gangster, a real bad ass…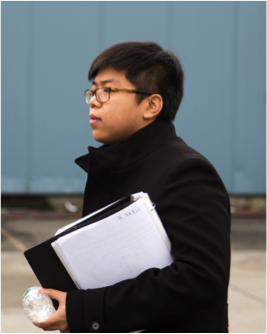 Shan Jin
Shan Jin is 24 years old and comes from Beijing, China. He went to film school after he graduated his collage. He is currently studying in NYU Tisch School of the Arts Graduate Film program and his focus is Directing and Cinematography. Quentin Tarantino and Paul Thomas Andersson is his favorite director and Hong-jin Na(the Korea director of The Chaser and Yellow Sea) his next goal. Shan Jin devotes himself to making high quality genre film, not only for the future of Chinese cinema but also he wants to tell his stories to the audience all over the world.
金山
来自中国北京,24岁。一直到大学毕业才终得父母的同意学习电影。目前就读于纽约大学研究生导演系,主攻摄像与导演。对摄像更是有着自己独特的见解。视昆丁和保罗.托马斯.安德森为大师,视韩国的罗宏镇(《黄海》、《追击者》导演)为自己的下一个目标。力求为国人拍出贴合社会现状的高质量类型片,并把故事讲给全世界。
---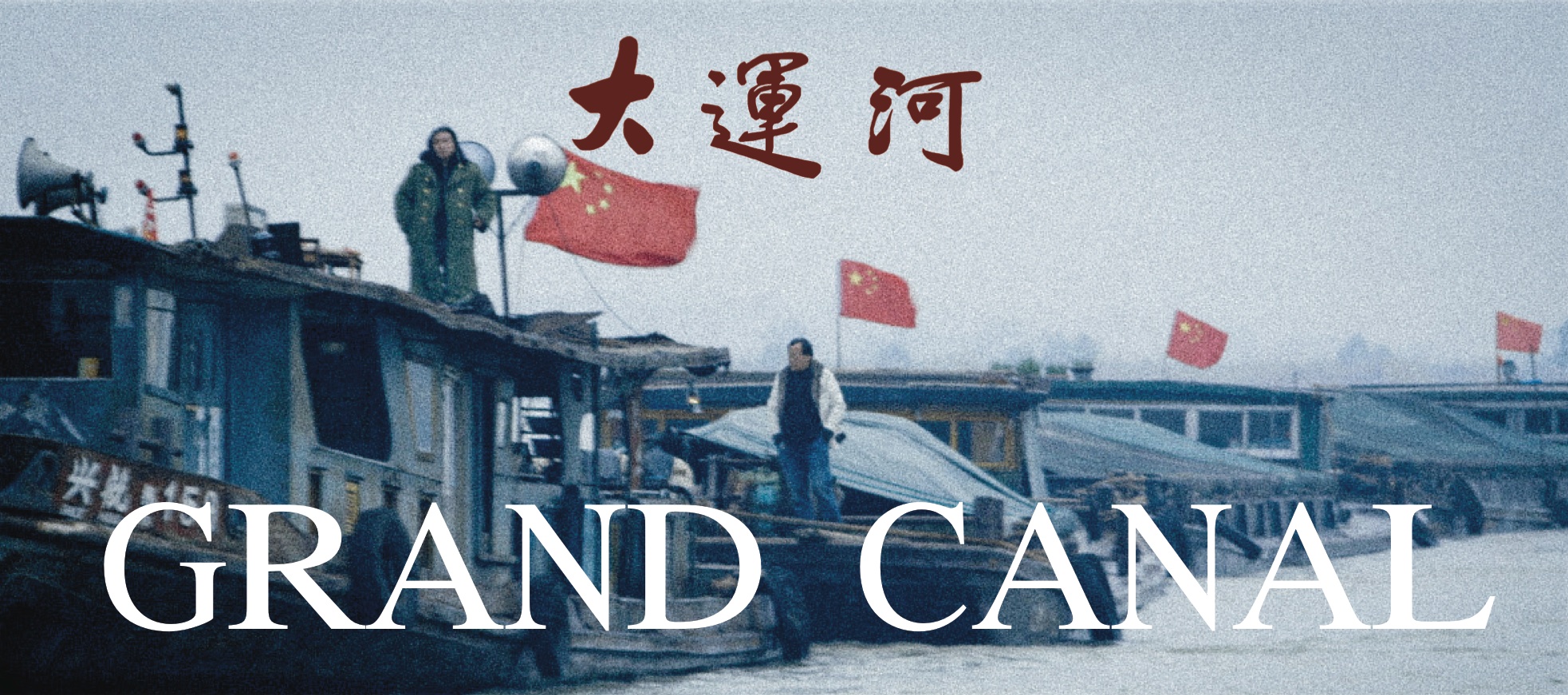 Grand Canal《大运河》
导演: 马楠
19分20秒 | 剧情
影片讲述的是一户祖祖辈辈从事船运工作的水上人家,父亲"船老大"为讨薪而得罪了当地的"王老板",最终被人打死的辛酸故事。
部分获奖及入围信息:
2013年多伦多国际电影节、2013年多伦多亚洲国际电影节最佳电影荣誉奖、2014年旧金山美亚国际电影节最佳剧情短片奖、2013年加拿大惠斯勒电影节最佳国际短片奖、2014年芝加哥国际电影与音乐节最佳叙事短片奖、2014年达拉斯国际电影节最佳学生短片、2014年曼谷国际学生电影节最佳国际短片奖等30多个奖项及官方展映
19'20"| Narrative |Chinese
Director: Johnny Ma
The tragic events of a boat captain trying to collect a debt to save his fleet of boats, as remembered by his ten-year-old son.
Awards and Official Selections: 2013 TIFF, 2014 Tampere, 2014 Krakow, 2014 Guanajuato, 2014 Caamfest…. Over 30 festival appearances.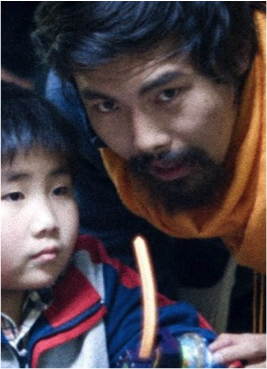 马楠
出生于上海的马楠在十岁时移民到了北美。在涉足了金融、时尚业之后,他最终决定从事电影创作工作。在电影路上,他收获了很多国际的认可,包括National Board of Review的学生拨款,美国导演公会学生奖以及2012年度多伦多国际电影节上RBC颁发的新兴电影人奖。他最新的作品是他在哥伦比亚电影硕士学位的毕业作品《大运河》(2013)。除了电影之外,马楠喜欢训练他的猫像狗一样活动。。
Johnny Ma
Johnny was born as Nan Ma in Shanghai and immigrated to North America at age of ten. After an early career in corporate finance and textile fashion, he made the move to film­making. Since then, Johnny accomplished international recognition including a National Board of Review Student Grant, DGA student award and RBC Emerging filmmaker award at 2012 Toronto International Film Festival.
His latest work "Grand Canal" (2013) is a thesis graduating work at the Columbia Uni­versity MFA program. Other than filmmaking, Johnny enjoys teaching cats how to play fetch like dogs.
Organizer of North America Chinese Directors Short Film Tour -The Boston Screening 北美电影学院华人导演短片展(巡展)-波士顿展映
Founder and Organizer
EnMaze Pictures is a US-based full service production and distribution company with a focus on US-China co-productions. EnMaze provides optimal solutions to the practical challenges and cultural barriers faced by films that are being produced in multiple countries. Meanwhile, EnMaze strives to discover and collaborate with emerging Chinese filmmakers based in North American area, to help Chinese productions meet international standards.  
Co-organizer
Blueberry Pictures is an investment management firm focusing on emerging filmmakers and innovative content-producing initiatives. Blueberry Pictures is the first company in China that evaluates film projects from an angel investor's perspective and operates our incubator with a risk management approach. In addition to managing investments, we have a strong arm in integrating resources from various industries and conducting digital marketing campaigns through multiple channels and platforms. Through various innovative endeavors, we hope to attract overseas talents, develop groundbreaking content, build successful local film brands, and ultimately facilitate the industrialization and globalization of Chinese cinema.