About this event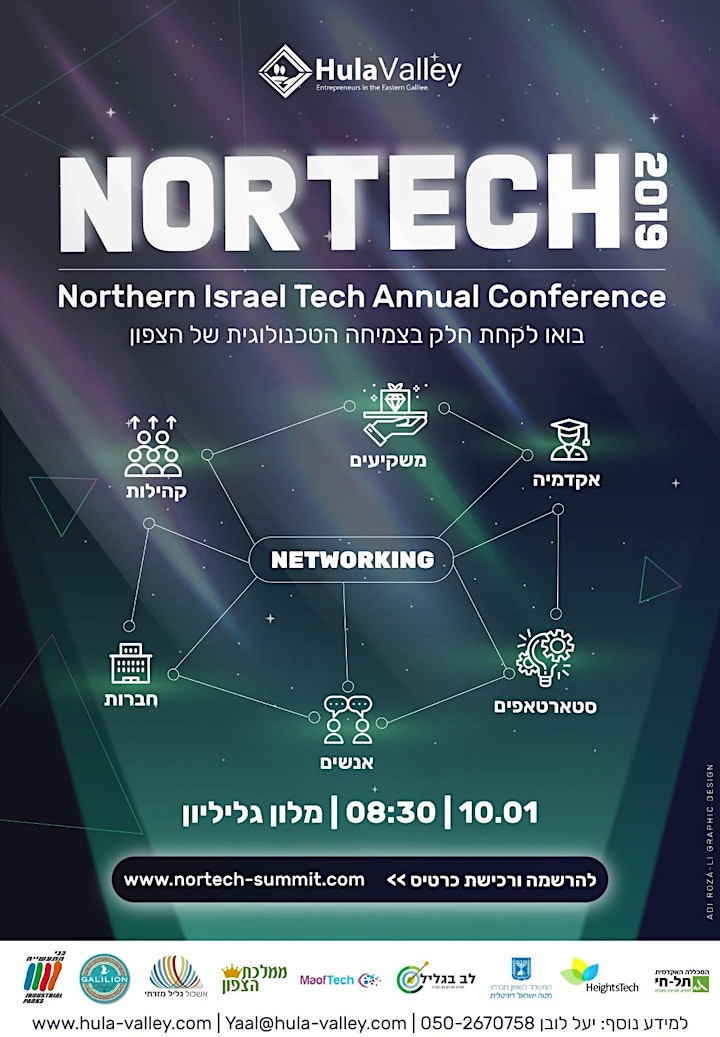 8:30AM: Networking & breakfast
20+ Startup's stands, 5 Local Hubs, 2 Accelerator programs, High-tech job offers & much more!
10:00AM: Keynote Speech
Yaal Loven - A Community as an Aerial motivator for growth
Nurit Tzur-Rabin - How can a Regional Cluster support local Innovation?
Ofir Dubovi - Innovation Ecosystem Creation
Gadi Mikles - Artificial Intelligence experiences - Are we really there yet?
***More info will be added in the upcoming days***
12:00AM: Lunch Break (Agamon Market)
1:00PM: Content Tracks (Parallel)
Track (1) - Technology Implementation
Benny Bauer - Serverless in Practice
Daphna Michaeli - Agriculture, Technology, and the Challenges for You to Resolve
Track (2) - Entrepreneurial skills & Innovation
*3 minutes Pitch X 15 Startups (Guided by Nehora Amar)
*How to create an Innovation Ecosystem in a peripheral area? (Panel)
Karina Rubinstein, Yotam Tzuker, Erez Agmon, Roi munin & others
Organizer of NorTech 2019
Hula-Valley is a community of entrepreneurs in the Eastern Galilee.
What do we do?
We assist local startups & bring new tech R&D's to the Galilee for over a year.

Join our telegram channel!
https://t.me/techeventseasterngalilee
What have we achieved?
*600+ active members
*30+ startups
*Assisting the establishment of 4 new R&D's
*Created over 11 local tech and innovation meetups
*Managing the 3 biggest digital Tech communication channels in our area