Description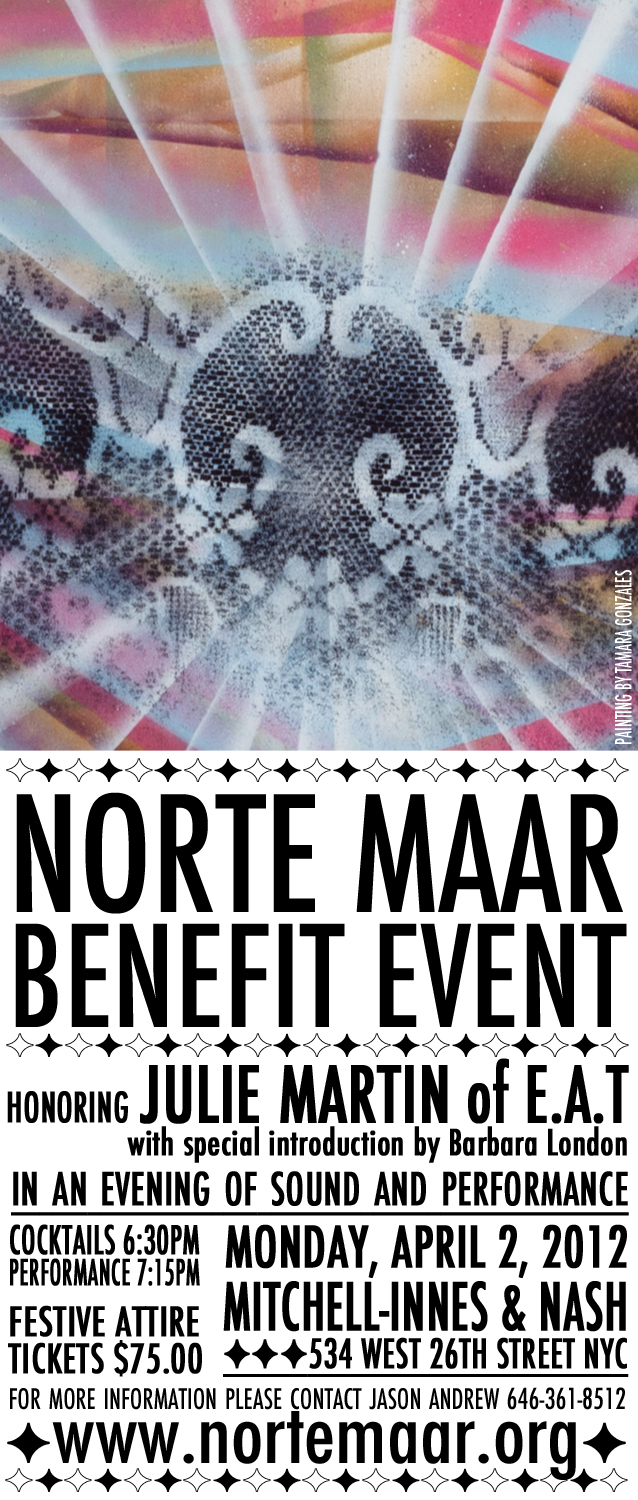 NORTE MAAR FOR COLLABORATIVE PROJECTS IN THE ARTS presents an evening of sound and performance honoring Julie Martin with introduction by Barbara London, noted curator of Media and Performance Art.
Monday April 2, 201
Tickets: $75
Mitchell-Innes & Nash
534 West 26th Street, NYC
Cocktail begin at 6:30pm with performances throughout the night
Norte Maar for Collaborative Projects in the Arts is a 501(c)3 arts organization with a mission to build community, foster artistic expression, and raise the imaginative energy in us all through collaborations. This benefit marks the first ever for Norte Maar. The evening will raise funds for Norte Maar's general operating expenses.
Norte Maar creates, promotes and presents collaborations within the disciplines of visual, literary, and the performing arts with an emphasis on community outreach. Norte Maar connects visual artists, choreographers, composers, writers and other originating artists with venues and each other. Norte Maar's events and programs have been reviewed by Hyperallergic.com, L Magazine, Brooklyn Rail, The New Criterion, The New York Times, New York Magazine, Time Out New York and many others.
About Julie Martin:
Julie Martin has been an active figure in the New York art community since the 1960s. After graduations from Radcliffe and gaining a Masters in Russian Studies from Columbia University she worked with Robert Whitman on his theater pieces in venues as varied as Circle in the Square and a swamp near East Hampton Long Island.
She collaborated with Whitman and other artists on the now legendary performance series
9 Evenings Theatre & Engineering
at the 69th Regiment armory in October 1966 when ten artists —
Robert Rauschenberg
,
John Cage
,
David Tudor
,
Yvonne Rainer
,
Deborah Hay
, Robert Whitman,
Steve Paxton
,
Alex Hay
,
Lucinda Childs
and
Öyvind Fahlström
— worked with more than 30 engineers from Bell Laboratories to make performance that incorporated leading edge technology. She joined the staff of E.A.T., founded that year by Rauschenberg, Whitman,
Billy Klüver
and fellow Bell Labs engineer
Fred Waldhauer
, as editor of the newsletter and continued to work closely with Klüver on the great variety of projects that E.A.T. carried out from 1966 to the present.
She was co-editor with Klüver and Barbara Rose of Pavilion, the book that documented the work of artists, engineers, and scientists in the design and construction of the Pepsi Pavilion for Expo '70 in Osaka, Japan.
In 1978, Martin and Klüver began a research project on the art community in Montparnasse from 1880 to 1930, with focus on Kiki, who was a model, artist, and "super star" in those years. In 1989 the book Kiki's Paris was published by Abrams in the United States, and subsequently appeared in France, Germany, Sweden, and Spain.
Martin and Klüver edited and annotated the original English translation of Kiki's Memoirs, which had been published in 1930 in Paris by Edward Titus, Helena Rubinstein's husband, but banned by U.S. Customs from the United States. It was issued by Ecco Press in Fall 1996; and in French by Editions Hazan in 1998.
Most of her activities have been centered on E.A.T., and as Director, she continues to document the history of the organization, acting as executive producer of a series of films on artists' performances at the 9 Evenings combining archival film footage with current interviews with artists and engineer participants. Finished films in the series have been screened widely, Museum of Modern Art in New York, Centre Georges Pompidou, in Paris, ICC in Tokyo and Museo Reina Sofia in Madrid. She has worked on the reconstruction of works involving technology, most recently the fog sculpture by Fujiko Nakaya which was the set for Trisha Brown's dance Opal Loop at the Baryshnikov Arts Center and Dia:Beacon. She is editing a book on the art and technology writings of Billy Klüver for the University of California Press.
Martin has also acted as producer for recent performances by Robert Whitman, including Local Report, a video cell piece in 2005, MoonRain, a collaboration with fog artist Fujiko Nakaya at Dia Beacon in 2010, and Passport, a theater piece co-commissioned by Peak Performances at Montclair State University and Dia:Beacon in spring of 2011, in which simultaneous performances shared images in real time. Currently Whitman is planning an international real time version of Local Report.
Her activities have reached into many corners of the New York art community and this continues as Chairperson of the Board of the Dumbo Arts Center and sits on the board of the Renee and Chaim Gross Foundation. Currently she is working with Robert Whitman and the Orange County Citizens Foundation to develop an arts program at their headquarters, the former studio and farm of surrealist painter Kurt Seligmann.
Moving into the future, she has joined with Norte Maar to celebrate John Cage, by producing and presenting works that further the collaborative spirit in our contemporary times.
Organizer of Norte Maar Benefit Event: Honoring Julie Martin of E.A.T.
Norte Maar for Collaborative Projects in the Arts is a 501(c)3 non-profit arts organization founded in 2004 by curator Jason Andrew and choreographer Julia K. Gleich with a mission to create, promote, and present collaborations in the disciplines of the visual, literary, and the performing arts: connecting artists, choreographers, composers, writers, and other originating artists with venues and each other. Norte Maar encourages and supports innovative and educational projects in the arts by offering unique exhibitions, unusual performances, workshops and lectures for artists and residents of our community. Norte Maar aims to be a leader in building collaborative partnerships between originating artists and other organizations thereby uniting cultural forces to foster artistic expression and raise the imaginative energy in us all. Norte Maar is all about blurring the lines that distinguish artistic practices.