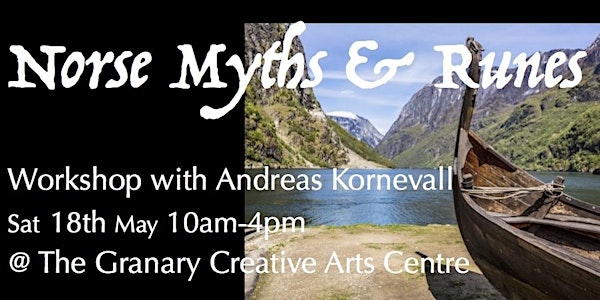 Norse Myths & Runes workshop
When and where
Location
The Granary Creative Arts Centre Brockwood Farmyard, Brockwood Alresford Hampshire SO24 0LQ United Kingdom
Refund Policy
Refunds up to 30 days before event
Description
Saturday workshop with Andreas Kornevall : 10AM-4PM
"Have you forgotten that the old forest is your home?" - Bo Setterlind
Do you want to deepen your understanding of the magic of old Northern Europe?
This day-long workshop with mythographer and storyteller Andreas Kornevall will immerse you in the world of Norse shamanism. We will explore how the Norse pagans used stories, poetry, visualisation, meditation and music to tap into their intuitive knowledge.
You will learn about the runic tradition, practice runic reading, carve your own runes, engage in ceremony and learn about the lore of our local plants.
This immersive experience will have you stepping in the shoes of your ancestors – learning how they thought about the self, how they tapped in to their inner wisdom, and how they understood the world around them.
Hot soup, hot drinks and cake provided. Please bring additional food to share.
"Andreas Kornevall offers a powerful immersive experience of travelling into Norse mythology and Runic divination, food for both soul and intellect. Understanding Runic script as mythic symbols opens a door into the archetypes that inform all human existence, and Andreas' deep knowledge and love for his subject is truly inspirational." Professor Angela Voss, Christ Church University
Andreas Kornevall is a Swedish storyteller, writer, mythographer, academic and ecologist. He is an active member of the 'Forn Sed' (Old Customs Association) in Sweden which works closely with ancient Norse culture, traditions and spirituality, unearthing old legends, forgotten folklore and endangered Norse languages.
He has done live storytelling for BBC radio, worked with archaeological society Sussex Past to revive the ancient Pagan Anglo-Saxon Creation Myth, and he regularly works with the National Trust in the UK in re-storying the landscape of the South Downs, as well as delivering lectures on Norse myth in universities across the UK.
Andreas's work as an ecologist has been covered by both the BBC and the Guardian. He directs the Earth Restoration Service Charity, and is the co-founder of the Life Cairn – a memorial for human caused extinctions.
Recent reviews from Andreas's talk with the The Psychedelic Society London: ★★★★★ "Really captivating" ★★★★★ "Just do more of it please....great stories and journeying!" ★★★★★ "Inspirational - great talk, great atmosphere. Very glad I came."

If you want to book without the added fee then email: granaryartsinfo@gmail.com