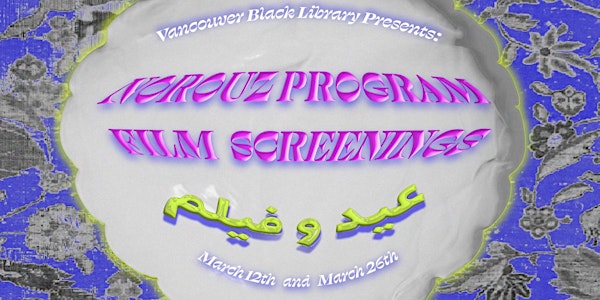 Norouz Program Film Screenings at VBL
We are screening 4 films at Vancouver's Black Library that cover the murky socio-political landscape of Iran in fresh and real ways.
By Kiana, Tanaz, Banafshe, Parisa, Shawna
Date and time
Sun, Mar 26, 2023 4:00 PM - 8:00 PM PDT
Location
Sun Wah Centre 268 Keefer Street Vancouver, BC V6A 1X5 Canada
Refund Policy
Contact the organizer to request a refund.
Eventbrite's fee is nonrefundable.
About this event
World class, mixed bag. Iranian cinema has always been one of the main lenses into the Iranian experience for the western world since the 1979 Islamic Revolution. With politics and propaganda interwoven into all external-facing Iranian media, it's hard to know where true representations of the Iranian experience lie.
That's why this event aims to showcase the pain, glory, humor, and yes, beauty, that comes with being Iranian—with 4 films that cover the murky socio-political landscape of Iran in fresh and real ways.
Thank you VBL for hosting this event<3
This event is free but if you're able to donate it is encouraged. All donations are going to VBL so they can(pay rent and) continue to be a wonderful and valuable space that hosts events like this one. Be mindful of the space you take up and are being welcomed into :)
The 4 films in this prgoramming are genre bending and thought provoking. Keep reading for a brief synopsis of each film.
Persepolis (2007)
Jury Prize winner at Cannes, Persepolis evokes a rebellious girl's journey into womanhood, whilst retelling events that led to the revolution of '79 and its complicated aftermaths. Based on the celebrated graphic novel by Marjane Satrapi—who also directed and wrote the film—Persepolis explores war, revolution, immigration, family and…punk rock.
Facing Mirrors (2011)
The first queer/trans movie to ever be written, produced, and screened in Iran, Facing Mirrors portrays the reality of being trans in the context of Iran's society and culture. The story follows the friendship of a pre-op transman in Tehran struggling to escape his transphobic father, and a devout working class woman who struggles to pay for the release of her imprisoned husband.
Winner of the "Best First Feature" award at San Francisco's Frameline Film Festival—the first and oldest LGBT film festival in the world—Facing Mirrors tackles the subject matter with humanity and complexity.
The Lizard (Marmoulak, 2004)
Winner of the "Best Film in Asia" award at the Montreal World Film Festival in 2004, The Lizard is a feel-good picture that touches on the joys of enlightmenet withought thumping a religious tome. Part caper and part satire, the film follows an imprisoned thief that escapes by impersonating a clergyman.
Killing Mad Dogs (Sag Koshi, 2001)
This thriller drama—and borderline absurdist—film is about a woman who is forced to settle her husband's debts after a business partner left him to bear the consequences. With its grunge yetethereal aesthetics and a fashionable femme fatale character—a feminist icon, if you will—this film is easily a cult classic (and dearly claimed by the queer community). One watcher says: "This is probably the closest a modern thriller can get to the gritty world of film noir." We're guessing it's a must-see.
*Trigger Warning: suggestive scene of physical assault.