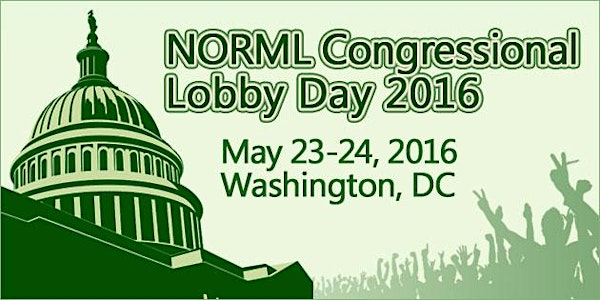 NORML Congressional Lobby Day 2016
When and where
Location
City View Room, Elliott School of International Affairs, George Washington University 1957 E Street NW Washington, DC 20052
Refund Policy
Contact the organizer to request a refund.
Description
NORML's 2016 Congressional Lobby Day at the United States Capitol is scheduled for May 23rd and 24th. Hundreds of marijuana consumers, activists, patients and business owners are expected to attend a day-long training and informational conference on Monday and re-convene on The Hill Tuesday to personally lobby their elected members of the House of Representatives and Senate.
Check out the agenda for our 2016 National Conference and Congressional Lobby Day! Day one will include panel discussions on a variety of topics, including the prospects of marijuana law reform in the 114th Congress, the ongoing experience with legalization in Colorado, Washington, and other states, and post prohibition concerns for marijuana consumers. Throughout the day attendees will hear policy experts from NORML, the Marijuana Policy Project, the National Cannabis Industries Association, and many others.
On Tuesday morning attendees will meet on Capitol Hill for a morning reception to hear from our allies in Congress who are leading federal marijuana law reform efforts. Following that, attendees will separate into groups based on voting district/state and together will visit their federally elected officials offices to discuss with them the importance of ending the federal prohibition of marijuana.
A NORML Benefit social is planned at the Historic O Street Mansion on May 23 from 7-10pm.
Whether you're a longtime activist, college student, medical marijuana patient or simply a marijuana consumer and NORML supporter, consider taking the next step and travelling to Washington D.C. to directly lobby Congress in support of common sense marijuana law reform. You'll meet like-minded activists from across the country and get a glimpse into the Capitol Hill lawmaking process!
**If you're already registered to attend our 2016 Congressional Lobby Day, please contact your federally elected officials' Washington D.C. office to schedule an appointment to talk with a staffer on Tuesday, May 24th. Walk-ins are generally not supported. If you have questions or would like assistance with this please email danielle@norml.org.**
We can't wait to gather like-minded activists, volunteers, lobbyists, and marijuana consumers all together under one roof to discuss the state of marijuana law reform around the country, to honor our MVP's of the movement and to lobby our federally elected officials together. Please participate in this historic lobbying effort in our nation's capital at this crucial time in the law reform effort as cannabis prohibition increasingly gives way to legalization!
For planning purposes you can look up hotel information. Our day-long training and informational conference on Monday will be held at 1957 E Street if you wish to look for something close to the planned activities. Last year, participants also benefited from booking with AirBnb.
Parking for Monday, May 23rd: Garage and street parking is available to Elliott School visitors. The parking garage is on 19th Street, between F Street and E Street (closer to E Street), and there is a parking fee. There are often open metered parking spaces in the area, but you cannot park in certain spaces during morning or afternoon rush hours: 7:00 a.m. to 9:30 a.m. and 4:00 p.m. to 6:30 p.m. During this time, heavy penalties are assessed, and we recommend parking in a parking structure on campus to avoid being fined. The closest metro stops are Foggy Bottom and Farragut West.
For Tuesday, May 24th, we recommend taking a cab, Uber, or using public transportation to arrive at the Longworth House Office building in Capitol Hill.